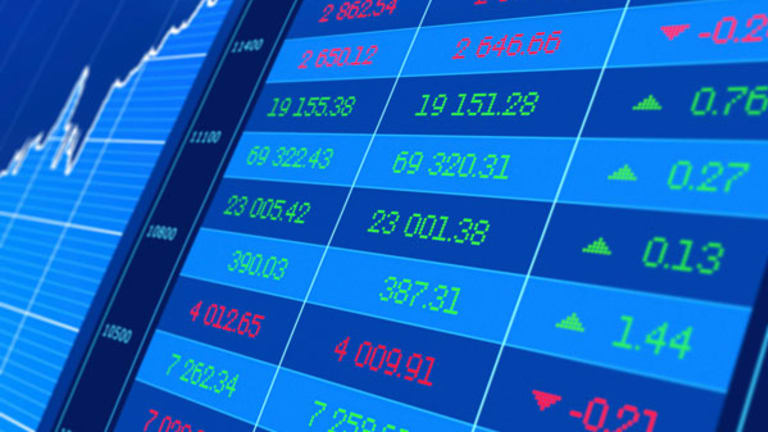 NEW YORK (TheStreet) -- What a day in the market. After an initial surge higher at the open, all the indexes did an about face and turned to the downside in afternoon trading.
The Nasdaq was the big leader to the downside. It closed down 110 points at 4127.72. This is a Trend Bearish close for that index according to internal algorithm signals. The Trend is a three month or more time frame. This Nasdaq Trend Bearish is very important. The Russell 2000 closed down 27.74 points at 1153.38 and is within four points of a Trend Bearish signal according to that same algorithm indicator.
The DJIA closed at 16412.71, down 159.84 points and the S&P 500 closed down 23.68 points at 1865.09. Both indexes are nowhere close to the Trend Bearish levels of the Nasdaq and Russell 2000.
As I have been warning in my previous columns, we have had a two-tiered market that could not continue very long. This out-of-sync market was a red flag that had to resolve itself, one way or the other.
As was noted, the DJIA and the S&P 500 were trading in overbought territory while the Nasdaq and Russell 2000 were quickly leading to the downside. That problem was resolved on Friday.
Jobs report or not, whether it was good or bad on Friday did not matter in the end. The markets needed to come together and attempt to get back in sync from a structural standpoint.
The volume on Friday finally came into play with the S&P. The volume on Friday was 154 million shares, much greater than its 50-day moving average of 127.5 million shares. Again, the down volume has greatly exceeded the up volume during 2014. This is a red flag warning that should be a concern for traders. Caution is warranted in this stock market. Wreckless buying without proper risk management is not an ingredient for trading success -- 2013 trading has long been over.
So, where do the markets go from here? If the S&P 500 follows the path of the Nasdaq and decides to test its Trend Bearish level, that would a test of the 1822 level. That is a long way down. Even though the Nasdaq is Trend bearish, the S&P is still Trend bullish. We are at some serious technical levels that need to be watched from a trading and investing standpoint. Be careful and have a trading process that works. Risk management is the key.
At the close of trading on Thursday, I owned Proshares Ultra VIX Short-term Futures, (UVXY) - Get ProShares Ultra VIX Short-Term Futures ETF Report. Friday, after adding to those shares in the pre-market, I sold most for a huge profit as the market sold off. I also sold the Yamana Gold, (AUY) - Get Yamana Gold Inc. Report that I purchased for a nice gain. I continue to have Kinder Morgan, KMI short. I also added LG Display, (LPL) - Get LG Display Co., Ltd Sponsored ADR Report, as a new short at the end of trading.
At the time of publication, the author held positions in UVXY KMI short and LPL short although positions may change at any time.
This article represents the opinion of a contributor and not necessarily that of TheStreet or its editorial staff.