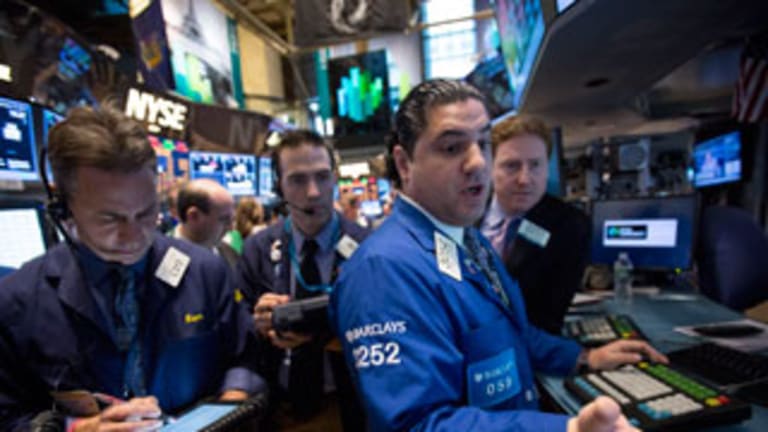 DJIA and Nasdaq Close Lower After Last Week's Record Highs
Smart investors were cautious Monday as the markets closed down from record highs a week ago.
Smart investors were cautious Monday as the markets closed down from record highs a week ago.
NEW YORK (TheStreet) -- Smart investors were cautious today following a week in which the markets closed at record highs. Today, the markets were all down, some sharply at mid-day. 
The stock market staged a huge intra-day turn to the downside on Monday, led by the Nasdaq. At one point, the Nasdaq was up by 12.48 points at before closing lower on the day at 4,740.69, losing 40.06 points. The DJIA closed 106.31 points lower at 17,852.48, while the S&P lost 15.06 points to finish at 2,060.31. The Russell 2000 lost 1.28%, closing down 15.12 at 1,167.31. The Russell 2000 index is now back to breakeven for the 2014.
The S&P 500 Trust Series ETF (SPY) - Get Report volume traded over 108 million shares on Monday. This was roughly 20% more volume versus its year-over-year average. Once again, the increased volume was on a down market day. That has been the pattern all year long. Up days are usually on low volume and down days usually have high volume for this index.
The streak of seven consecutive up weeks for the DJIA and S&P 500 is in jeopardy; however, it is only Monday so the markets have time to stage another up week.
The technical indicators seemed to suggest Friday that the market was overbought and in need of some consolidation. The question going forward now is, is this a consolidation or the start of something more substantial to the downside? Caution is warranted.
The negative daily divergences can easily lead to more substantial downside. After moving higher early Monday morning, all the major stock indexes were at or near extreme overbought conditions. These conditions seem to signal that a market turn is near and chasing markets with these types of signals has much risk associated with them. 
Thus, the daily negative divergent indicators proved accurate under the surface of this stock market. It is only a matter of time before stocks prices turn lower.
Many of the large-cap momentum stocks in 2014 from Apple (AAPL) - Get Report  to Netflix (NFLX) - Get Report  to First Solar (FSLR) - Get Report  to GoPro (GPRO) - Get Report  to Alibaba (BABA) - Get Report were crushed today. Momentum stocks that had huge runs in 2014 may be signaling lower prices ahead. The one sector that seems to signal oversold conditions the energy sector; sagging oil prices have crushed many energy stocks. With the S&P Goldman Sachs Crude Oil Trust ETN (OIL) - Get Report down 34% in 2014, that is understandable.
Southwestern Energy (SWN) - Get Report  and Chesapeake Energy (CHK) - Get Report seem to be two extraordinarily oversold energy stock that should move higher in the coming days. 
This article is commentary by an independent contributor. At the time of publication, the author was long SWN.