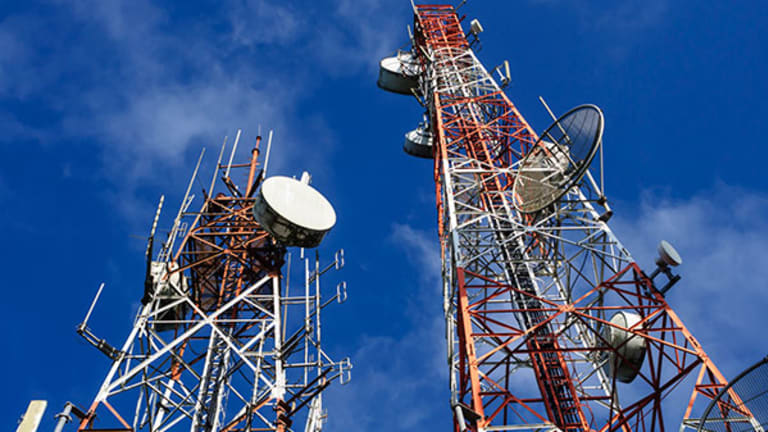 DIY Broadcast ETF: Build Your Own, Starting With Meredith and LIN
Consider buying your own share of the broadcast spectrum by owning companies that control hot spectrum rights. Call it a do-it-yourself ETF.
NEW YORK (TheStreet) -- The conventional wisdom is that media companies are on the decline.  So why are some doing fantastically, like LIN Media (LIN) - Get Linde plc Report and Meredith (MDP) - Get Meredith Corporation Report? Both are rising to meet or exceed their 52-week highs. And LIN and Meredith's performance is part of a trend that began in late summer.
The key is the spectrum -- the broadcast spectrum. (
And it's no secret that I love the spectrum.
) Several media companies control an invisible commodity, the valuable electromagnetic broadcast spectrum. Companies like LIN and Meredith can license this spectrum, which was originally designated for AM radio stations. But there's a great deal more here.
To learn more about the broadcast spectrum, watch this 3-minute video. You'll hear from Ruth Milken, the Chief of the Wireless Telecommunications Bureau for the Federal Communications Commission. You'll learn about supply and demand for the nation's airwaves. This electromagnetic spectrum encompasses everything from telephony to wireless Internet to TV.
As Milken makes abundantly clear, the big challenge that media companies and the FCC are facing is the soaring demand for spectrum. The supply of broadcast spectrum is greatly exceeded by demand. With smartphones and tablets, data demand is growing exponentially worldwide.
The companies that have licensed sufficient broadcast spectrum are now becoming enormously valuable.
Take Meredith. It's a media and marketing company with a wide range of businesses.  Those include magazine publishing, brand licensing, television broadcasting, digital and customer relationship marketing, digital and mobile media and video creation operations.
One of Meredith's most valuable assets, it turns out, is its broadcast spectrum licenses. According to a recent Wells Fargo analysis, the spectrum value per share (SVS) of Meredith's stock is somewhere between $17 and $18.

LIN Media is another hot broadcast spectrum play. LIN has several multimedia businesses, and it may soon be snapped up by a cable company like Discovery Communications (DISCA) - Get Discovery, Inc. Class A Report. LIN owns, operates or services 43 television stations and seven digital channels, plus content for all types of screens: Web sites, apps and mobile products.
Its strategic investment plan shows its growing footprint in the digital and mobile media arenas. The company links broadcasting, publishing and high tech. Wells Fargo estimates LIN's spectrum value per share at more than $14.
In my view, spectrum is one of the big prizes inside the holdings of companies like MDP and LIN. If the FCC auctions off more spectrum in 2014, and MDP or LIN buy more, their SVS will go higher, as will the share price.
That's why I wanted to own both these gems plus some of the other key spectrum stocks. Ideally, I wanted an ETF holding.  But the closest one, the PowerShares Dynamic Media ETF (PBS) - Get Invesco Dynamic Media ETF Report, didn't focus enough on spectrum for my tastes. (But it's up 51.3% for the year -- wow!)
I thought I would build my own mini-ETF with shares from the best stocks with lots of SVS. This would include E.W. Scripps (SSP) - Get E. W. Scripps Company Class A Report, which hit a new 52-week high on Dec. 26, Sinclair Broadcasting (SBGI) - Get Sinclair Broadcast Group, Inc. Class A Report and Nexstar Broadcasting Group (NXST) - Get Nexstar Media Group, Inc. Class A Report. Both SBGI and NXST are at or near their 52-week highs as well.
But is the cat already out of the bag on spectrum? Savvy investors have already bid the stocks up to dizzying heights. Yet when you take a company like Sinclair, with an SVS close to $37, the current share prices may not be too lofty.
To create your own ETF, buy equal dollar amounts of each of these companies, or any variation that you're comfortable with.

My spectrum ETF began with shares of MDP (which also offers a tempting dividend yield of 3.16%) and SBGI, which has an unusually high SVS. I have good-till-cancelled orders to buy LIN at $25.36, SPP at $19.60 and NXST at $50.
I'm going to be patient, but it's vital to accumulate stock over time. So I might get a smidge of each before the end of January.
To illustrate how profitable the year has been for shareholders of Meredith and LIN, I offer you the following chart.
Some investors and analysts believe that the race for broadcast spectrum isn't even half over. If the FCC auctions offer more, your homemade spectrum ETF may have some sweet upside potential.
At the time of publication the author had positions in MDP and SBGI but not any of the other companies mentioned in this article.

This article represents the opinion of a contributor and not necessarily that of TheStreet or its editorial staff.
Marc Courtenay is the founder and owner of Advanced Investor Technologies, LLC, as well as the publisher and editor of www.ChecktheMarkets.com.
Courtenay holds a Master's of Science degree in Psychology from California Polytechnic State University, and is a former senior vice-president of Investments for two major brokerage firms. He's been a fiercely independent investment "investigator" and a consulting contributor to the investment publishing world for over 30 years. In addition to his role as an investment publisher and analyst, he serves as a marketing consultant to the investment media industries.
In his role as a financial writer and editor, he specializes in unique investment strategies, growth with income stocks, overlooked investment themes, tax-advantaged themes, risk management, technologies to capture gains and reduce losses, real estate related opportunities,effective wealth preservation techniques, and the use of ETFs for diversification and asset allocation. He also follows and frequently writes about technology, health sciences, energy and resource companies. Because of his training and background in Clinical Counseling and Psychology, he enjoys writing about investor behavior, the herd mentality, how to turn investment mistakes into investment breakthroughs and the stock market's behavioral trends and patterns.