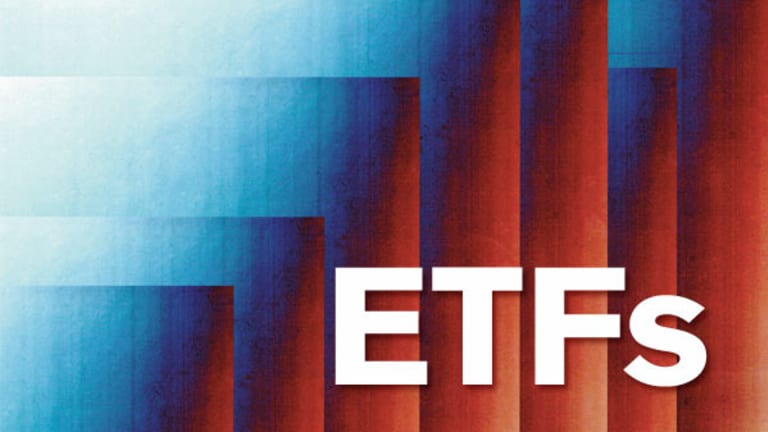 Dividend Stocks Instead of Bonds
Fixed-income funds will deliver meager results, warns Princeton professor Burton Malkiel.
NEW YORK ( TheStreet) -- Frustrated with low bond yields, investors have been pouring into ETFs that focus on dividend-paying stocks. During the past year, Vanguard High Yield Dividend (VYM) - Get Free Report recorded inflows of $2.6 billion, while iShares High Dividend Equity (HDV) - Get Free Report attracted $975 million, according to IndexUniverse.com.
The rush into dividend stocks has left many financial advisors shaking their heads. According to the conventional view, all stocks are risky, including dividend stocks. Advisors warn that in the next downturn, dividend stocks could sink along with the rest of the market. For protection, investors should hold sizable stakes of government and high-quality bonds.
Noted Princeton professor Burton Malkiel takes a different view. Malkiel is urging clients to shift from government bonds into dividend stocks and other assets. "The old saw is that government bonds are the safest investment in the world," he says. "But these days government bonds are risky."
Malkiel recently became chief investment officer of
Wealthfront
, an advisory firm that designs low-cost ETF portfolios for clients who have a minimum of $5,000 to invest. The firm recently changed its portfolios, eliminating government bonds and increasing the allocation to dividend-paying blue chips.
Malkiel is best known as an early proponent of index fund investing. In his 1973 bestseller,
A Random Walk Down Wall Street
, he argued that active fund managers had little chance of outdoing the market averages. Instead, he has urged institutions and retail investors to use index funds.
A former board member of
Vanguard Group
, Malkiel has often championed the company's low-cost stock and bond index funds. But these days he is cautioning investors about the use of
Vanguard Total Bond Market
(BND) - Get Free Report
, a popular index ETF with $18 billion in assets. "The ETF has two thirds of its assets in government and agency bonds," he says. "That's a lousy investment now."
Malkiel argues that in the next decade, bonds are likely to return nothing. The problem is that interest rates are bound to rise. When that happens, bond prices tend to sink. The coming bond bear market may not start this year or next, Malkiel says. For the time being, the
is holding down interest rates. But when the Fed begins loosening, rates will climb.
The markets of coming years may resemble what prevailed after World War II, according to Malkeil. Seeking to avoid another Depression, the government held down interest rates in the late 1940s, and yields on 10-year Treasuries were below 2%. Then as the economy gained a steady footing, the government unleashed rates. "When interest rates were allowed to rise in the 1950s, bond holders got killed," says Malkiel.
According to
Ibbotson Associates
, long-term government funds lost money in the 1950s. During the 1960s and 1970, bonds delivered meager results that were less than the inflation rate. So after considering taxes and inflation, bond portfolios shrank for more than three decades. Meanwhile, stocks delivered decent after-inflation results.
To illustrate why dividend stocks are relatively attractive now, Malkiel notes that shares of
AT&T
(T) - Get Free Report
yield 5%, while the company's 10-year bonds yield only 2.5%. The low bond yield is not enough to compensate for the risks of rising rates and an inflation rate that is currently running at 2%. "With the stock, you get a reasonable dividend yield, and a chance for some growth," he says. "Under the best circumstances, the bonds will give you a zero real rate of return."
Advocates of government bonds dispute Malkiel's reasoning and caution investors against shifting outsized stakes to dividend ETFs. The ETFs can come with risks that investors don't appreciate, says Don Bennyhoff, a Vanguard senior investment analyst. The funds often have big stakes in a few sectors.
Before the market turmoil of 2008, many dividend funds had outsized holdings in financials because banks and insurers paid hefty dividends. The financial stocks collapsed as the credit crisis unfolded. These days many dividend funds have overweights in consumer staples.
Bennyhoff concedes that bonds could lag stocks in coming years. But he argues that fixed-income holdings can help to cushion portfolios. He says that on the recent day when the Cyprus Parliament rejected a bailout, U.S. stocks sank, but bonds held firm. "Bonds can help to temper the volatility of your portfolio," he says.
This article was written by an independent contributor, separate from TheStreet's regular news coverage.