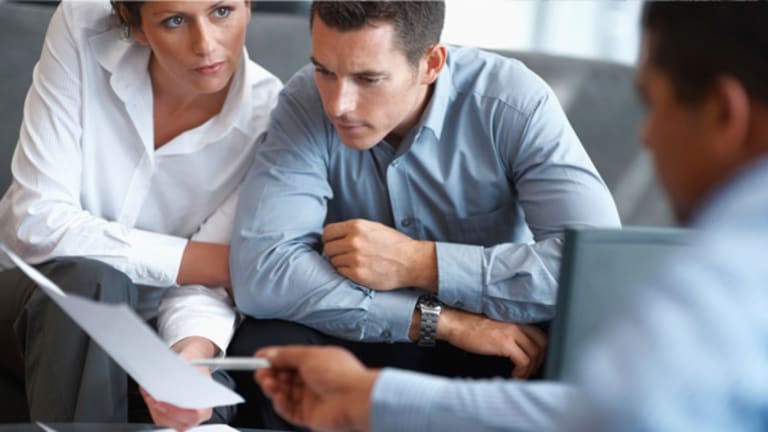 Divide Widens Between Consumer, Investment Banks: Today's Outrage
Bank of America's loss, in stark contrast to JPMorgan's profit, reflects a growing divide between consumer and investment banks. It's also a reminder that consumer woes cannot be ignored.
NEW YORK (
) --
Bank of America
(BAC) - Get Bank of America Corp Report
provided more evidence today that the consumer is still suffering.
, blamed in large measure on credit issues and "stress on the consumer," echoes the
Citigroup
(C) - Get Citigroup Inc. Report
report yesterday.
Meanwhile, investment banking brought outsized profit for
JPMorgan
(JPM) - Get JPMorgan Chase & Co. Report
, with gains in fixed-income trading masking its own consumer credit issues.
Goldman Sachs
(GS) - Get Goldman Sachs Group, Inc. Report
also delivered solid profit this week, due largely to trading in the bond markets.
The great divide between consumer banks and investment banks is further exaggerated by the fact that JPMorgan and Goldman have escaped the TARP trap.
BofA's $2.2 billion third-quarter loss includes $893 million in dividend payments to Uncle Sam. Citi would have eked out a small profit, but reported a net loss because of dividend payments to the Treasury and costs related to converting government's preferred shares into common shares.
Meanwhile, much of Goldman's improvement over previous quarters is the result of not having to pay a dividend to the government. JPMorgan didn't even mention TARP in its earnings report this week, but the bank had paid cumulative dividends to the U.S. of $795 million before exiting the bailout program in June.
The difference in government dividend payments among the banks is remarkable: BofA is paying more in a single quarter than JPMorgan paid in total.
It's hard to tell how much the federal bailout program has done for consumers, but it's clear that it is now a burden for the banks.
These issues reveal that investors should
not
think of the banking sector as whole, rather they must look at the individual parts.
The banking world has never been egalitarian, but the divide between underperformers and outperformers is widening -- just like the gap between borrowers and lenders.
Today's BofA report is a reminder that consumer woes cannot be ignored.
--Written by Glenn Hall in New York.
Glenn Hall is the New York-based Editor in Chief of
TheStreet.com
. Previously, he served as deputy editor and chief innovation officer at
The Orange County Register
and as a news manager at
Bloomberg News
in Frankfurt, Amsterdam and Washington, D.C. As a reporter, he covered business and financial markets, worked in both print and television in the U.S. and Europe, and conducted in-depth investigative coverage at
The Journal-Gazette
in Fort Wayne, Ind. His work also has been published in a variety of newspapers including
The Wall Street Journal
,
The New York Times
and
International Herald Tribune
. Hall received a bachelor's degree in journalism and political science from The Ohio State University and a certificate in project and program management from Boston University.