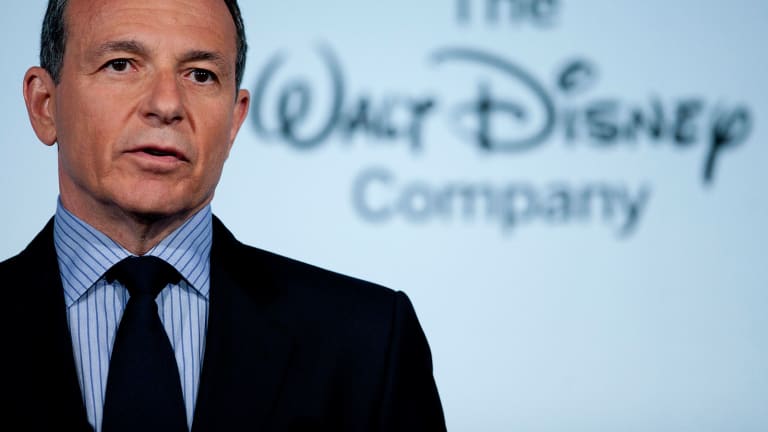 Disney's 'Star Wars' Can Make Everyone Forget ESPN's Rising Costs
Disney investors are betting 'Star Wars' windfalls will more than offset increased costs and declining profits at ESPN to sustain the stock's ascent.
NEW YORK (TheStreet) --Star Wars is coming, Star Wars is coming.
Walt Disney (DIS) - Get Free Report, which has benefited for years from the strength of its sports juggernaut ESPN, is gaining admirers on Wall Street even as the cable channel is being rattled by declining subscribers and rising programming costs. In recent weeks, ESPN has been been making as many headlines following the departures of high-profile talent led by Bill Simmons, Colin Cowherd and Keith Olbermann. 
Yet, as Burbank, Calif.-based Disney prepares to release its fiscal third quarter earnings on Aug. 4, analysts are betting that Disney's film studios, which have been on fire this year with Avengers: Age of Ultron and Inside Out, will offset ESPN's doldrums with the long-awaited Star Wars: The Force Awakens scheduled for release on Dec. 18.
"Star Wars is all anyone talks about," Laura Martin, an analyst with Needham & Co., said in a phone interview. "It's not only going to be huge but it will drive revenue in consumer products, the theme parks, every part of the company."
Disney shares, at around $118, are up nearly 26% for the year to date, 36% for the past 12 months and 82% for the past two years.
Disney acquired Star Wars creator George Lucas' company in 2012 for around $4 billion. The last of the six Star Wars installments, Star Wars: Episode III - Revenge of the Sith in 2005, generated $848.7 million in worldwide ticket sales, according to Box Office Mojo.
"Are we bullish enough on Star Wars?" wrote Morgan Stanley analyst Benjamin Swinburne. He increased his worldwide box office estimate for the space adventure movie to $1.95 billion from $1.6 billion based on a stronger anticipated international box office, citing the huge international haul for Furious 7 from Comcast's (CMCSA) - Get Free Report Universal Pictures.
Swinburne, who rates Disney a buy, also forecasts the new Star Wars film will add about $2 billion in retail consumer merchandise sales to the franchise's nearly $3 billion in annual sales, netting Disney an incremental $200 million in license fees. Disney should also clear about $100 million in video game revenue in 2016, Swinburne estimates.

Star Wars' momentum has prompted Disney to pick up support among analysts. In all, 22 of 32 analysts either have a buy or strong buy rating for the stock, compared to 20 a month ago, according to data provided to Yahoo! Finance from Thomson/First Call.
Disney's planned Spring 2016 opening of its $5.5 billion theme park in Shanghai also prompted Topeka Capital Markets analyst David Miller to raise his rating for the company from hold to buy and to increase his target price to $138 a share. 
Rising Disney sentiment comes despite a number of analysts who have reduced operating earnings expectations for ESPN, the primary component of Disney's cable networks unit that is the company's largest segment by both revenues and operating earnings. The cable unit's operating earnings have declined each of the last four quarters as ESPN has recorded higher programming costs for events like college football while losing subscribers as consumers drop cable-TV contracts and seek cheaper alternatives.
"ESPN is the costliest basic-tier channel at about $6 month per household," said Blair Westlake, former Universal TV chairman and the top programming executive for Microsoft's (MSFT) - Get Free Report XBox gaming console. "As cord-cutting proliferates, it will hit ESPN more than any other cable channel. Just 10 percent of households dropping cable means ESPN sees about $75 million a month decrease in subsctiption fees."
BTIG analyst Richard Greenfield, who rates Disney neutral on the basis of what he calls "full value" price, earlier this year cut his full-year estimates for Disney's cable properties to $6.8 billion from his initial $8 billion estimate.
A Disney spokeswoman had no comment, but Disney CEO Bob Iger told CNBC on Monday that he's not worried about ESPN, which he said is strong enough that it could one day be sold directly to consumers. 
"While the business model may face some challenges over the next few years, long term for ESPN ... they'll be fine," Iger said in the interview. "If we end up seeing more erosion in the so-called multi-channel bundle, quality will win out."
Disney could face some other bumps besides ESPN when it announces its earnings. Even with its string of blockbusters, the studio released the clunker Tomorrowland on May 22. Made for $190 million, the George Clooney science fiction fantasy generated a less than expected $204 million in worldwide ticket sales.
Some analysts have speculated the film may force Disney to take a writedown. Jeffries analyst John Janedis cut his estimates for the studio as a result of the film's lackluster performance. But like most of the Street, Janedis maintained his buy on the stock.
The writer owns shares in Disney and Comcast