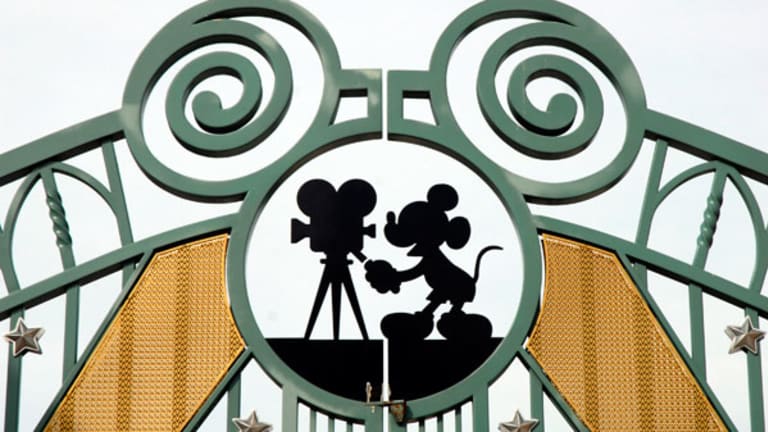 Disney's ABC Sics 'Rising Star' on 'American Idol', 'The Voice'
ABC's Israeli import is ready to revolutionize reality singing competitions as viewers decide contestants' fate in real time.
ABC's Israeli import is ready to revolutionize reality singing competitions as viewers decide contestants' fate in real time.
NEW YORK (TheStreet) -- Chances are you've watched at least one episode of "American Idol" or "The Voice". Those singing competition shows have struggled to maintain their once strong ratings. ABC has a new secret weapon to revolutionize the reality singing competitions and it comes all the way from Israel.
ABC, owned by Disney (DIS) - Get Report, brings "Rising Star" to the masses on June 22 in an attempt to finally have a winning singing competition. ABC has watched rivals Fox (FOXA) - Get Report and NBC (CMCSA) - Get Report post strong numbers from their respective "American Idol" and "The Voice" reality competitions.
The reality competition is not like the others, as it focuses more on audience voting than judges. In fact the shows judges are actually considered "experts". The "experts", consisting of Ludacris, Kesha, and Brad Paisley, will encourage viewers who to vote for, but not be able to save any contestants.
Read: ESPN Makes Disney Very Happy, One LeBron James Story at a Time
Viewers vote in real-time to save contestants via a smartphone application, which can be downloaded for free. The catch here is contestants are hidden behind a translucent screen and remain hidden to the audience and judges.
Audiences love having the power to save contestants in their hands. "The Voice" successfully implemented #VoiceSave as a Twitter (TWTR) - Get Report campaign where viewers could save one of the bottom three singers. The first #VoiceSave saw more than 385,000 tweets in a five minute window. In May, the series broke a TV series record with 1.92 million tweets that were seen by more than 3.8 million viewers.
ABC won the competitive bidding for "Rising Star", a hit reality show in Israel. The 10 episode order will bring the show to the states over the summer viewing season. In Israel, the show broke ratings records and continues to be one of the most watched shows in the country's history. The first season had a household share of 49% in Israel. The season two finale in December had a 58% household share. In fact more than 1 million of the 8 million people living in Israel watched the season 2 finale.
Read: Will Walmart End Up Crushing Amazon?
Along with the U.S., the show has been sold to France, Germany, Italy, Russia, and the United Kingdom. The problem with the show in the U.S. is time zone differences spanning three hours. Integrating live voting will be a struggle with this, but ABC executives promise they have come up with a solution that they won't reveal due to competition.
Landing a highly sought after reality show could be a big step for ABC. The channel's last singing show "Duets" saw viewership decline all the way to 4.5 million viewers for its finale. The show regularly lost its timeslot to "The Big Bang Theory", including reruns, and other shows.
The power of "The Voice" and its strong ratings helped NBC win the September to May primetime television season. NBC ranked first and saw the biggest jump by a big four network in nine years with a 13% gain. "The Voice" was the number one ranked reality show and number three series overall for the season.
Read: Warren Buffett's Biggest Secret: Cash on Hand at the Right Time
ABC ranked third in the primetime ratings season with a decline of 5% in household share and a 3% decline in average viewership. If "Rising Star" is successful and sees high viewer numbers, it would go a long ways in increasing ABC's average and market share position. However, the biggest winner would be advertising revenue, which would help parent company Disney.
The Israel version of the show saw a high household rating and also a 30% conversion rate from viewers. Advertisers and sponsors will pour into a show like this knowing it gets a large amount of viewers and isn't a recorded program.
Disney shares hit a 52 week high on Tuesday. The $145 billion valued company has seen strong numbers from its media networks segment, which includes ABC, ESPN, and several other cable properties. The company's media networks segment saw growth of 5% to $20.4 billion in fiscal 2013, making up 45% of the company's total. Media operating income increased 3% to $6.8 billion, which made up 64% of Disney's segment operating income.
>>Read More: Increasing Inflation Is the 800-Pound Gorilla in the Room
>>Read More: India's Bull Market Is a Better Bet for Your Investment Dollars
>>Read More: Will WalMart End Up Crushing Amazon?
>>Read More: Jumei Will Beautify Your Portfolio While Giving You Exposure to China
At the time of publication, the author held no positions in any of the stocks mentioned.
Follow Chris on Twitter @chriskatje
This article represents the opinion of a contributor and not necessarily that of TheStreet or its editorial staff.