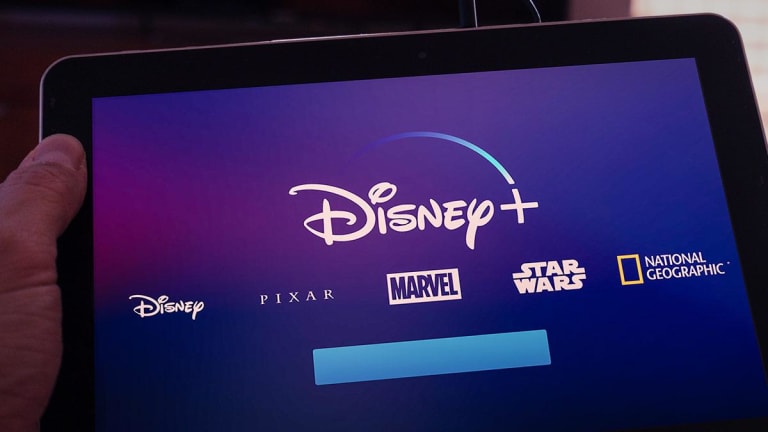 Disney Is Clearly Taking the Long View -- and Thinking Big -- with Disney+
In addition to pricing its video streaming service aggressively, Disney is promising to spend heavily on original content and absorb losses over the next five years.
Give Disney  (DIS) - Get Walt Disney Company Report this: The media giant is well-aware that its Disney+ streaming service is arriving late to the show, and that some short-term pain is necessary to make up lost ground.
Disney+'s initial pricing certainly drives this fact home -- with a U.S. price of $6.99 per month or $69.99 per year (that works out to $5.83 per month), Disney is easily undercutting Netflix (NFLX) - Get Netflix, Inc. Report , whose popular Standard plan (it supports up to two HD streams at a time) now costs $12.99 per month in the U.S.. But the same goes for several other details that Disney, whose shares rose 11.5% on Friday as investors gave a thumbs-up to its plans, shared on Thursday.
For starters, Disney+, which launches on November 12th and is aimed to a large extent at families and fans of sci-fi/superhero franchises, will not only become (as previously announced) the exclusive streaming home for new Disney, Pixar, Marvel and Star Wars films and much of Disney's extensive back catalog of films and TV shows.
The service will also feature a lot of G and PG-rated content produced over the years by recently-acquired Fox Networks. This includes National Geographic content, all 30 seasons of The Simpsons and films and TV shows such as The Sound of Music, The Princess Bride and Malcolm in the Middle.

Disney+ will feature an extensive array of content. Source: Disney.
It's worth remembering that there's an opportunity cost to adding such content. Disney is cannibalizing revenue streams such as DVD sales and on-demand content sales and rentals by adding it. And perhaps more importantly, the likes of Netflix and Amazon.com (AMZN) - Get Amazon.com, Inc. Report would undoubtedly pay a lot to license this material.
Disney and Amazon.com are holdings in Jim Cramer's Action Alerts PLUS member club. Want to be alerted before Jim Cramer buys or sells DIS or AMZN? Learn more now.
Disney also plans to strengthen Disney+ by investing heavily in original shows and movies. The company promises Disney+ will see 25-plus original "episodic series" and 10-plus original "movies and specials" launches in its first year, with series launches growing to 50-plus by its fifth year. Originals in the works include multiple Star Wars-related series, several live-action films and three series from Marvel Studios.
Overall, Disney forecasts its original content spend for Disney+ will ramp from "a little over $1 billion" in fiscal 2020, which ends in Sep. 2020, to the mid-$2 billion range in fiscal 2024. It also plans to spend "a little less than $1 billion" in fiscal 2020 on operating expenses (marketing, R&D, infrastructure, etc.) for Disney+. And though this amounts to one Disney unit paying other Disney units, the company expects Disney+'s spending on content licensed from Disney's studio and TV network units to be "less than $1.5 billion" in fiscal 2020, and reaching the mid-$2 billion range in fiscal 2024.

Big investments in Disney+ originals are planned. Source: Disney.
There are also some smaller details that drive home how intent Disney is on racking up large numbers of subscribers for Disney+. Whereas Netflix charges $15.99 per month in the U.S. for its 4K-capable Premium plan (admittedly, it also supports up for four streams at once), Disney+'s standard monthly and annual subscriptions will cover 4K streaming.
Disney has also struck deals with Roku (ROKU) - Get Roku, Inc. Class A Report and Sony's (SNE) - Get Sony Corp. Report PlayStation unit to have Disney+ "prominently featured" on their platforms, and plans to promote the service at its theme parks, cruise ships and retail stores. And as former Amazon Studios exec Matthew Ball has observed, Disney could also eventually flip the script, bundling things such as theme park and merchandise discounts with Disney+ subscriptions to drive sign-ups and create pricing power.
While Bob Iger's company predicts Disney+ will obtain 60 million to 90 million subscribers over the next five years (about two-thirds of its subs are expected to be outside of the U.S. over the long run), it doesn't expect the service to become profitable until fiscal 2024. "Peak operating losses" are expected to be sustained from fiscal 2020 to fiscal 2022 before Disney+'s bottom line improves.
It's worth adding here that Disney+ isn't the only streaming service Disney is willing to lose money on over the short-term. The company also forecast that Hulu, which it now owns 60% of and could soon have 70% of, will post a $1.5 billion "peak operating loss" in fiscal 2019, and only turn profitable in fiscal 2023 or fiscal 2024. Disney is betting that aggressive spending on Hulu's content library will help the service help its paid subscriber base, which currently stands at 25 million, hit a range of 40 million to 60 million by fiscal 2024.
Likewise, Disney expects its ESPN+ service, which launched last year, to see annual losses of about $650 million in fiscal 2019 and fiscal 2020, and only turn profitable in fiscal 2023. ESPN+ currently has 2 million paid subs; Disney is aiming for it to have 8 million to 12 million by fiscal 2024.
As I argued last November, Disney's three-pronged streaming strategy could succeed in spite of the fact that a very large percentage of the potential subscribers for its services are signed up for both Netflix and Amazon Prime, and are unlikely to cancel either. Certainly, the fact that Disney is now making it clear that it's willing to absorb substantial costs -- both directly and indirectly -- to grow its streaming businesses over the next five years doesn't hurt the odds that its strategy will pay off over time.
And that particularly holds for the streaming service that bears the company's name.