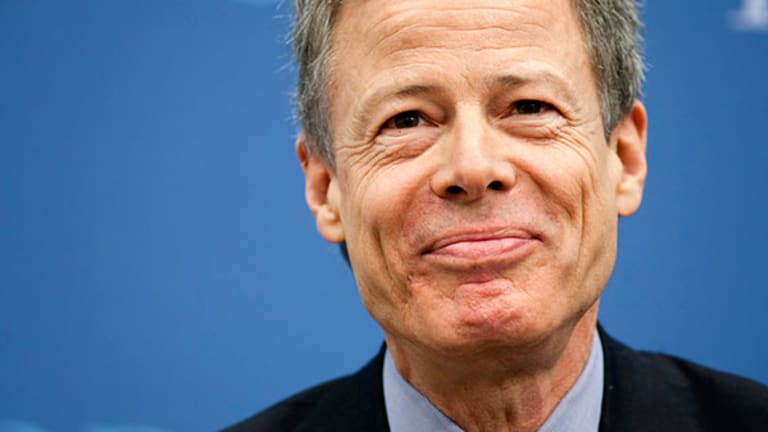 Disney Signals Comfort With Netflix, Countering Time Warner's Growl
Just how fast households are ending their pay-TV subscriptions or opting not to get one at all is the biggest conversation in media.
Don't expect a united front against Netflix (NFLX) - Get Netflix, Inc. (NFLX) Report .
A day after Time Warner (TWX)  CEO Jeff Bewkes vowed to reassess his company's relationships with subscription video-on-demand platforms (read: Netflix and Amazon (AMZN) - Get Amazon.com, Inc. Report Prime), Disney (DIS) - Get Walt Disney Company Report CEO Robert Iger made clear he's more than content with the streaming service.
"We've had a good relationship with Netflix," Iger said during an investor conference call. "They've been extremely aggressive buyers of our content." 
Iger went on: "It's really important for us -- I can't speak to the whole industry -- to maintain flexibility because it's a dynamic marketplace that continues to change. When we made these decisions to sell these shows to Netflix, those decisions made the most sense for us, in terms of the economics."
In other words, Netflix pays us very, very well. So even though Disney is a part owner of Hulu -- along with 21st Century Fox (FOXA) - Get Fox Corporation Class A Report and Comcast (CMCSA) - Get Comcast Corporation Class A Report 's NBCUniversal, if Netflix will pay more for content, Iger will gladly do deals with the Devil. 
Last month Disney sold Netflix the worldwide rights to the first season of ABC's How to Get Away With Murder to go along with a licensing deal with Marvel and other parts of Disney studios that used to be with Starz (STRZA) . Netflix, thanks to 65 million worldwide customers, seemingly can pay more when necessary. 
In his own investor conference call this week, Bewkes pledged to lengthen the "window" between the time a television show originally airs on one of the Turner networks and when it begins showing up at Netflix. That is, Time Warner will seek a "multi-year period more consistent with traditional syndication." Historically, the syndication window has been four years after it plays on a network.
Bewkes' determination to alter Time Warner's licensing strategy came as the company was forced to lower its profit forecast for 2016 to $5.25 a share from an average projection of $5.60, according to a Bloomberg Business survey of Wall Street analysts. That's no small revision.
For Time Warner, the focus is HBO and its online subscription service, HBO NOW. Bewkes see Netflix as both a competitor to HBO and a reasonable place to sell some of his re-run programming. The question for Bewkes is one of timing.
Time Warner's lowered forecast indicated more evidence of cord-cutting, households either terminating their pay-TV contracts or opting to not get one at all (the so-called cord-nevers). Lower subscriber numbers from the Turner networks were the main reason for a 2% drop in cable-TV revenue for the third quarter. Domestic advertising sales at Turner were little changed from a year ago, reflecting little growth.

That the CEO of a major media company publicly declared that it would seek to stop feeding the beast -- Netflix -- that arguably has done more than any other company to weaken the traditional pay-TV bundle was a shot heard 'round the media universe.
"Kudos to Time Warner's CEO for standing up and doing the right thing," Bernstein media analyst Todd Juenger wrote in an investor note on Thursday. "Taking leadership a stance on curtailing SVOD [subscription video-on-demand] licensing."
The question for investors is whether other major media companies will follow suit. 
Clearly, Iger's not about to hold hands with Bewkes on this one. 21st Century Fox (FOXA) - Get Fox Corporation Class A Report CEO James Murdoch reiterated earlier this week his company is reassessing how to license its programming. Murdoch appears to be looking for ways to beef up the offerings at Hulu, which makes sense given he's an owner.
Murdoch emphasized on his conference call that total viewing at Hulu in 2015 has increased 85% compared to the same period a year earlier, and net subscriber additions have grown more than 60%.
But will giving more content to Hulu better protect Fox's TV business?
Starz CEO Chris Albrecht has been outspoken that major content producers erred in licensing their older television programs and movies to Netflix. Before Albrecht arrived at Starz, the premium cable-TV channel, which long trailed HBO and Showtime for prestige and subscribers, gladly accepted cash for programming that otherwise was collecting dust made sense.
That arrangement also paved the way for Netflix to build a $4 billion a year business with more than 42 million U.S. subscribers.
"Starz made a terrible deal with Netflix," Albrecht, a former head of HBO, said in December, adding that Netflix's distribution deal with Starz was worth about $30 million per year. "You could argue that Netflix built its business on the back of Starz programming for pennies. I got us out of that deal, we got ourselves out of that deal a few years ago."
Bewkes stopped well short of declaring that Time Warner would seek to terminate its licensing deals with Netflix. Nonetheless, his comments pointed to the likelihood that the owner of TBS, TNT and Warner Bros. Studios is looking for change, lengthening the window beyond the standard one-year time frame.
"Time Warner's action plan is a profound, fundamental change to the way they approach their business," Juenger added.

What happens next is unclear. Just how much content is Time Warner willing to withhold from Netflix or Amazon, or even Hulu? Owing to its ownership, Hulu routinely airs episodes of popular shows from Fox, Disney and NBCUniversal a day after they air on commercial-supported pay-TV networks. 
"Hulu does not appear to be "protecting" the [traditional pay-TV] bundle nor sustaining the $65 billion-plus TV ad industry," Richard Greenfield, the BTIG media analyst, wrote in Nov. 2 investor note. "In many ways it actually feels more disruptive to the bundle and advertising than Netflix."
Big media companies would do best by cutting off Netflix, Amazon and Hulu altogether, Juenger argues. Though they could run into anti-trust complaints if they conspicuously move in unison, Time Warner, Fox, Disney et. al. ought to put all of their older content on a cable-satellite video-on-demand platform, available only through a pay-TV bundle, or even a skinny bundle. It's all or nothing, he said.
"We don't believe it's enough for the other companies to do less [subscription video-on-demand] licensing on the margin," Juenger wrote. "You can't do a little less of it and a little more of something else. It needs to be a full-scale change."
Getting all media companies to agree isn't likely. After all, it's what allowed Netflix to flourish in the first place.