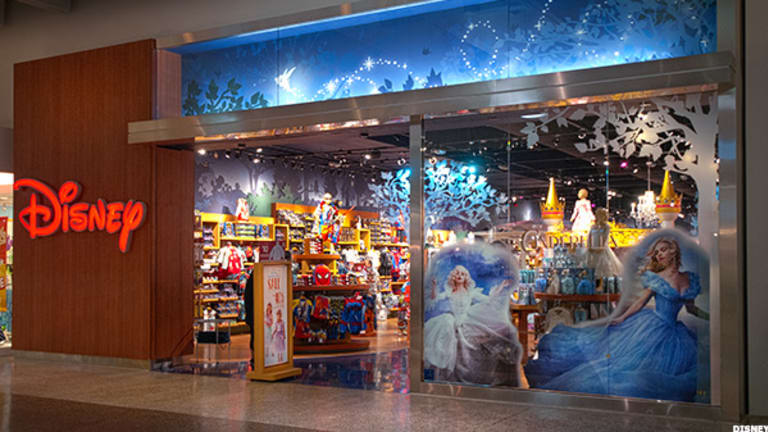 Disney Seeing the Value Again in its Network of Retail Stores
The entertainment giant is revamping and reinvesting in its Disney Store network to capitalize on its 'Star Wars' and Marvel properties.
Once seen by execs as a financial burden, Disney's (DIS) - Get Walt Disney Company Report retail store network is finally getting some attention amid a flurry of tentpole movie releases from Lucasfilm and Marvel in recent years that have led to increased interest by shoppers in toys and other related merchandise.
"Since Star Wars launched in theaters on Dec. 18, we saw a fairly significant traffic increase year-over-year in our stores driven by the new movie," said Paul Gainer, executive vice president of Disney Retail in an interview with TheStreet.

Disney hasn't always been so enthusiastic about the prospects for its retail stores.

Disney first began building stores in 1987, but made a deal in 2004 to sell its North American chain of Disney Stores to children's clothing retailer Children's Place (PLCE) - Get Children's Place, Inc. Report . Disney handed the keys over to what was then a 313-store chain that was rumored to be deeply in the red (Disney does not break out the financials for its stores).
In return, Disney received a royalty from Children's Place on sales from the stores, and the ability to shed an unprofitable network of brick-and-mortar locations. The company did not receive an upfront payment from Children's Place.
However, Children's Place never lived up to its goal of nearly doubling the North American store base of the Disney Stores to about 600. So by 2008, Disney decided to repurchase about 220 stores in the U.S. and Canada from Children's Place, which chose to completely exit the business. Disney now operates about 340 Disney Stores globally.
Gainer declined to comment on the current financials of the Disney Store network.
But it does appear that Disney is moving full steam ahead in investing in the chain's future. A key point of focus for Gainer and his team is the re-training of employees, otherwise known as cast members, in order to enhance the shopping experience.
"Because we have a wide range of franchises and stories, cast members need to have that product knowledge," explained Gainer, adding, "They also need to think about how the consumer is changing the way they shop to understand how they are using mobile devices and product ratings." According to Disney, 25% of its digital sales in the most recent quarter came from mobile devices.
The company is also holding more events -- leveraging the power of its animated characters -- in its stores to attract traffic.
"One of the things we have leaned into the past few years is increasing the number of in-store events such as learning how to draw a character or a sing-a-long or a Halloween costume event. [These] are the types of events that have really resonated with our consumers," Gainer said.


Disney Store customers can now find merchandise for Star Wars and Spiderman alongside those for Disney films.
Disney is also actively trying to offer a more streamlined assortment in its stores to boost efficiencies. A typical Disney Store has about 1,000 items for sale, so an opportunity exists to offer more items online in order to save on things such as inventory costs.
Disney is also back to selectively opening new stores in top-tier real estate, though concedes it will continue to weed out weaker-performing locations. In total, Disney believes its current global count is about the right number to have open.
"Disney has learned a lesson from the mid 2000's when we had two times the store count and our stores were bigger," said Gainer.
One store that won't be closed anytime soon is the flagship location in New York City's Times Square, which opened roughly five years ago and is the second-largest behind the new Shanghai Disney Store. "[The Times Square location] has been great for us, we have seen significant traffic growth," said Gainer when asked if Disney would follow the lead of Toys R' Us, which recently closed its NYC flagship store on Dec. 30, blaming sky high rent costs.
Toys R' Us CEO David Brandon told TheStreet recently that its real estate team is actively searching for another location in Manhattan, but did not give specifics.
Meantime, since October 2013, Disney has opened up about 700 Disney shops within J.C. Penney (JCP) - Get J. C. Penney Company, Inc. Report stores.
Gainer, which oversees the partnership with J.C. Penney, said, "We are excited about J.C. Penney -- we believe what they have done with shops is franchise merchandising and telling the Disney story. At other retailers the story is told in category aisles where it's hard to see the Cars story next to apparel and home goods," noted Gainer, who added the company values all of its relationships with retail partners.
According to Gainer, the company has been using insights from Disney Stores to offer better merchandise with important retail partners. "Disney is big across mass retail," Gainer said.
Disney's consumer product divisions, which comprises the Disney Stores but also revenue from licensing characters from Disney's films, TV and other properties to toymakers and apparel manufacturers, represents about 10% of annual sales for the company, and roughly 12% of operating income. 
As for the performance of the new 54,000-square-foot Disney Store in Shanghai that opened to huge crowds in late May? Disney is still learning about the Chinese customer, said Gainer, but it has seen a strong response to Princess Elsa and Mickey Mouse merchandise, as well as to Star Wars following the movie's recent launch.