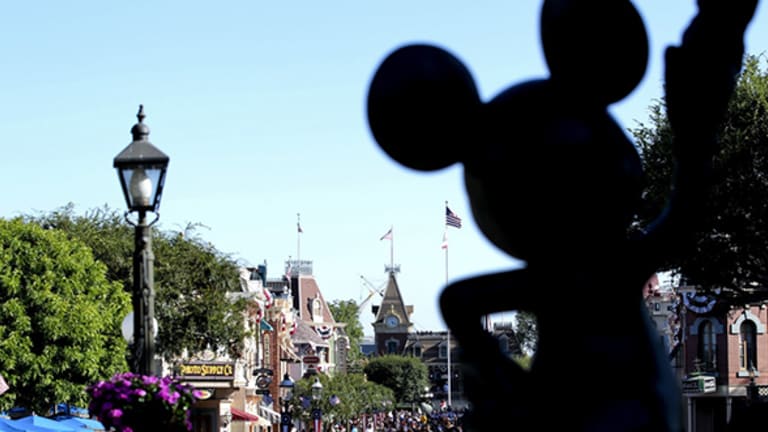 Publish date:
Disney's Upcoming Movies Give Cramer Hope Despite Earnings Miss
The Burbank, Calif., media giant misses revenue expectations.
The Burbank, Calif., media giant misses revenue expectations.
Walt Disney (DIS) - Get Walt Disney Company Report shares tumbled in midday trading Wednesday after the entertainment company failed to meet analysts' revenue and earnings per share projections amid lower theme park attendance and subscriber losses at its ESPN channel.
Despite the miss, Action Alerts PLUS portfolio manager Jim Cramer, TheStreet's founder, holds a favorable opinion on the Burbank, Calif., company, whose stock was off 4.1% to $102.25. On Tuesday, Disney said it posted revenue of $13 billion in the fiscal second quarter. CNBC reported analyst expectations were $13.2 billion. ESPN, owned by Disney, encountered some headwinds as a shift in the timing of college football bowl games caused lower ratings, and ad revenue decreased 13%.
"There are some problems with ESPN, and it's undeniable. But one of the things that has happened with Disney, over time, is they've been able to reinvent themselves. Now ESPN has been such a focus -- SportsCenter [is] not doing well, they got rid of some of the people we regard as on-air talent," Cramer said, referring to ESPN's flagship program.
What gives Cramer pause, however, from taking a bearish view on Disney is the new films set to be released in the near future.
"In the end, if we let Disney be defined by ESPN and not by the slate of movies that they have coming out in the next five years," Cramer said, "I think we are going to miss a great opportunity. ... This company has double-digit growth, it's got a great balance sheet, its got Shanghai Disney. I know I'm fighting the tide by saying good things about it, but I'm willing to fight that tide."
Titles slated to be released this year include Finding Dory, a sequel to the iconic Finding Nemo that will be released June 17, and The BFG, a movie based on the children's book of the same title by Roald Dahl slated to be released July 1. Star Wars: Episode VIII, the latest installment of the cult series, is scheduled to be released Dec. 15, 2017, according to the IMDb website, although a prequel to the original 1977 film, Rogue One, is set for a Dec. 16 release.