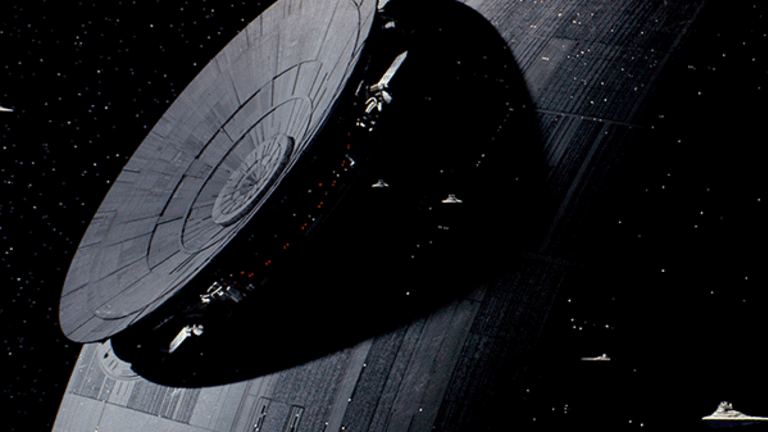 Publish date:
Disney's 'Rogue One' Blasts Off Toward Top of Box Office, Reignites 'Star Wars' Empire of Assets
The first standalone film in George Lucas' saga has sold more than $318 million tickets domestically, setting a course for $550 million.
The first standalone film in George Lucas' saga has sold more than $318 million tickets domestically, setting a course for $550 million.
Disney's (DIS) - Get Report Star Wars spinoff movie Rogue One: A Star Wars Story clearly seems headed to a galaxy (almost) far far away.
The film, the first of a planned series of Disney-made standalone movies separate from the core narrative of George Lucas' iconic intergalactic battle series, has collected $318.2 million in domestic ticket sales, according to Disney, after only two weeks in movie theaters.
That puts it on a path toward $550 million in eventual domestic box office, figures analyst Tony Wible, director of media and entertainment at Drexel Hamilton, who has a hold on the stock and a price target of $102 a share.
Disney shares Tuesday afternoon were up 20 cents to $105.35.
At $550 million, Wible said, Rogue One would power toward the same orbit as The Dark Knight, the Batman film from Time Warner's (TWX) Warner Bros. studio that led the box office chart in 2008 with $533 million in sales.
Rogue One also would become the top-selling film of 2016, a spot occupied by Disney's animated Finding Dory, with ticket sales of $486 million, according to the tabulation kept by Box Office Mojo.
Rogue One, which also has generated more than $255 million in international sales, opens on Jan. 6 in China, the world's second-largest market, according to Disney.
China accounted for $124 million of the $2.1 billion in ticket sales for last year's Star Wars: The Force Awakens, according to Box Office Mojo.  That film generated $936.7 million in U.S. ticket sales. Disney collects about half the U.S. ticket sales and a lesser amount in some foreign countries.
Rogue One's high-flying performance comes after a typically oversize Disney marketing campaign that featured a glitzy premiere that included a full-sized X-Wing fighter set up on Hollywood Boulevard and a special prime-time edition of the late-night Jimmy Kimmel Live! on Disney's ABC network.
Little wonder. Rogue One, made for about $220 million, is a pricey attempt to keep George Lucas' franchise alive and well, while at the same time boosting revenue within Disney's empire of assets as the company prepares next year for the eighth in the main line of films that have generated more than $6.7 billion in worldwide ticket sales.
"We'll keep fans engaged in the Star Wars universe and further expand the franchise with the release of Rogue One," Disney CEO Bob Iger said earlier this year on an earnings call with analysts.
Rogue One takes place just before Luke Skywalker, Darth Vader and the other characters in Lucas' initial films began their battle. In the latest film iteration, a band of rebels steal the plans for the Galactic Empire's Death Star.
The eighth in the core Star Wars saga is due in theaters Dec. 15, 2017. The film, currently in post-production, seems likely to be the final cinematic portrayal of Princess Leia, as actress Carrie Fisher died on Tuesday morning following a heart attack.
The heroics of Rogue One primarily almost certainly will put into hyperdrive Disney's studio and consumer products units, which license everything from Hasbro's (HAS) - Get Report $7.99 action figures of the rebel fighters to $3,000 necklaces from Signet's (SIG) - Get Report Kay Jewelers.
The film is especially crucial to Disney as the company continues to struggle with falling subscribers at the ESPN cable sports franchise, the largest part of the company's cable unit. Last year it provided 45% of its overall earnings.
"Disney is about monetizing brands in every way they can," Wible said. "There is the more identifiable stuff like film and consumer products, but [ Rogue One] will also help boost their awareness in China and [Latin America]. It will also build interest in the park expansions."
The Star Wars franchise is one of 11 Disney franchises that generate more than $1 billion a year in retail sales for its products, Disney executives have said. That jumps whenever a new Star Wars movie hits theaters. When Star Wars: The Force Awakens opened last December, it generated retail sales of $3 billion in Disney's first quarter, ended Jan. 2, Iger said, as well as what he called "unprecedented growth" of Disney's mobile games.
That was enough to push the operating income for Disney's studio to more than $1 billion for the first time and to hike the company's consumer product earnings by 23% to a record $860 million.
Disney needs a strong Star Wars presence for its income statement. By Disney's second quarter, ended April 2, Star Wars' momentum had waned, according to Securities and Exchange Commission filings. Earnings at its consumer products division fell by 8% from a year earlier to $357 million, as increased Star Wars merchandise wasn't enough to offset a falloff in those from Disney's Frozen animated film. Studio operating income dipped to $542 million, still up 27% year over year.
Disney is also counting on Rogue One to keep company fans salivating for the opening of two new Star Wars "lands," with rides and restaurants based on the movie at its Disneyland park in Anaheim, Calif., and Disney's Hollywood Studios in Orlando, Fla. Construction began in April on the two 14-acre park expansions, where rides will include one allowing riders to control the Millennium Falcon space ship and another that places guests in the middle of a battle between the First Order and the Resistance.
No date has been announced for the opening of the two Star Wars lands.
This article is commentary by an independent contributor. At the time of publication, the author held a position in Disney.