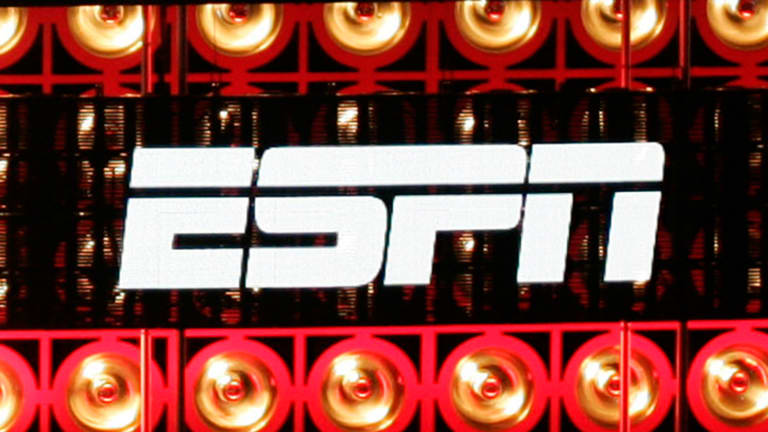 Disney's ESPN May Be Better Off Without YouTube Red
Disney's choice to withhold ESPN content from YouTube may be about keeping its options open. Or it could just be about the money.
Trying to figure out how to protect, and make money, from intellectual property in the 21st century is a difficult proposition. Consumers want access to everything everywhere, and they mostly don't want to pay for it.
So, when Disney (DIS) - Get The Walt Disney Company Report signed on to be a part of YouTube's (GOOG) - Get Alphabet Inc. Report new subscription-based service, it was certainly surprising that ESPN's content wasn't part of the deal. Owing to Google rules, ESPN videos won't be shown on YouTube because Disney wouldn't agree to allow it on YouTube Red, its $9.99 commercial-free subscription service, which is scheduled to go live on Wednesday, a company spokesman said.
Considering YouTube's massive audience, this is a significant corporate decision, closing off a major vehicle for exposure to branded ESPN content.
How Disney manages ESPN has been a topic of great interest since CEO Robert Iger on Aug. 4 said the sports powerhouse had experienced a "modest" decline in subscribers. For investors concerned about cord-cutting, evidence of falling subscriber numbers for a network as historically popular as ESPN can only mean that customer declines are taking place everywhere.
Media stocks across the sector fell on Iger's comment. Shares of Burbank, Calif-based Disney have dropped 6.4% since Aug. 4 compared to the S&P 500 which has slipped 1.5% during that time period. Disney is scheduled to report its third-quarter earnings on Nov. 5.
As for the YouTube deal, Disney either didn't like the terms of the deal -- i.e. the money wasn't right -- or it has other plans for ESPN's digital strategy. Iger has said that ESPN could eventually be sold as a standalone service similar to Time Warner's (TWX) HBO NOW or CBS's (CBS) - Get CBS Corporation Class B Report Showtime Anytime.
Like its chief rivals, Disney is experimenting with so-called skinny bundles as it participates in Dish Network's (DISH) - Get DISH Network Corporation Report Sling TV and has plans to launch its own online streaming service in the U.K.
ESPN has been rather tight-lipped about the decision, but parsing their language yields some valuable insight. "ESPN is not currently part of the Red service. Content previously available on the free YouTube service will be available across ESPN digital properties," a Disney spokesman told TheStreet. The only word that matters is "currently." Disney has not closed the door on the possibility of ESPN content going on the service at some point.
With such a valuable brand, Disney is naturally being careful to protect its flexibility with ESPN.
"They [ESPN] don't have the desire to go direct to consumer or over the top anytime soon, but might want to preserve the optionality to do so in the future," David Bank, an analyst at RBC, said. "At its core, it's really about Disney preserving the ability to own the brand and do whatever it wants. It would have to be a good deal for ESPN to give up that optionality."
At first blush, the headlines only emphasize the apparent difficulties at ESPN. It's been losing subscribers. High-profile talent like Bill Simmons and Keith Olbermann have left. And it recently made news by laying off hundreds of employees.
"There hasn't been a shortage of controversy for ESPN over the last three to six months," Bank added. "In the near term, there is some financial pressure that the network will be placed under, but sometimes, it's better not to take the short-term dollar in exchange for the long-term annuity. ESPN remains in such a position of strength despite the short-term bumpiness."
How media is delivered continues to evolve almost on a daily basis, and that is where there could be some risk by not having this content available on YouTube.
"From the consumer perspective, it's important to have a seamless experience on all platforms," said Tuna Amobi of S&P Capital IQ. People want to view content the way they want, and if they're used to utilizing YouTube for it, it's unknown if they will migrate elsewhere to view ESPN.
Having said that, Disney obviously doesn't view YouTube as absolutely essential to its sports brands. Jimmy Kimmel Live may need his millions of hits on YouTube to remain successful, while 30 for 30 or Pardon the Interruption might not.
RBC's David Bank says this does not mean that Disney is afraid of taking risks in the digital space.
"You [actually] have to credit Disney and ESPN more so for running toward tech as opposed to running away," he said. "ESPN TV Everywhere was one of the first live streaming platforms. They really embraced it."
They just haven't embraced YouTube's subscription service ... at least not yet.
This article is commentary by an independent contributor. At the time of publication, the author held no positions in the stocks mentioned.