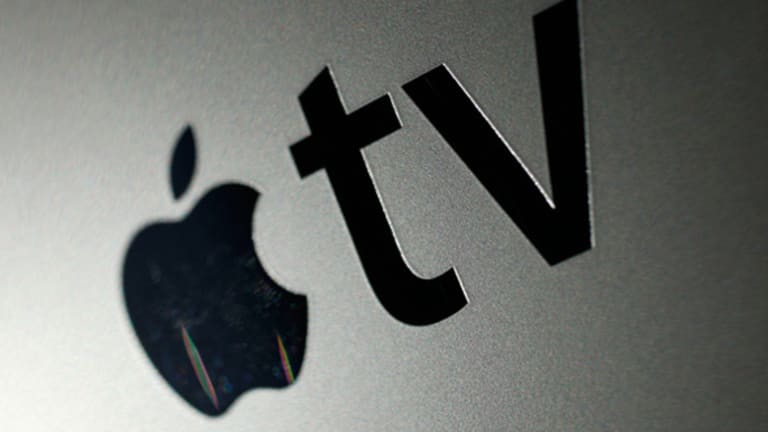 Disney Presses Apple to Carry More Channels on Internet TV Service
Disney is likely to insist that Apple take ESPN, Disney Channel and all of its offerings as part of a deal.
NEW YORK (TheStreet) -- Apple (AAPL) - Get Free Report and Walt Disney (DIS) - Get Free Report executives in intensified negotiations in recent weeks are dealing with, among other things, the nettlesome issue of how many Disney-owned channels Apple will be required to carry on its long awaited Apple TV broadband video service.
According to people with knowledge of the talks, Disney is pressing Apple to take most if not all of its channels, which include several channel spinoffs of its mainstays ESPN and Disney Channel, while Apple wants to take fewer channels in a bid to keep the price down for its service, which is expected to be launched later this year.
"Disney has made it clear that it wants to drive the strongest deal it can get," said one person with knowledge of the talks who is not authorized to speak about the negotiations. A Disney spokeswoman would not comment on the matter.
Apple hopes to announce content partners for its broadband video service in June, according to media reports, and to launch its subscriber service later in the year. Apple is said to be aiming for a 25-channel offering priced at $30 to $40 a month. Apple spokesman Tom Neumayr declined to comment.
The talks with Disney are important to Apple, according to one of the people, because Disney's channels, which also include ABC Family, are considered essential for the young families and younger men who are among the most likely TV watchers to "cut the cord" and choose lower-priced Internet-based options to their cable or satellite services.
Disney, which broke with its media industry peers in 2005 to offer its TV shows on Apple's iTunes, is still considered to be a likely partner for Apple this time as well. But the media giant needs to protect its hugely profitable cable TV channel unit and doesn't want to anger cable and satellite operators who, according to consultants SNL Kagan, pay Disney $12.1 billion a year in affiliate fees.
Disney is among the industry's leading proponents of maintaining the so-called "bundle" of channels  by which TV distributors contract to license most or all of its channels. 
"We are extremely big believers in the value of the bundle," Disney Chief Financial Officer Jay Rasulo said at an investor conference in January. "It's very hard to find alternatives in entertainment that actually come to your home as cheaply."
Disney is almost certain to insist that Apple pay full freight for all of its channels, including its different offshoot channels of ESPN and Disney Channel, said Blair Westlake, a former Microsoft (MSFT) - Get Free Report corporate vice-president of media and entertainment whose team negotiated with content owners for its Xbox gaming console.
"It's like the proverbial cheap suit," Westlake said. " If the thread starts to unravel from the cuff, pretty soon the whole suit comes apart."
Disney likely would insist that Apple offer all of its channels to as many subscribers as possible. Many cable operators have "most favored nation" clauses in their contracts with Disney that could require ESPN to be carried as widely as possible. If Apple enabled its subscribers to pick and choose which channels to take, other cable channels could use that clause to cut back on lesser watched Disney channels.
"It would be a lose-lose for Disney," said Westlake. Ad sales would decline as fewer people watched commercials on its channels, and Disney would also lose some of the monthly fees it collects from cable and satellite operators for each subscriber.
So far Disney has refused to license its channels for Sony'sundefinedVue service, which launched in March for subscribers in New York, Chicago and Philadelphia. The company licensed its channels to Dish's (DISH) - Get Free ReportSling TV, which offerers ESPN, ESPN 2, Disney Channel and ABC Family in a $20 monthly package.  Other Disney channels are available for additional cost in sport or children's packages.
"We believe it is a worthwhile experiment or a worthy attempt to try to convince younger people to sign up to cable they wouldn't have signed up or might have waited," Disney CEO Bob Iger said of the SlingTV deal during an earnings call with analysts in February.
The deal with Sling TV has a cap on the numbers of subscribers can receive ESPN, which industry insiders believe is 2 million, that is designed to mollify cable or satellite operators who might try to renegotiate their own agreements with Disney, according to one person with knowledge of cable negotiations. Dish spokesman John W. Hall had no comment.
This article is commentary by an independent contributor. At the time of publication, the author held positions in AAPL, DIS and MSFT.