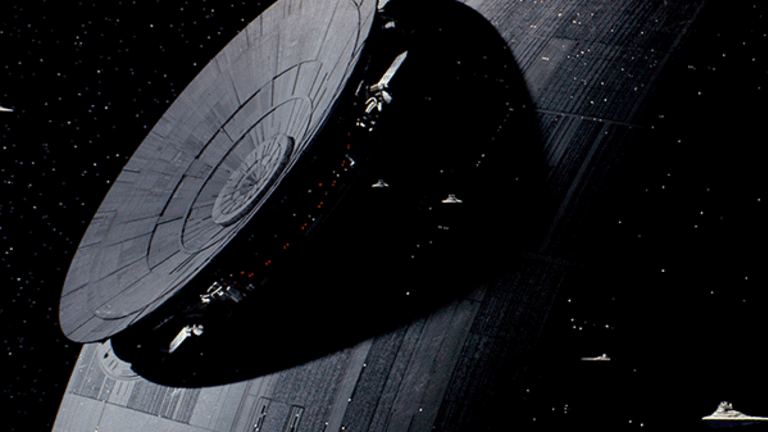 Disney Investors Want ESPN, See Film Business as Risky Despite 'Rogue' Blockbuster
Needham's Laura Martin says Wall Street values ESPN's stable ad sales and affiliate fees.
It's the conundrum of being a Hollywood company. Disney (DIS) - Get Walt Disney Company Report is on the verge of breaking the film industry record with more than $7 billion in worldwide ticket sales in 2016. But Wall Street isn't sure whether the hot streak can continue next year, or the year after.
That makes it problematic for Disney to spin off ESPN, figures Needham analyst Laura Martin, despite a rising call by other analysts and media heavyweights including billionaire investor John Malone of Liberty Media (LMCA) that Disney jettison the cable sports behemoth after three years of falling subscriber numbers.
Martin, who has a hold on Disney stock, argues that Wall Street hates the uncertainty of the movie business and, despite Disney's current stream of blockbusters, would rather see the company hang onto ESPN, which has a far more certain revenue stream of advertising sales and affiliate fees from cable and satellite operators.
"Disney's valuation would fall, not rise, if they were to get rid of ESPN," Martin said. "The movie business is much more volatile. That's why The Street just doesn't see the business as replicable."
Martin believes the market would rather Disney hang onto ESPN, which collects an industry-leading $7.21 a month from each of its approximately 90 million subscribers, according to digital consulting firm SNL Kagan. Its nearest competitor, Time Warner's (TWX) TNT channel, is paid only $1.82 per subscriber. Ad sales for the channel also have been strong, Martin said.
"ESPN's problems have been overblown," she said. "There's good visibility in sports costs, which are locked in. The unknown, of course, is the subscriber number but that's a bigger industrywide issue."
According to Disney's most recent filing, ESPN has shed 5 million subscribers over the past three years, falling to its lowest number since 2005. Like most cable channels, ESPN has suffered as cable and satellite subscribers opt instead to get streaming video from Netflix (NFLX) - Get Netflix, Inc. (NFLX) Report and other over-the-top providers and to "cut the cord" and drop more expensive subscriptions.
Nevertheless, "We generally feel bullish about ESPN's future," CEO Bob Iger said during the company's most recent earnings call. 
Disney is unquestionably on a hot streak at the box office, with its most recent film, Star Wars spinoff Rogue One: A Star Wars Story, opening this past Friday with a larger than expected $155.5 million weekend at the domestic box office.
Even before Rogue One, Disney had five blockbuster movie releases this year ranked among the top 10 films in both domestic and worldwide box office, the company said in a press release Monday, including its Marvel Studios superhero film Captain America: Civil War, the year's top-ranking film with $1.15 billion in worldwide ticket sales. The animated Finding Dory from Disney's Pixar Animation Studios is the top-ranked domestic film with $486.3 million.
Disney's movies had brought in more than $6.98 billion worldwide through Sunday, according to the company's press release. The company's Star Wars: The Force Awakens, which debuted in December 2015, earned $736.6 million of its $2 billion in total ticket sales in 2016, the company said.
Disney certainly looks stocked with potential hits, Martin said, including the next Star Wars installment, scheduled to open on Dec. 15, 2017. In May the company is scheduled to release Guardians of theGalaxy, Vol. 2, the sequel to the surprise 2014 blockbuster that sold $773.3 million worldwide, followed by Pixar's Cars 3 in June and Marvel's Thor: Ragnarok in November.
But the risk is always there that one or more of the films won't perform, other analysts said.
"FY17 prospects aren't as bright," wrote Tony Wible of Drexel Hamilton, who rates Disney a hold. "And we believe there is greater risk in the film slate."
This article is commentary by an independent contributor. At the time of publication, the author held positions in Disney, Netflix and Liberty Media.