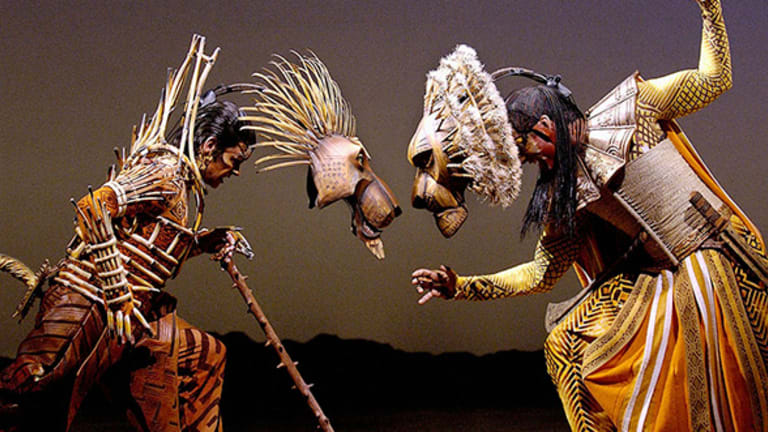 Disney Continues to Dominate Broadway With The Lion King and Aladdin
Since 1994, Disney has made a successful transition to stage production on Broadway and that success is still holding strong.
NEW YORK (TheStreet) -- Disney (DIS) - Get Report has taken over Broadway. 
Out of the top three highest grossing shows on Broadway this past week, Disney Theatrical Productions Limited, a subsidiary of Disney, has two of them. As a highly successful multi-faceted company, Disney tends to dominate any market it gets into and theater has been no exception.
The two shows taking over Broadway currently are the long-running The Lion King, which grossed just over $2.6 million last week alone, and newer production Aladdin, which grossed just over $1.8 million last week. Both are among price leaders for Broadway tickets on the secondary market.
Since 1994, there has rarely been a week when a Disney show was not at least in the top ten highest grossing list. When Newsies The Musical was on Broadway, it killed at the box office, making on average between the mid-$800,000 mark to mid-$900,000 a week according to Broadwayworld.com. Also when Beauty and the Beast, one of the most iconic Disney films, was on the stage it grossed on average $621,000 per week from 1994 to 2007.
Disney Theatrical Productions Limited, also known as Disney on Broadway, was founded in 1993 by Ron Logan as Walt Disney Theatrical. The company began putting on Broadway musicals and plays in 1994 when it produced Beauty and the Beast. Other notable Disney productions include King David (1997), The Lion King (1997-present), Aida (2000-2004), Tarzan (2006-2007), Mary Poppins (2006-2013), The Little Mermaid (2008-2009), Arcadia (Revival) (2011), Sister Act (2011-2012), and Peter and the Starcatcher (2012-2013).
Face prices for Disney shows tend to be expensive, too, but currently not as expensive as other top Broadway productions, such as The Book of Mormon which costs around $129 at its cheapest. The lowest price for The Lion King is currently $92 and Aladdin tickets begin at $49.50. On the secondary market, The Lion King tickets average $243 and Aladdin averages $191 per ticket, according to TiqIQ. Even with those relatively steep prices, fans are getting what they pay for: an amazingly produced Disney production that brings audiences back to their childhood years.
Many Disney shows have made the Longest Running Broadway List. The Lion King is currently at No. 4, Beauty and the Beast is No. 9, Mary Poppins is No. 22, Aida is No. 35, and Newsies is No. 101. Aida grossed just over $700,000 on average per week during its run, and Mary Poppins grossed on average $882,000 per week during its run, which is quite impressive overall. 
So what's next for Disney on Broadway? In January 2014, CEO Bob Iger announced that the hit animated film Frozen was in early development stages for a theatrical adaptation. A musical adaptation of the iconic film Pinocchio is set to premiere at the National Royal Theatre in December 2016. Also the Hunchback of Notre Dame was performed at the Papermill Playhouse in New Jersey this past year, and some say that may come to Broadway in the near future.
Fans can see the current Disney productions of The Lion King at the Minskoff Theatre or Aladdin at the New Amsterdam Theatre, the oldest theatre on Broadway.
This article is commentary by an independent contributor. At the time of publication, the author held no positions in the stocks mentioned.