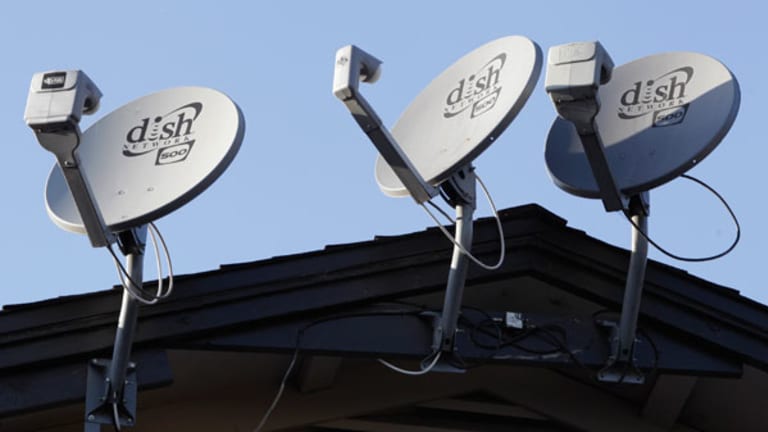 DISH's Offer for Clearwire Reflects Complex Landscape
Lost amid all the chatter about DISH Network's bid for Clearwire is that DISH's chairman doesn't see much long-term upside for satellite TV.
NEW YORK (TheStreet) -- Smart corporate leadership comes in many forms.
But one of the most underrated things a manager can do is to realize when something has been taken as far as it can go.
What's been lost amid all the chatter about
DISH Network's
(DISH) - Get DISH Network Corporation Class A Report
bid for
Clearwire
(CLWR)
is that Charlie Ergen, DISH's chairman, doesn't see very much long-term upside in the satellite TV concept. I agree.
Truth be told, I have always believed that DISH's shares, which trade at a price-to-earnings ratio that is three times that of rival
DirecTV
(DTV)
, was overvalued. The Street, however, never seem to mind paying this premium, even though DirecTV outperforms DISH in every meaningful category, including revenue growth, gross margin and operating margin.
Making matters worse is that rival services such as
Netflix
(NFLX) - Get Netflix, Inc. Report
have caused a decline in satellite subscribers while telecom giants such as
AT&T
and
Verizon
(VZ) - Get Verizon Communications Inc. Report
have shown considerable and potentially damaging traction in the pay TV/entertainment business. Now here comes
Intel
(INTC) - Get Intel Corporation Report
throwing its hat into the mix.
Also see: Can Dish Blow Up the Spectrum Market >>
The mass media have brought unnecessary drama to DISH's proposal for Clearwire -- suggesting that it's become a "billionaire's duel" with Japan's
SoftBank
. But for Ergen, this is (and always has been) about survival.
And
Sprint's
(S) - Get SentinelOne, Inc. Class A Report
presence in the middle of this tug-of-war heightens an already intense situation for DISH's board, which desperately needs to enter the thriving mobile broadband market.
To that end, if DISH can exploit the weight of its wireless spectrum, then it's just good business. More importantly, though, the overture was seen as a good offer.
With the board of Clearwire having recently approved DISH's $4.40-per-share bid, one obstacle is now out of the way. This is much to the dismay of SoftBank, which (separately) received approval for its offer to acquire Sprint for $21.6 billion.
Also see: Bulls Beam In on DISH Network >>
For SoftBank, though, the Sprint transaction is no longer as "clear" as the company would have liked. Although Sprint will certainly help SoftBank in its ambition to enter the U.S. market, the effectiveness will be diminished if Sprint loses to DISH the portion of Clearwire that it doesn't already own. In other words, a combined Sprint-Clearwire entity would have had more vigor than if Softbank acquires Sprint alone.
What's more, this now raises questions about Sprint's long-term execution capabilities absent the valuable airwaves of Clearwire. I have no doubt that SoftBank sees Sprint as less attractive. Still, I don't believe that SoftBank will necessarily exit this deal. Sprint (with or without Clearwire) is still the third largest carrier in the U.S. with a significant reach.
There are other considerations here as well. For instance, although DISH owns a sizable portion of wireless spectrum, this alone does not make Clearwire immediately viable, nor does it transform DISH into a wireless-services company. Plus, there's also the Federal Communications Commission that has to preside over DISH's use of its spectrum.
If it sounds as if I'm doubting this deal, that's not the case. But I also don't think DISH's value automatically increases based on a completed transaction for Clearwire and/or
MetroPCS
(PCS)
, which DISH was rumored to have been interested in.
Also see: Divorce-Proofing Your Real Estates Assets >>
DISH still needs to execute. Plus it's not as though AT&T and Verizon have been overwhelming the Street with strong growth.
I don't disagree that they are making money. But the wireless market is mature. And with DISH's margins already trailing DirecTV and
Comcast
(CMCSA) - Get Comcast Corporation Class A Report
, taking on AT&T and Verizon, both of which have invested significantly in their networks, doesn't sound very exciting.
What remains exciting, however, is Charlie Ergen's leadership and watching all of this maneuvering unfold. The best thing about it -- it's commercial free.
At the time of publication, the author held no position in any of the stocks mentioned
.
Follow @saintssense
This article is commentary by an independent contributor, separate from TheStreet's regular news coverage.
Richard Saintvilus is a private investor with an information technology and engineering background and the founder and producer of the investor Web site
. He has been investing and trading for over 15 years. He employs conservative strategies in assessing equities and appraising value while minimizing downside risk. His decisions are based in part on management, growth prospects, return on equity and price-to-earnings as well as macroeconomic factors. He is an investor who seeks opportunities whether on the long or short side and believes in changing positions as information changes.