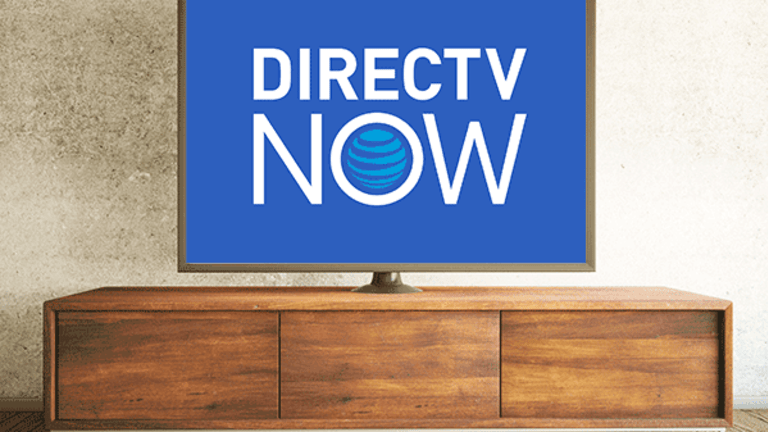 DirecTV Now's Profitability Remains Murky as Reaction Is Mixed
The early grades are in, and AT&T's new multichannel steaming service is getting mixed marks.
The early grades are in, and AT&T's new multichannel steaming service is getting mixed marks.
Turns out that AT&T (T) - Get Report  CEO Randall Stephenson was sort of fudging it.
DirecTV Now, the multichannel streaming service that will go live on Wednesday, will offer a package of 100 channels for $35, just as Stephenson said it would in late October, days after securing an $85.4 billion cash-and-stock deal to acquire Time Warner (TWX) . 
What he didn't say is that the offer is good for a "limited time." After the period, which AT&T was quick to add has yet to be determined, the price for DirecTV Now's full programming slate will jump to $60 per month, although early subscribers will keep the lower rate as long as they remain subscribers, rising incrementally only with programming increases across all tiers. Those looking to pay $35 per month later can receive a package of greater than 60 channels.
Either way, DirecTV is less about stealing subscribers of traditional cable TV than helping to retain users of AT&T wireless services. The most attractive element of the streaming service is that for AT&T wireless subscribers, DirecTV Now won't count against their data cap. That's a very big deal, given that AT&T's wireless business has been losing 100,000 or more subscribers per quarter for more than a year, according to Jim Breen, a William Blair media analyst.
"This will differentiate its wireless service from competitors Verizon (VZ) - Get Report , T-Mobile (TMUS) - Get Report and Sprint (S) - Get Report ," Breen said in an investor note on Tuesday.
Nonetheless, DirecTV Now likely will need to offer users more than just pay-TV online if it hopes to outpace Dish Network's (DISH) - Get Report Sling TV, Sony's (SNE) - Get Report PlayStation Vue or similar services expected in the coming weeks from Hulu and Alphabet's Google (GOOGL) - Get Report .
"Although we view AT&T's DirecTV Now offering as a step in the right direction, AT&T will need to continue to innovate in order to offset industry competition," Breen added.
The revelation that DirecTV Now's baseline package wouldn't be priced at 100 channels for $35 over the long term eased the concerns of some on Wall Street who viewed Stephenson's initial declaration with some degree of disbelief. Or better said, questions about profitability.
The flagship DirecTV Now -- there are two other smaller-scale streaming services that AT&T is introducing simultaneously -- breaks into four tiers, starting with a package of 60 or more channels for $35 per month, teased with the label "Live a Little," followed by a larger offering, "Just Right," of 80 or more channels for $50. The "Go Big" offer comes in at 100 or more channels for $60, and then "Gotta Have It" offers a full-blown traditional bundle of 120 or more channels for $70.
Arguably, the "Live a Little" package will compete with Sling TV, which has a $40 offering of 43 channels, though without the broadcast networks of ABC, NBC or Fox. DirecTV Now users also have the option to add Time Warner's HBO or Cinemax premium networks at $5 per month apiece, a tempting deal that feels like a "loss leader" to Goldman Sachs media analyst Drew Borst, given that HBO's wholesale cost is $8 to $10, he said in an investor note.
But even if the 100-channel offer will eventually cost $60, media analysts Craig Moffett and Michael Nathanson of MoffettNathanson counter that most potential viewers will be more than content with DirecTV Now's lowest tier of 60 channels for $35 because, quite simply, it contains the most popular networks in the average U.S. home -- that is, ESPN, Fox News, FX, the Disney Channel, TNT, USA, AMC and others.
Sports junkies, though, keen on their regional sports network, will have to pay up for the 80-channel $50 package, but both of the larger-tier packages are "mostly for a bunch of filler," in the words of MoffettNathanson.
"To be sure, not everything is included in the $35 package," the analysts said in an investor note. "But outside of the regional sports networks, which have their own obvious appeal to sports fans, is anyone going to pay more for CNBC's 'World' network? And is there even a single cord-cutter -- a cohort that almost by definition lives online -- that would pay extra for a linear TV version of The Weather Channel?"
Nevertheless, all the packages have some advantages for potential users and AT&T.
DirecTV Now won't require a contract or a set-top box, or coordinating a visit from the cable guy, and a single subscription allows for two simultaneous streams. It also will include about 15,000 video-on-demand titles, though for the moment it won't include anything from CBS (CBS) - Get Report or the very popular NFL Sunday Ticket, DirecTV's proprietary package of out-of-market NFL games. (DirecTV already offers a streaming version of the service to customers that are not subscribers of the satellite TV provider, although availability is limited.)
The multitiered packages loaded with most everything in modern TV led Jefferies media analyst Mike McCormack to declare, "We expect a robust offering that will likely add more content over time ... as it aims to curate content and draw the key millennial demo."
Nonetheless, the fact remains that the media industry is in decline. There are more content offerings and more platforms to access that content. DirecTV Now will be available through Amazon (AMZN) - Get Report and Apple (AAPL) - Get Report TV, but both of those platforms also will hawk their own apps and the apps of many others. Today's media business isn't the same one that fueled the 2000s return of AT&T or the post-Michael Eisner Disney (DIS) - Get Report or the global reach of Rupert Murdoch's 21st Century Fox (FOXA) - Get Report .
Rather, today's media industry must adapt to the erosion of the traditional cable TV bundle, which had kept it fat and happy for nearly four decades. Cable and satellite-TV operators lost 340,000 subscribers in the third quarter, a 35% steeper decline than during the same period a year ago, according to data compiled by Bloomberg Intelligence.
For Stephenson, DirecTV Now is a stab at stabilizing AT&T's wireless business as it tries to win regulatory approval of the Time Warner acquisition, itself a big bet on the potential synergies of owning broadband and lots of content, a combo made famous by Comcast (CMCSA) - Get Report acquiring NBCUniversal. AT&T, after all, has been losing subscribers at both its U-Verse cable TV service as well as traditional satellite operation DirecTV.
AT&T clearly is hoping that DirecTV Now can address an assortment of issues.
Yet while AT&T is betting it can entice the roughly 20 million U.S. homes without cable TV service to subscribe to its version of internet pay-TV, investors aren't yet so sure what to make of DirecTV Now. AT&T shares were little changed on Tuesday at $39.48 and were off 1.2% Wednesday morning to $38.99.
Comcast, Apple and Alphabet are holdings in Jim Cramer'sAction Alerts PLUS Charitable Trust Portfolio.Want to be alerted before Cramer buys or sells CMCSA, AAPL and GOOGL? Learn more now.