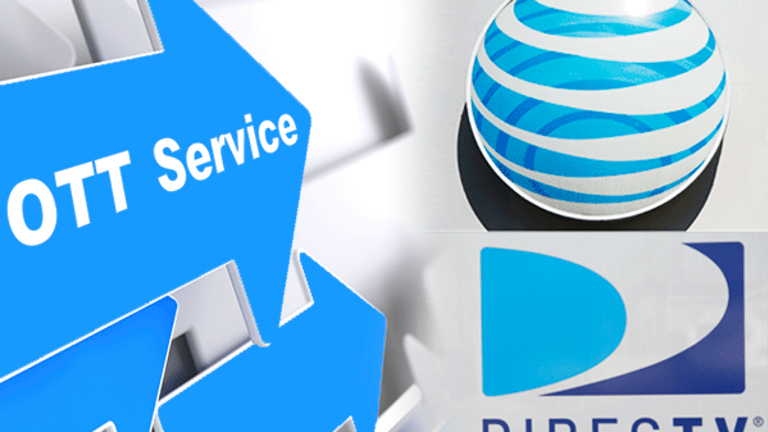 DirecTV Now Isn't a 'Skinny Bundle' Even as It Aims at Cord-Cutting Millennials
AT&T's streaming platform won't be a skinny bundle, but it will be marketed to young people, especially in urban areas where its DirecTV satellite service has found little traction.
It's back to the future for AT&T (T) - Get AT&T Inc. Report .
The company once known as Ma Bell, which was broken up in a landmark court ruling in 1982, aims to disrupt the media business on two fronts as it reasserts its place in an industry where its profile has waned in recent years.
First, of course, CEO Randall Stephenson wants to create a media conglomerate that integrates content and distribution by acquiring Time Warner (TWX) in an $85.4 billion cash-and-stock deal. Despite president-elect Donald Trump's initial opposition, the transaction ultimately may win approval from the kinds of Republican officials who have sided with corporations rather than consumer groups over questions of consolidation, media analyst firm MoffettNathanson said Thursday.
Second, AT&T is eager to shake up and grab share in the fast-emerging market for multi-channel streaming services -- pay-TV for the internet often labeled over-the-top services.
Its new service, DirecTV Now, is expected to be unveiled by the end of the month, sporting three tiers of channel packages, each aimed at the roughly 20 million to 25 million households that don't subscribe to any pay-TV service. (DirecTV declined comment for this article.) In particular, DirecTV Now's variety of packages will be marketed at young people and especially those in urban areas where AT&T satellite TV service DirecTV, which it acquired in 2014, historically has lagged its cable TV rivals.
But whatever you do, don't call DirecTV Now a "skinny bundle." AT&T doesn't plan on rolling out a service comparable to Dish Network's (DISH) - Get DISH Network Corporation Class A ReportSlingTV.
According to a source close to the rollout, none of DirecTV's three tiers will attempt to replicate SlingTV's strategy of selling tightly focused packages of 25 to 40 channels for $20 to $25 per month. Instead, AT&T aims to sell customers a facsimile of the traditional pay-TV bundle but with the kind of friendly user interface that TV Anywhere platforms failed to provide.
Its three tiers will include one ad-supported package, DirecTV Free View, aimed principally at its wireless subscribers. The platform will offer a variety of shows and some networks as an add-on to existing customers.
A second tier, DirecTV Mobile, will be built for iPhones, Android devices and their kin, offering users the kind of video on demand younger audiences embrace. The third, the flagship DirecTV Now, will offer 100 channels at $35 per month, the ambitious product that Stephenson teased last month in hopes of easing consumer concerns that its Time Warner acquisition would mean a higher price for home entertainment.
It will be interesting to see how all three tiers differ or borrow from Aereo, the smooth-operating subscription-based video streaming service that retransmitted over-the-air TV signals before the Supreme Court put it out of business in 2014. The New York company filed for Chapter 11 on Nov. 20, 2014, and ultimately sold its assets for less than $2 million under three deals, notably offloading its patents to RPX (RPXC) for $225,000 and its trademarks to TiVo (TIVO) - Get TiVo Corp. Report .
In the coming months, AT&T is likely to tweak and reshape DirecTV Now as it learns more about what "cord-cutters" and "cord-nevers" want from online television. This is a major concern of all pay-TV providers and content creators, given that over the next year, cable TV companies and the media conglomerates that supply them with TV networks are expected to lose nearly $1 billion in revenue as customers terminate their pay-TV contracts, according to a study by cg42, a New York industry consulting firm.
As for content, Disney (DIS) - Get Walt Disney Company Report , Time Warner's Turner Broadcasting, Comcast's (CMCSA) - Get Comcast Corporation Class A Report NBCUniversal, Viacom (VIAB) - Get Viacom Inc. Class B Report , Starz (STRZA) and Discovery (DISCA) - Get Discovery, Inc. Class A Report are among the network owners that have signed on. Conspicuously absent are CBS (CBS) - Get CBS Corporation Class B Report and 21st Century Fox (FOXA) - Get Fox Corporation Class A Report . CBS wouldn't comment on DirecTV Now, but if CEO Leslie Moonves' recent statements are any indication, the company appears content to sell its programming through its online streaming service, CBS All Access, which recently surpassed the 1 million subscriber mark.
For its part, CBS has yet to sign on with
Hulu's
own multichannel streaming service that's expected to be unveiled early next year. Hulu is a joint venture between Disney, NBCUniversal and Fox, with Time Warner taking a 10% stake in August.
Fox, which also wouldn't comment on joining DirecTV, is a part of SlingTV and will be included with Hulu's premium service. In comments to investors earlier this month, Fox CEO James Murdoch balanced interest in digital pay-TV as an "exciting moment of growth" with the more circumspect comment that "I don't want to go into any particular commercial relationship until it's more out there."
Needless to say, AT&T certainly will want Fox as a part of DirecTV Now even as the independent-minded CBS chooses to continue to go it alone.
If DirecTV is well received, offering users an interface that delights rather than deceives, subscriptions could exceed 1 million in "short order," Macquarie media analyst Amy Yong said in an investor note on Thursday. Most importantly for investors, AT&T appears to be offering its flagship product for a price 30% lower than the most basic pay-TV bundle. Such a discount speaks to Stephenson's emphasis on winning market share, getting ahead of Hulu and Alphabet's (GOOGL) - Get Alphabet Inc. Class A Report Google Unplugged in the race for the hearts and minds of Millennials.
Comcast and Alphabet are holdings in Jim Cramer'sAction Alerts PLUS Charitable Trust Portfolio.Want to be alerted before Cramer buys or sells CMCSA and GOOGL? Learn more now.
The success of DirecTV Now is also integral to AT&T's investment in Chernin, which recently announced a joint $500 million fund to acquire and develop video services especially for digital multichannel platforms. It's also essential if AT&T is to win the increasingly competitive wireless wars by highlighting its video-on-demand platforms.
Exactly how Time Warner will play into DirecTV Now remains unclear, but suffice to say that owning Turner, HBO and the Warner Bros. film studio should give AT&T more options and faster turnaround of high-profile content. Meanwhile, the coming Trump administration,  MoffettNathanson said on Thursday, is more likely to approve the deal than might have occurred had the Democrats remained at the White House and in control of the Federal Communications Commission.
"In the wake of a presidential election that stunned everyone, it is time to concede that everything we thought we knew may now be wrong -- the rules could all be changing," MoffettNathanson said in an investor note. "It is likely that virtually every major FCC rulemaking of the past four years will be undone. Fundamental assumptions about what will and won't be permitted will be revisited and rewritten."