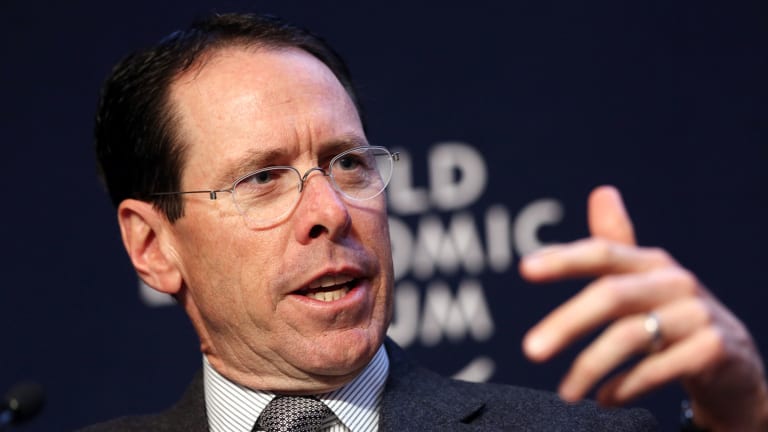 DirecTV Now Becomes Just Another Pay-TV Service as Promotional Offer Nears End
DirecTV Now is starting to look like just another pay-TV service, suffering outages while pulling back on its initial offer of 100 channels at $35 per month.
Problems with reception, lots of channels no one in the family watches and a monthly bill that's not inexpensive. Sounds like the usual venting of a typical cable TV subscriber from the 2000s or even the 1990s. 
But wasn't AT&T's (T) - Get Report DirecTV Now supposed to be different?
A month after launching its ambitious pay-TV platform with the headline-grabbing offer of 100 channels for $35 per month, AT&T said this week that it will begin charging $60 per month starting Jan. 9 for any new subscribers to the package. Consumers also can choose smaller $35 and $50 per month bundles as well as a 120-channel package for $70.
Back in late October, AT&T CEO Randall Stephenson stoked interest in DirecTV Now when he said that the multichannel streaming platform would offer 100 channels at $35 per month.
Skeptical Wall Street analysts promptly flooded investor emails with reports proclaiming that the economic didn't work: AT&T couldn't possibly make a reasonable profit, or any profit at all, by selling a service with so many networks at a comparatively low price point.
And they were right.
Soon after the service debuted, AT&T said it would eventually rescind the $35 per month offer but that anyone subscribing before the offer was increased would lock-in the lower price for the life of their service. On Thursday, the company made clear that offer will expire Jan. 9.
The move acknowledges that the licensing costs of a traditional bundle of networks --whether for cable TV or digital transmission -- can't get much lower than $60 per month even when accounting for lower overhead, i.e. a service that doesn't require a visit from the cable guy or a newfangled set-top box.
As for managing costs, AT&T also likely has had to factor in the cost of adding CBS (CBS) - Get Report to its basic offerings. CBS CEO Leslie Moonves earlier this month said the company was in talks with AT&T about including its flagship network, still the country's most-watched channel, in DirecTV Now.
"We're in discussions with DirecTV Now, and I'm assuming we'll get there with them," Moonves said on Dec. 5. "There are some issues to be ironed out, but we've always been able to come to some agreement."
The price increase to $60 per month also underscores AT&T's focus on a general consumer more likely to want a full selection of channels rather than those seeking a so-called skinny bundle at a lower price. Such viewers are more likely to opt for DishNetwork's (DISH) - Get Report Sling TV or any combination of streaming services that might include Netflix (NFLX) - Get Report , Hulu or Amazon (AMZN) - Get Report Prime Video, the country's largest streaming operators, according to Dallas consulting firm Parks Associates.
DirecTV Now also has had a handful of service glitches and buffering issues that have marred its debut, though the company has been quick to say over Twitter that those outages have been promptly corrected. 
Earlier this month, DirecTV Now suffered a second outage in just five days, according to the TV Prediction website, adding that users had complained of no service for as long as three hours. Such outages might be expected for such a large offering running over numerous networks to all corners of the country, but for customers paying a monthly fee, even modest functional issues prompt angry complaints and a deluge of Tweets.
For AT&T, the early growing pains of a digital pay-TV service are likely the price to be paid for establishing DirecTV Now as an all-encompassing digital facsimile of cable TV. The service also offers packages of $35 per month for roughly 60 channels, $50 per month for about 80 channels, and a larger collection of 120 channels for $70 per month. 
Already the service competes with Sling TV and Sony's (SNE) - Get Report PlayStation Vue, and in the coming weeks will have to go head-to-head with Hulu's own multichannel streaming service and something similar from Alphabet's  (GOOGL) - Get Report Google called Unplugged.
DirecTV Now is focused on the roughly 10 million households that don't subscribe to any pay-TV service. Just how AT&T manages the service is likely to be a subject of scrutiny at the Department of Justice's antitrust division and possibly at the Federal Communications Commission as the company seeks approval for its $85.4 billion acquisition of TimeWarner (TWX) .
At a Congressional hearing earlier this month, Stephenson told legislators that AT&T would not seek to favor Time Warner channels above rivals licensing their networks on DirecTV Now. Nonetheless, the AT&T CEO has said the economics of owning Time Warner will make it easier to roll out other subscription streaming services in addition to DirecTV Now.
In October, Time Warner launched Filmstruck, a $6.99 per month streaming service for film enthusiasts that leverages Warner Bros.' enormous movie library.
Alphabet is a holding in Jim Cramer'sAction Alerts PLUS Charitable Trust Portfolio. Want to be alerted before Cramer buys or sells GOOGL? Learn more now.