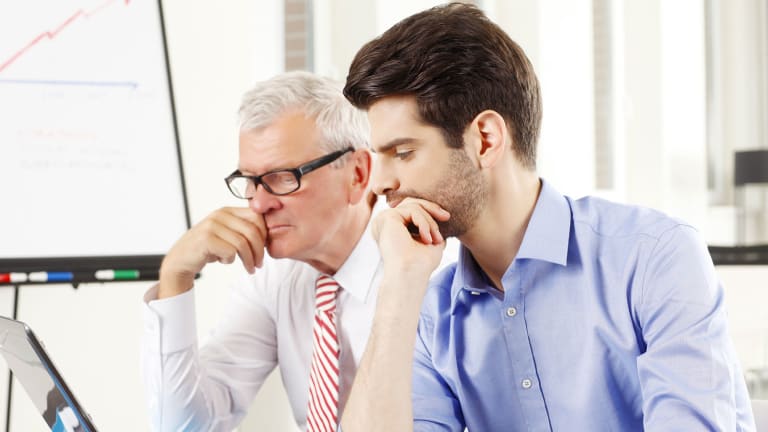 Publish date:
Like Stock Buybacks? There's an ETF for That
Buybacks remain popular. So do buyback exchange-traded funds.
Buybacks remain popular. So do buyback exchange-traded funds.
Share buybacks have been a popular avenue of rewarding investors in recent years. By the end of this year, it is likely that S&P 500 member firms will have spent more than $3 trillion on share repurchase plans since the end of the 2008 financial crisis.
The buyback binge has also been a boon for some exchange-traded funds, indicating that some investors like the idea of a fund chock full of companies that are lowering the number of shares outstanding, which usually translates into higher per-share earnings. 
A prime example of this phenomenon is the PowerShares BuyBack Achievers Portfolio (PKW) - Get Report .
The PowerShares BuyBack Achievers Portfolio debuted in December 2006, just months before S&P 500 companies set what was then an annual record for dollars spent on share repurchases. Though buybacks dwindled during the financial crisis, the subsequent buyback bonanza has helped PKW become a $2.4 billion ETF.
Research suggests companies that buyback their own stock outperform peers that do not.
PKW's long-term performance proves as much. For the six years ended 2014, PKW outperformed the S&P 500 on four occasions. From 2009 through the end of 2014, PKW surged 214.1%. This year, the buyback ETF is down 4.1%. The fund carries a five-star rating from Morningstar.
PKW follows the PowerShares BuyBack Achievers Portfolio Nasdaq US BuyBack Achievers Index, which requires companies to have cut shares outstanding by at least 5% over the past year before being allowed into the index. The consumer discretionary and technology sectors have been the drivers of the share repurchase boon and PKW is reflective of that, allocating nearly half its combined weight to those sectors.
The fund's top 10 holdings include four Dow components: Home Depot (HD) - Get Report , International Business Machines (IBM) - Get Report , Apple (AAPL) - Get Report  and Boeing (BA) - Get Report . PKW's success sparked the creation of an international equivalent, the PowerShares International BuyBack Achievers Portfolio (IPKW) - Get Report .
Among passively managed funds, PKW has a rival in the form of the SPDRS&P500 Buyback ETF (SPYB) - Get Report . That fund debuted in February and tracks the equal-weight S&P 500 Buyback Index. The ETF is down 5.1% since it launched in February. Equal-weight funds apply similar weights to each holding.
To date, the actively managed TrimTabs Float Shrink ETF (TTFS)  has been one of the more credible competitors to PKW. The TrimTabs Float Shrink ETF has over $215 million in assets under management, making it one of the largest equity-based actively managed ETFs on the market today. TTFS has more than doubled since coming to market four years ago while the S&P 500 has gained 76% over that period. Earlier this year, TTFS also earned a five-star Morningstar rating.

What makes TTFS attractive is that its focus extends beyond buybacks. While share count reduction is an integral part of the fund's methodology, the TTFS management team also considers how a company is funding its buybacks and its ability to generate free cash flow.
In simple terms, companies that are issuing corporate bonds to fund buybacks while not generating impressive amounts of free cash usually do not make their way onto the TTFS roster. This is something for investors to mull because in the second quarter, for the first time since late 2009, S&P 500 companies spent more on buybacks than they generated in free cash, according to FactSet data.
That says companies are remaining devoted to buybacks at a time when some are struggling to generate free cash to fund those repurchases, instead opting to take on new debt to reward shareholders.
This article is commentary by an independent contributor. At the time of publication, the author held no positions in the stocks mentioned.