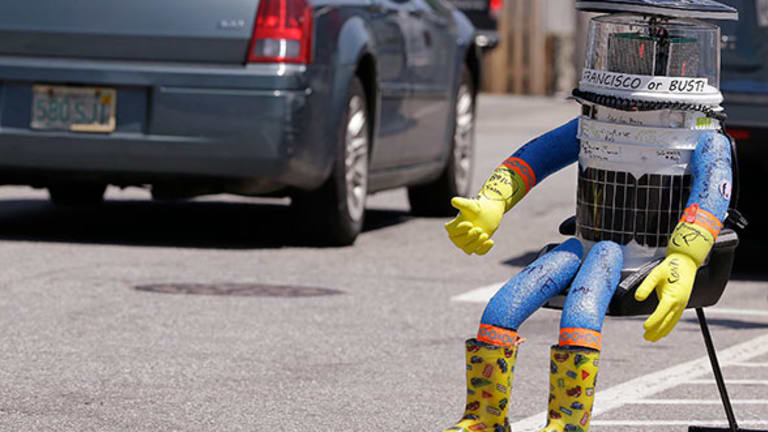 Die, Robot: This Is Just the Beginning of Violence Against Job-Taking Robots
The beheading of hitchBOT, the hitchhiking robot, probably won't be the last instance of human-on-robot violence. Here's why.
NEW YORK (TheStreet) -- By now, you're certainly familiar with the unfortunate beheading of hitchBOT in Philadelphia. The work of Canadian researchers, this hitchhiking robot was designed to study the way humans interact with this kind of technology.
Although hitchBOT's demise appears to be a random act of vandalism, the issue of human violence against robots is one that probably won't go away. That's because once robots really start taking jobs away, as is likely in the trucking industry, there will be a lot more cause for anger and rage.
Violence against technology in defense of earning a livelihood has a long history, at least from the time of the Luddites and perhaps even before. There are fresh examples in recent headlines.
In June, French cab drivers burned cars and attacked drivers working for Uber, the technology company that connects people looking for a ride with drivers.
The French taxi drivers clearly saw the threat Uber poses to their livelihood and took to violence quickly.
When this happens with robotics, it won't be a simple matter.
It won't be just the Luddites' simple reaction of burning the textile equipment that threatened their jobs.
Companies that contribute significantly to robotics development will be directly targeted. The wonderfully named iRobot company may find that its name is a grave liability in the future.
Companies with the word "robot" in their names may be the obvious early targets: ABB's (ABB) - Get ABB Ltd. Sponsored ADR ReportABB Robotics, FANUC Robotics, Future Robot, KUKA Robotics and Softbank Robotics.
We can expect a rapid series of name changes as the awareness of job losses spreads. But humans now are far more sophisticated than they were in the early days of industrialization in Britain. It will be a trivial matter for hackers sympathetic to the people who lose jobs to track down every company in the supply chain of robotics.
The more interesting development will be the reaction in the political sphere. You can expect to see left-leaning governments take up the concerns of the middle- and low-income workers who will be most affected by robotics-related job losses.
In the case of Uber, French authorities have arrested two Uber executives and plan to put them on trial. 
That is not all. Democratic presidential candidate Hillary Clinton has gone on record saying that she would be tough on some sharing economy companies: "I'll crack down on bosses who exploit employees by misclassifying them as contractors or even steal their wages."
Right now this would appear to apply most to companies such as Uber and car-hire rival Lyft. But these companies arguably are allowing more people to earn a living than the taxicab business that they're disrupting.
What would happen when specific robot businesses destroy jobs without showing corresponding alternatives for people to make a living?
We can venture to guess that governments will shift left to accommodate the concerns of the voting population at large. At the same time, businesses will likely use their influence on politicians to create laws specifically intended to protect robots and robotics-related businesses from harm.
If robotics-related businesses do not understand the threat they pose to people's livelihood, then they will not know the subsequent threat they pose to themselves.
I recently attended a meeting called "Disrupting Unemployment" in California's Silicon Valley. This was being presented by the Innovation for Jobs organization and the Silicon Valley Forum. The purpose was to find ways to create jobs, and robotics and automation were on the agenda as causes of job loss.
Innovation for Jobs has as its chairs the eminent Vint Cerf and David Nordfors.
Robotics companies as a class should start participating in these groups and allocating resources to mitigate the risk that they are bringing to the table.
They should join these and similar organizations and start leading the effort to help humanity to transition to a robotics-involved future.
This article is commentary by an independent contributor. At the time of publication, the author held no positions in the stocks mentioned.