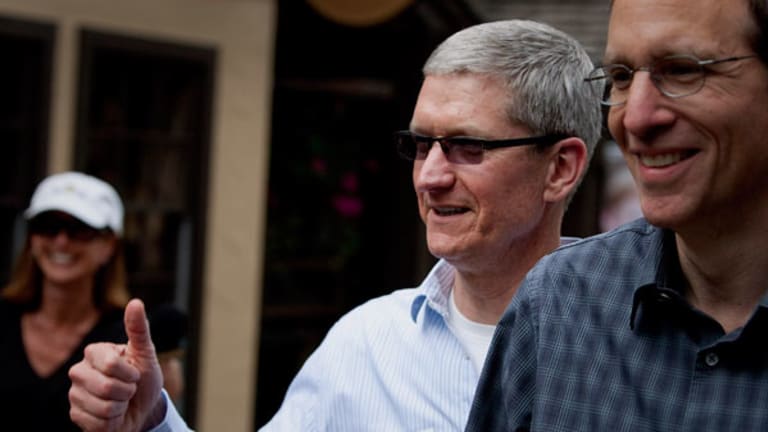 Did Tim Cook Signal Apple's Top?
Tim Cook can afford to spend money on anything he chooses. Why should shareholders foot the bill?
Tim Cook can afford to spend money on anything he chooses. Why should shareholders foot the bill?
NEW YORK (TheStreet) - Apple's (AAPL) - Get Report CEO Tim Cook recently made comments that are disheartening for shareholders and may signal the glory days of appreciating Apple shares have passed.
Cook thoroughly dropped the ball on what should have been an easy layup for any company executive, especially a seasoned one of Cook's caliber.
What has me wondering, as should every shareholder, is, if Cook truly said what he means and he is shifting Apple's focus from an aggressive luxury tech innovator into more of an increasingly philanthropic focused company.
Read: How Facebook Could Overtake Google
By now you may have read about Cook snapping back at shareholders during the company's last annual meeting. If you haven't, it followed along these lines.
A proposal from a politically right-leaning National Center for Public Policy Research (NCPPR) calling for Apple to provide greater expense transparency of renewable energy/carbon mitigation efforts to shareholders failed overwhelmingly.
A NCPPR representative questioned Cook about the said expenses and requested Apple to avoid spending money on environmental causes that don't add shareholder value.
Cook responded, in part, "If you want me to do things only for ROI reasons, you should get out of this stock."
Cook reportedly said that there are many things Apple does because they are right and just, and that a return on investment was not the primary consideration on such issues.
I was an Apple fan: not the products, but the stock. I prefer Microsoft's (MSFT) - Get Report operating system because I know it and have a comfort level. For the most part, I didn't have much of a choice because Windows offered greater business software variety at the time I chose my path. The same can be said about my Google (GOOG) - Get Report Android-based phone. I used Gmail and Google's calendar when I switched from a Windows-based phone a few years ago.
It's not hard for me to separate the company and its stock, and I believe it may help that I don't use Apple products because it helps remove biases. Also, I'm bullish for Microsoft despite my despising Windows 8. Unfortunately, I can't say same for Apple any longer. While not a bear and not about to short, here are my concerns.

Apple is a for-profit organization, and as an executive Cook's fiduciary duty is to the shareholders. Cook is the steward of other people's investment. His comment fails the steward smell test for two reasons.
Allocating capital towards renewable energy such as solar panels and other related strategies isn't necessarily inappropriate for shareholders from an ROI point of view. The payoff may be debatable but investing in renewable energy sources is certainly reasonable in concept. Even the highly questionable efficacy of carbon reduction/mitigation efforts can reasonably be justified through expanded sales as a result of greater consumer goodwill.
But Cook didn't say he was allocating money because it was part of marketing and or will help lower future expenses. He clearly gave the impression that Apple will continue to spend undisclosed amounts of money on his subjective philanthropic goals.
Read: Some Users Outraged by Changes to Facebook's Newsfeed
Cook is worth hundreds of millions of dollars and continues to earn more. If he wants to spend money on noble causes, he certainly has the means to necessitate an impact. Why is someone of his wealth advocating shareholders spend money on causes he believes in? Why not use the funds to increase the dividend and allow shareholders to decide for themselves?
Dont take this the wrong way. I dont have an opinion on where Apple or any other company spends its money. But its fair to say at least some of the shareholders bought shares for monetary reasons. They may not enjoy a someone halfway to becoming a billionaire using company money instead of his own for reasons that dont benefit the company, and they have a right to know so they may adjust their portfolio if warranted.
The more troubling and second smell test failure is the suggestion someone -- anyone -- should sell their shares. There is no way to dance around what it means when a CEO says the company may not be your best investment choice. Maybe he's right, maybe Apple isn't the best investment choice. He certainly is in a position to know what performance shareholders can expect.
Read: Why Carl Icahn Likes Elon Musk
As a result, I'm partially taking Cook's advice and no longer recommending Apple as a strong dividend play. It doesn't mean you should sell, but my recommendations are based on ROI, not charity work.
Regardless of my level of approval of feel-good expenses, my objective is to make you money. What you do with it after you make it is your business.
At the time of publication the author had no position in any of the stocks mentioned.
This article represents the opinion of a contributor and not necessarily that of TheStreet or its editorial staff.