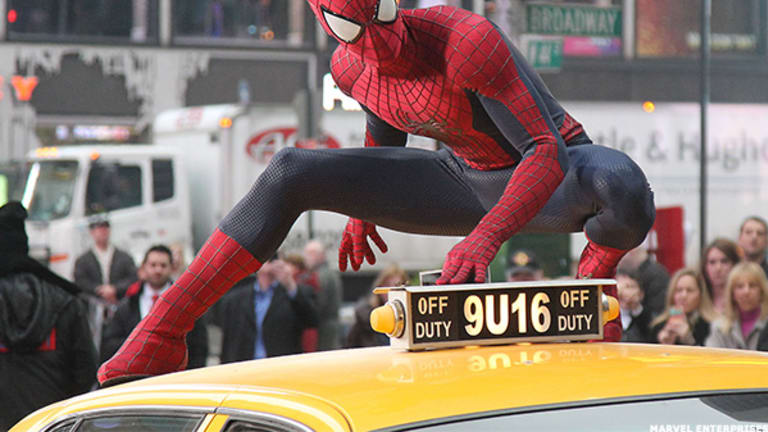 Did Sony Pictures Have to Spend $255 Million on <I>Spider-Man 2</I>?
Sony's latest summer blockbuster is expected to reel in $720 million but is franchise fatigue cramping Sony's' prospects?
NEW YORK (TheStreet) -- Sonyundefined is hedging its bets that the massive popularity of its film unit's Spider-Man franchise will yield windfall profits through 2018. The Amazing Spider-Man 2 debuted in the U.S. on May 2, earning $91 million during its opening weekend.
But at a price tag of $255 million, The Amazing Spider-Man 2 may be a sign the superhero franchise is mortal after all.
Spider-Man 2's cost to revenue ratio was paltry considering Walt Disney's (DIS) 2012 The Avengers -- which relied on the massive popularity of a team of much-loved superheroes including Iron Man, The Hulk, Thor and Captain America -- reportedly cost $260 million and earned over $1 billion in less than a month after release.
That's could be the problem for Sony Pictures -- franchise fatigue and too many superheroes competiting for moviegoers.
Marvel, owned by Walt Disney, is expected to roll out two or three films every year, while Time Warner's (TWX) Warner Bros. Pictures plans on releasing at least one superhero film a year.
Add to that 21st Century Fox's (FOXA) Fantastic Four and X-Men films currently in production and you have to wonder if Sony feels a little anxious about what it is spending compared with what the film is pulling in.
So far this latest rendition of Spider-Man has already grossed over $404 million internationally and $151 million domestically. The film is expected to continue going strong until it hits around $720 million, not bad but disappointing when you consider The Amazing Spider-Man earned $752 million. Based on current estimates, The Amazing Spider-Man 2 will be Sony's eight-biggest hit at the box office.
There are more Spidey adventures to come through 2018 but is that too much of a good thing? Even the character's biggest fans think the reboot of the Sam Raimi Spider-Man films was unnecessary and costly while not advancing the plot.
The numbers bear that out. Sam Raimi's Spider-Man trilogy earned $114 million on its opening weekend for the first film, $88 million for the second and $151 million for the third. For the new series, the first film earned $62 million in its opening weekend, the second earning $91 million.
So did Sony Pictures really have to spend $255 million on this film? With the competition increasing it might be time for some introspection among Sony executives.
At the time of publication the author had no position in any of the stocks mentioned.
This article represents the opinion of a contributor and not necessarily that of TheStreet or its editorial staff.