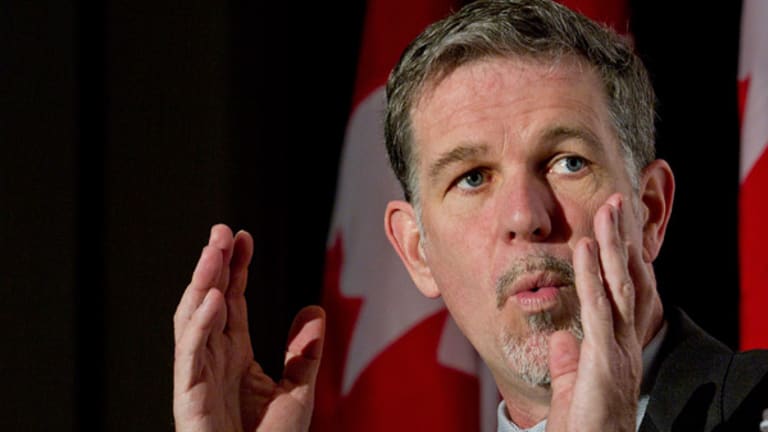 Did Netflix's Reed Hastings Lie to Us?
New book not so nice, but CEO could turn this around, too.
New book not so nice, but CEO could turn this around, too.
NEW YORK (TheStreet) -- Netflix (NFLX) - Get Report CEO Reed Hastings doesn't come out looking too good, particularly in the early stages of Gina Keating's excellent Netflixed: The Epic Battle for America's Eyeballs.
After reading Keating's account, I better appreciate Hastings, the CEO and the man. In fact, for as great of a job as Keating did, Hastings got an equally-as-raw deal.
Keating reveals a side of Hastings many of us knew existed, but, without firsthand contact, could not confirm. Keating describes him as "icy," which, by most accounts, probably fits.
Hastings is not socially awkward. He's just a guy who doesn't care much about personal relationships, at least when it comes to business. It's all about the image. All about the spin. And all about winning. That's a dangerous cocktail.
Keating's portrayal of Hastings vindicates something I have come to believe.
This CEO needs a strong COO. Just like Mark Zuckerberg has with Sheryl Sandberg at
Facebook
(FB) - Get Report
.
Outside of the people person sphere, Hastings is a brilliant guy. This brilliance leads him to want to control many aspects of the Netflix operation. And, ultimately, he's just not very good at much of it, as he proved several times last year.
Hastings presides over, at best, a rocky marriage with Netflix users.
While I wouldn't blast Hastings nearly as hard
, you can logically draw parallels between the marketing and public relations machines both men live and die by.
Like Armstrong, Netflix is all about official statements, no comments and strategic, even if horribly ill-advised, Tweets and blog posts.
Armstrong crafts his image down to the 140th character.
Netflix is only slightly different. For goodness sake, a majority of questions on the company's quarterly conference call are pre-selected and read to the CEO and CFO by the head of investor relations.
In the long run, highly-controlled image creation backfires. Mistakes, ego and seemingly innocuous "white lies" catch up with you.
Case in point after a key qualifier.
Seems to me that exiled Netflix co-founder Marc Randolph informed a significant portion of Keating's book. Keep that in mind as I relay this story. Randolph might have an ax to grind; however, what I believe to be Randolph's input appears legit.
That said, Hastings duped me. He duped all of us.
Hastings likes to tell the story that he "invented" Netflix while returning an overdue "Apollo 13" VHS rental on his way to the gym. As he lamented paying late fees, he claims he thought somebody should take the gym membership model -- pay one monthly price and use as much or as little as you like -- and apply something like it to the video rental business.
At this point, as Hastings story tells, an idea was born.
Randolph calls that a load of crap. He claims it was a nice story a few Netflix people concocted for marketing purposes. They needed a quick, straightforward and easy-to-understand way to explain the essence of the service.
Assuming Keating, as informed by Randolph and others (Hastings did not cooperate with Keating on the book), is telling the truth, it's clear that the whole "Apollo 13" tale was little more than fiction.
In and of itself, I really don't care. But, I ask philosophically,
Is a dream a lie if it don't come true or is it something worse?
Can you get through life, a cycling career or the stewardship of a company with nothing but hyper-choreographed appearances, statements and
YouTube
videos?
At some point, people lose confidence in you.
Hastings apparently wasn't happy about Keating's book hitting shelves, iPads and Kindles across America. I think I know why.
He probably felt like all of this Armstrong-like trash was behind him.
Sure, he looked, shall we say, "phony" in his infamous YouTube apology video, but Hastings clearly learned something from last summer's debacle. No matter how cold and detached you are, it's not humanly possible to have
not
learned from it.
Here's your comedy for the day. This never gets old.
That was the worst apology in the history of apologies. And, for Andy Rendich, one of the shortest tenures as the president of a division with its own catchy name in the history of Silicon Valley.
But, once he cleaned up that mess, Hastings truly got Netflix's ship back in order. He started spending less. Or, more aptly, spending smarter.
I outlined my reasons for turning bullish NFLX in
Prepare to Buy Netflix Before It Rises From the Dead
.
Hastings has his head down now. And he's positioning Netflix, not only for survival, but for a strong long-term future. Now, he needs to take the next step.
No more cute stories. No more strange YouTubes. No more scripted conference calls. No more comparing yourself to
HBO
.
Hire a COO.
. Take a step back.
By doing these things, Hastings would do more for Netflix than he ever has. And he would, once and for all, put the details of Netflix's founding and other lame theatrics behind him
At the time of publication, the author was long FB
.
This article is commentary by an independent contributor, separate from TheStreet's regular news coverage.
Rocco Pendola is a private investor with nearly 20 years experience in various forms of media, ranging from radio to print. His work has appeared in academic journals as well as dozens of online and offline publications. He uses his broad experience to help inform his coverage of the stock market, primarily in the technology, Internet and new media spaces. He has taken a long-term approach to investing, focusing on dividend-paying stocks, since he opened his first account as a teenager. Pendola, 37, is based in Santa Monica, Calif., where he lives with his wife and child.