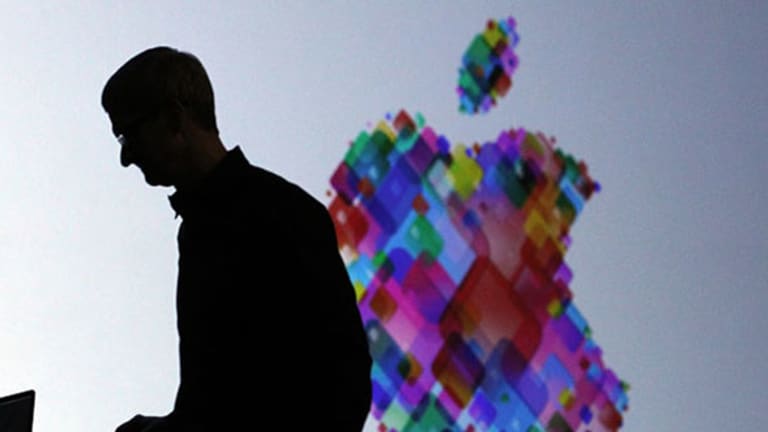 Did Apple Miss on Earnings, or Did Analysts?
When it comes to predicting Apple's next quarter, who should you trust? It's really hard to say.
When it comes to predicting Apple's next quarter, who should you trust? It's really hard to say.
"We expect shares of Apple to [now] be under pressure near term." This is a direct quote today from a leading Wall Street analyst who covers Apple (AAPL) - Get Report .
My question is, where was Wall Street's analyst herd before last night's earnings announcement?
Take a look at these two charts below and see if you notice anything:
Apple is a holding in Jim Cramer's Action Alerts PLUS Charitable Trust Portfolio. See how Cramer rates the stock here. Want to be alerted before Cramer buys or sells AAPL? Learn more now.
The first is analyst ratings for Apple and the second is earnings-per-share (EPS) revisions over recent periods. Does anything strike your eye?
How about the fact that until today, only one EPS downward revision was published over the previous 30 days, and that even as recently as one month ago, only one moderate or strong sell rating existed.
Making forward earnings estimates is very difficult and that analysts work hard to give the best information they can related to important factors that will impact stock prices. But perhaps we put too much emphasis on Wall Street estimates, which then lead to emotionally charged headlines, such as the following:
"Making Sense of Apple Now That Everything Has Changed" -- Yahoo! Finance
"Apple's Earnings: Look Out Below As Analysts Slash Estimates" -- Forbes
Investment analysts, and even the Federal Reserve, have a relatively poor record related to the accuracy of their estimates.
Some might think I'm a broken record on this but, as an adviser to President Kennedy is rumored to have told him when he thought he was saying the same things over and over again: "When you are at the point that you think you are going to get sick if you say it one more time, you have finally reached the point when many people hear it for the first time."
Investors would be better served to be more anchored on the following quotes versus the latest prognostications from Wall Street: 
"[Our] projections are based on estimates" [yes, estimates on estimates] and our "assessments have a considerable amount of uncertainty." -- Janet Yellen
"Analysts, we found, were typically overoptimistic, slow to revise their forecasts to reflect new economic conditions, and prone to making increasingly inaccurate forecasts..." and "On average, analysts' forecasts have been almost 100 percent too high." -- McKinsey & Company Research
So, What Will Happen to Apple and in the Markets?
Here's something we can actually predict with near certainty: The next few days, months and years will bring many more alarming and emotional charged headlines related to individual stocks and the market in general.
Research consistently shows that when investors react to headlines, they tend to underperform the market by making short-term buy or sell decisions at the wrong time.
Try to get anchored on your long-term invest plan versus estimates of what might, or might not, happen over the next few quarters and remember the following:
"It is the long-term investor, he who most promotes the public interest, who will in practice come in for most criticism.... For it is in the essence of his behavior that he should be eccentric, unconventional and rash in the eyes of average opinion. If he is successful, that will only confirm the general belief in his rashness; and if in the short run he is unsuccessful, which is very likely, he will not receive much mercy." -- John Maynard Keynes
This article is commentary by Preston McSwain as an independent contributor and does not reflect the views of Fiduciary Wealth Partners.