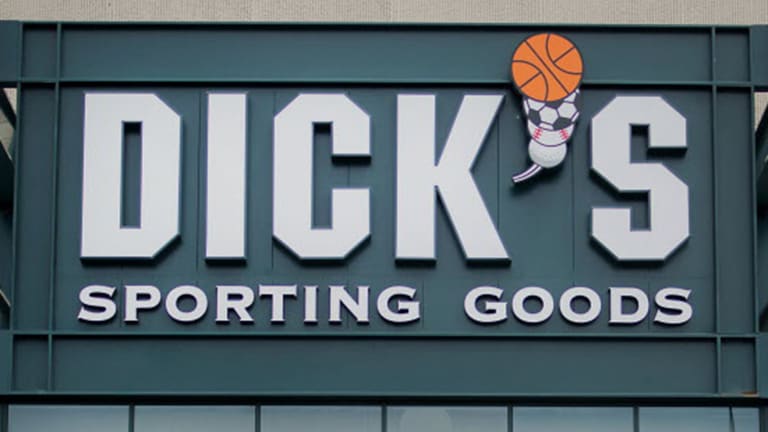 Dick's Sporting Goods Could Get a Boost From E-Commerce
After outsourcing its e-commerce platform since 2001, Dick's Sporting Goods is in the midst of taking full control of its e-commerce business. The company's results could improve dramatically.
NEW YORK (TheStreet) -- After outsourcing its e-commerce platform to another company since 2001, Dick's Sporting Goods (DKS) - Get Report is in the midst of taking full control of its e-commerce business. The company's financial results could improve dramatically.
In April, Dick's announced plans for its first e-commerce site on its internally developed platform as the retailer moves to bring all of e-commerce operations in-house by 2017. And in the first quarter, the company brought GolfGalaxy.com online. By fiscal 2017, management plans to move Dicks.com off of eBay's (EBAY) - Get Report GSI Commerce technology platform, which has operated the site since 2001.
According to Dick's, customers who shop its multi-channel platform spend three times more than a typical customer. E-commerce sales double when the company opens a new store in a new trade area. About 80% of e-commerce orders are shipped within the trade area of a Dick's store. In ever increasing numbers, customers are buying online and picking up in the store.
In addition, ship-from-store has grown popular, as more customers are using mobile phones to place orders. The company plans to have between 735 and 750 stores open by 2017, which makes it critical that Dick's take control of its e-commerce.
As Dick's takes more control, the company should begin to see much better results. Just by getting rid of eBay's GSI, Dick's will save about $25 million to $30 million a year. And since 2010, sporting goods sold online have grown at a 20% annualized growth rate to about $8.6 billion.
Better integration with Dick's other systems should help the company leverage its customer data and create a differentiated experience for visitors. Right now, e-commerce sales are just 7.3% of total net sales, but that could increase dramatically. From fiscal 2014 to 2017, the company estimates its e-commerce business could jump from $628 million to between $1 billion to $1.2 billion. That's over 20% annually, but that estimate seems low since the company has been able to grow its online business in the mid 40%s each year since 2010, even using GSI.
By adding approximately 45 to 55 stores a year for the next few years, Dick's should see sales rise about 9% a year.
This year, Dick's is expected to produce revenue of $9.6 billion and earnings per share of $2.87. If the company stays on its present course, it could see earnings of $3.55 by fiscal 2017. If I'm right, that could get the stock in the mid $60s over the next two years.
Nowadays it seems kind of crazy that a major retailer would outsource its e-commerce operations, but that's exactly what Dicks Sporting Goods has done. By untangling itself from an outside technology platform, Dick's should be able to drive better results, and that should be reflected in its stock price.
This article is commentary by an independent contributor. At the time of publication, the author held no positions in the stocks mentioned.