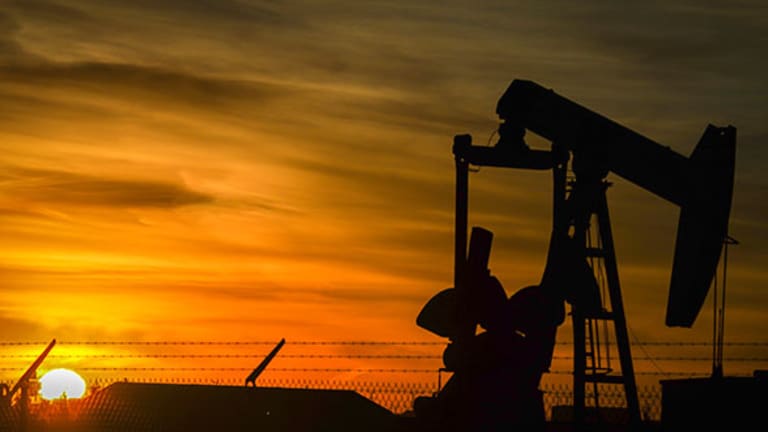 Dicker Tells Cramer: This Will Be the Last Trip Down for Oil Prices
Dan Dicker, energy contributor at TheStreet.com, gives his take on whether oil prices have finally hit bottom and will rebound strongly by year's end.
NEW YORK (TheStreet) -- Jim Cramer asked me to comment on Tuesday's Mad Moneyinterview with David Demshur, the CEO of oil services company Core Labs (CLB) - Get Report, in which Demshur called a bottom in oil prices and was expecting a very strong rally through the end of the year.
While I agree with some of the analysis Demshur used to make his call, I think his timing is off the mark.
He spoke of the depletion rates for shale wells in making his bold call, a point I devoted an entire chapter to in my book Shale Boom, Shale Bust and in several articles I wrote for TheStreet.com in May. In those places, I talked about the circular appetite that shale producers must maintain in drilling, precisely because of the steep dropoff in production that shale wells are uniquely saddled with.
Demshur is right that 50% of the total oil that will be produced from the average shale well is seen in the first eight months and 70% in the first year and a half. While this makes for very exciting initial results, it leads to an increasing need to drill more wells ever quicker to keep pace on production.
Demshur is also right in noting that this front-loaded nature of shale ultimately leads to an equally sharp production drop, which he is expecting to lead to higher oil prices as soon as the end of the year. This is an optimistic prediction that doesn't go far enough in the analysis, unfortunately.
While depletion in shale wells ultimately leads to a "supply wall" that I talk about at length in my book, the timing of that wall still looks to be several quarters away. Greater efficiencies in shale drilling have more than made up for the depletion rates that shale is so far undergoing, and the backlog of core acreage yet to be drilled will also lead to several more quarters of growing, not dropping production here in the US.
So while Demshur might like to see rising oil prices sooner, as most everyone else in the oil sector would, a recovery towards $70 does not seem likely this year.
On the plus side, however, is my prediction that when that "supply wall" is finally hit, it will result in oil prices that are nearer to $150 a barrel, not $70 a barrel. But I do not see that move even beginning to materialize until the second quarter of 2016 at the earliest.
I talk more about the outlook for shale and oil prices with Jim in the video above.
This article is commentary by an independent contributor. At the time of publication, the author held no positions in the stocks mentioned.