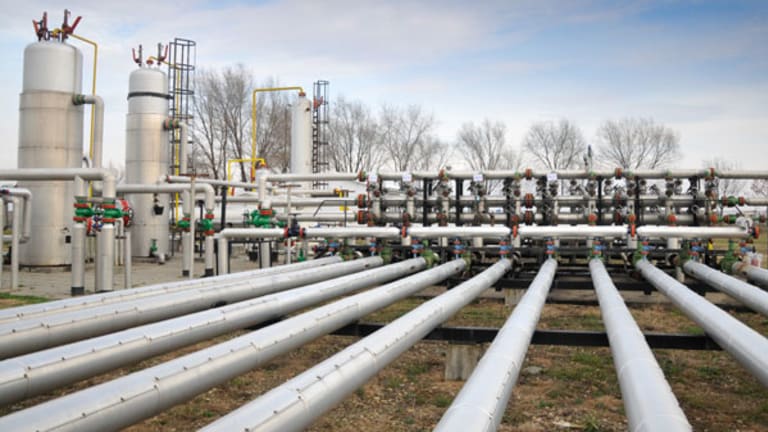 [video] Dicker: How to Trade the MLPs
Dan Dicker talks with Stephanie Link about the recent underperformance in the Master Limited Partnerships and what to do with them now.
NEW YORK (TheStreet) -- I was talking to Stephanie Link about master limited partnerships and whether they continue to be good investments.
Many of the stocks in the MLP space have vastly underperformed in the second half of 2013, and Stephanie and I are in total agreement as to why -- the volatility of the bond market.
Unfortunately, some analysts have taken the opportunity of a skittish bond market to try and make a case that the MLP space has become suddenly untenable, particularly one of the largest and most well-known MLPs:
Kinder Morgan Partners
(KMP)
.
Richard Kinder is the godfather of the transport and storage model for energy MLPs, so the suggestion that his structure is now unsustainable is a difficult one to make. What's true is that KMP so vastly outperformed so much of the rest of the MLP space that it was likely to take a significant fall when interest rates began to rise -- and it has.
There is an argument that Stephanie rightly makes about KMP -- that the largest of the MLPs are less nimble and consequently can become sclerotic over long periods of time as old pipelines mature and deliver smaller margins.
While Kinder Morgan Partners was not recently one of my recommendations in the space, I'm still a big believer in the ability of Rich Kinder. The fall in the stock has made me much more likely to add this name to my MLP portfolio list.
But the larger point is this: MLPs are designed to be cornerstone investments of your energy exposure. While we often talk about the need to pick names and trade stocks in the short term, the MLPs are not those kinds of stocks. You want to be holding these for the long term, providing those regular distributions in what is still a very low-yield environment.
I talk more about MLPs with Stephanie in the video above.
At the time of publication the author had positions in TLP and PAA. Action Alerts PLUS had a position in LINE.
This article was written by an independent contributor, separate from TheStreet's regular news coverage.
Dan Dicker has been a floor trader at the New York Mercantile Exchange with more than 25 years of oil trading experience. He is a licensed commodities trade adviser.
Dan is currently President of
a wealth management firm and is the author of
published in March of 2011 by John Wiley and Sons.  
Dan Dicker has appeared as an energy analyst since 2002 with all the major financial news networks. He has lent his expertise in hundreds of live radio and television broadcasts on
CNBC
,
Bloomberg
US and UK and
CNNfn.
Dan obtained a bachelor of arts degree from the State University of New York at Stony Brook in 1982.