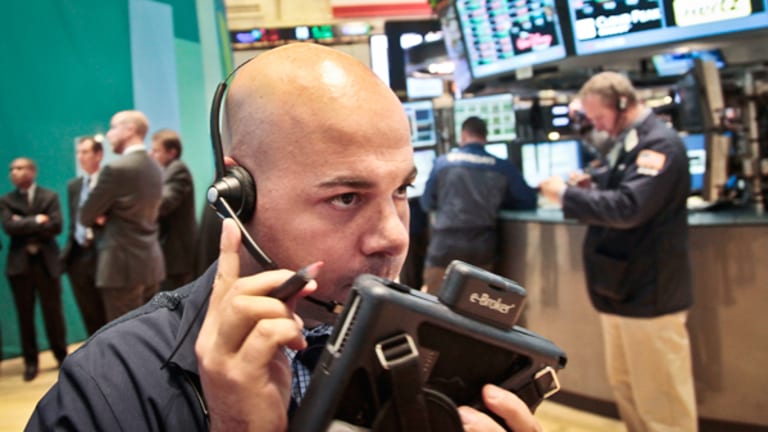 Dicker: FIA Report Spells Trouble for Exchanges
High-speed trade has undermined interest in products designed to spur growth.
NEW YORK (TheStreet) -- The Futures Industry Association made its yearly report quietly, showing an across-the-board drop in volumes of more than 13% for 2012. This is incredibly bad news for the derivative industry and the exchanges, representing a possible peak in growth we were not supposed to see for many, many years.
The trading of futures and options was supposed to represent the next leg of growth for the financial industry and the exchanges that supported them. In comparison to the simple trading of stocks, which has been around for more than a century and a half, the trading of derivatives was a relatively new offering and was the hope for many exchanges and financial brokerages to power their growth models for several decades to come.
But with this latest report from the FIA, we saw a decrease -- the first ever -- in the volumes transacted for futures and options. If we are seeing the premature maturation of the derivative industry, that's very bad news for exchanges indeed.
The reason this seems to be happening is the abject disregard that exchanges have shown for the institutional and retail investor, delivering advantages to the large volume producers that have continued to spur their growth. High-frequency trade funds, algorithmic programs and investment banks have been paid, and sometimes have paid the exchanges, for preferred access into exchange nexus points, block trades and secondary market volume. All of these have unleveled the playing field for retail and institutional investors.
It seems that the retail and institutional customer has had enough. Knowing that every trade is done at a disadvantage, they have taken to slowing their volumes and increasing their time horizons. They've taken their ball and gone home, which has caused this quick drop in volumes in what was otherwise a very constructive year for the stock and commodity markets.
Believe me, if the exchanges can't grow volumes in a recovery year like 2012, they are facing a very dire problem.
That makes the exchange stocks a very tough place to look for value. Both the
New York Stock Exchange
(NYX)
, soon to be taken over by the
Intercontinental Exchange
(ICE) - Get Intercontinental Exchange, Inc. Report
, and the
Chicago Mercantile Exchange
(CME) - Get CME Group Inc. Class A Report
have been dead money for the last three years, even with the CME assiduously raising its dividend in a very dividend-hungry environment and now sporting 3.4%.
Jeff Sprecher, the CEO of ICE, oversees the one exchange stock that has risen well in the last three years. But even with his great skills and proven ability, it is hard to see how he will change the playing field at the NYSE after his takeover and somehow woo the institutional and retail investor back to the derivative markets.
It is a barrier that looks difficult, if not impossible to retrace and hurdle. And therefore it looks as if exchange shares aren't the place to be investing.
This article was written by an independent contributor, separate from
TheStreet's
regular news coverage.
Dan Dicker has been a floor trader at the New York Mercantile Exchange with more than 25 years of oil trading experience. He is a licensed commodities trade adviser.
Dan is currently President of
a wealth management firm and is the author of
, published in March of 2011 by John Wiley and Sons.
Dan Dicker has appeared as an energy analyst since 2002 with all the major financial news networks. He has lent his expertise in hundreds of live radio and television broadcasts on
CNBC
,
Bloomberg
US and UK and
CNNfn.
Dan obtained a bachelor of arts degree from the State University of New York at Stony Brook in 1982.