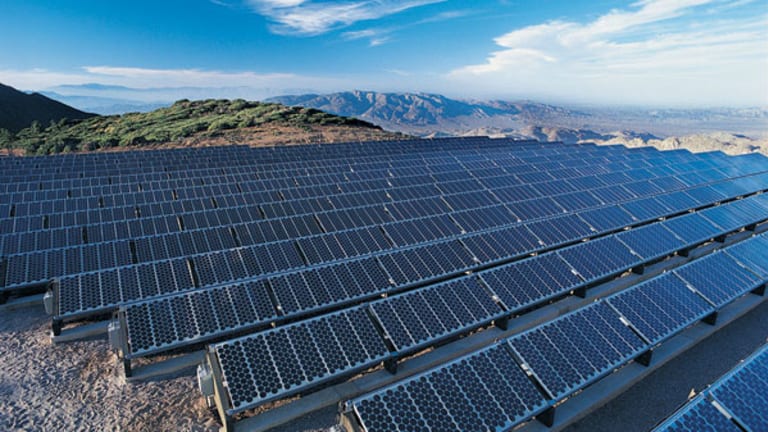 Dicker: Elon Musk the Driving Force on SolarCity
Tesla and SolarCity are attractive long investments because of the Tesla CEO, the solar company's main investor, <I>TheStreet's</I> Dan Dicker tells Joe Deaux.
NEW YORK (TheStreet) -- I sat down today to talk about high flying stock SolarCity (SCTY) today with Joe Deaux. TheStreet's energy editor. Solar City has become a great trading stock because of the justified hype surrounding one of its main backers, Tesla (TSLA) CEO Elon Musk.
But is it a great investment? That's the question I tried to answer for Joe in the video above. In a fundamental case for valuation, there is nothing that can justify SolarCity's extreme $2.6 billion market cap with only a yearly revenue stream of about $15 million. Indeed, in the last quarterly report, losses from SolarCity even eclipsed the worst fears of analysts surpassing $100 million.
Yet, the stock continues to soar. All of this is because of the prophetic Elon Musk, who founded and sold PayPal to
eBay
(EBAY)
for an astounding $2.1 billion as well as selling his second company, SpaceX, to NASA. It is rare in a generation to see a visionary like Elon Musk, and that wild card makes all the fundamentals of stock analysis somewhat moot in assessing whether SolarCity is in fact a good long term investment.
I talk more about SolarCity and Elon Musk with Joe in the video above.
At the time of publication the author had no position in any of the stocks mentioned.
This article was written by an independent contributor, separate from TheStreet's regular news coverage.
Dan Dicker has been a floor trader at the New York Mercantile Exchange with more than 25 years of oil trading experience. He is a licensed commodities trade adviser.
Dan is currently President of
a wealth management firm and is the author of
published in March of 2011 by John Wiley and Sons.
Dan Dicker has appeared as an energy analyst since 2002 with all the major financial news networks. He has lent his expertise in hundreds of live radio and television broadcasts on
CNBC
,
Bloomberg
US and UK and
CNNfn.
Dan obtained a bachelor of arts degree from the State University of New York at Stony Brook in 1982.