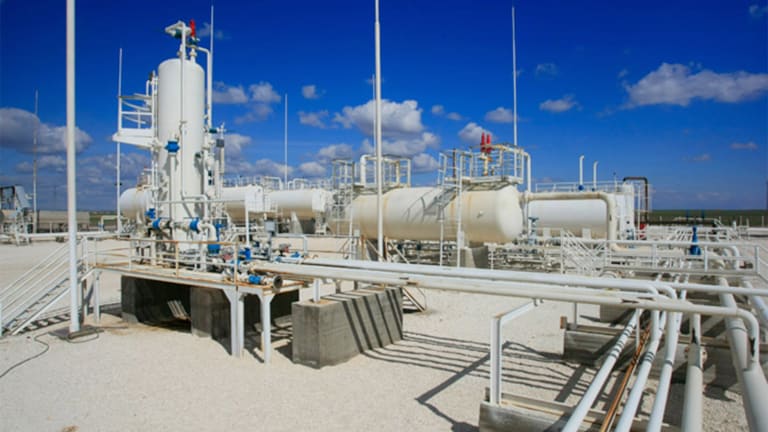 Dicker/Cramer: Saudis Are Finally Winning the Oil-Price Battle With U.S.
After a year of plunging prices, oil production in the U.S. is about to fall for the first time in six years, followed by Canada, Mexico and Brazil.
Saudi Arabia's strategy of letting oil prices plunge in order to gut non-OPEC producers is finally working.
After a year of sharply lower prices, oil production in the U.S. is about to fall for the first time in six years. That will be followed by declines from Canada, Mexico and Brazil.
The Saudis have refused to cut production to support oil prices, even though that hurts them in the short term. Their ultimate goal is to let oil become so cheap that it becomes unprofitable for U.S. producers and forces them either to cut output or leave the market entirely. That, in theory, would restore control over the oil market to Saudi Arabia and the other OPEC members.
That hasn't happened yet, much to Saudi Arabia's surprise. 
But now that oil prices have been below $70 a barrel for more than a year, that strategy is about to pay off.  Share prices of even the most admired names like Chesapeake Energy (CHK) - Get Chesapeake Energy Corporation Report are in the single digits, and the oil companies are flirting with bankruptcy.
So, why would the Saudis agree to cut production now when the strategy is finally working?
The answer is, they won't.
Despite the hopes of other OPEC members, who desperately want to push prices back up, the Saudis are not about to agree to any cuts at OPEC's annual meeting in Vienna this Friday.
The Saudi refusal to cut output came as somewhat of a surprise at last year's meeting, which helped drive oil prices down under $80 a barrel to about $40 now. This year, there should be no surprise.
Traders are already betting on that outcome. In the futures markets, short positions from hedge funds and momentum players are at their highest levels in years, mirroring the 300 million barrels of short positions that were established in August of this year, as prices fell briefly below $40 a barrel.
The result of that was a quick short covering rally that lasted more than a month and brought prices again toward $50.
Just as there is little hope of consensus in Vienna or of a production cut from the cartel, there is similarly no reason to expect the markets to react to the OPEC meeting outcome with surprise.
In fact, I think it's more likely to go the other way.
When the OPEC meetings break without any result, oil prices might slide a little. If they don't move substantially, it could spook the shorts -- who would quickly look to get out first.
The prospect of the meetings are driving prices lower -- oil is down again on Tuesday to $40.50. But this could be a classic case of sell the rumor and buy the news.
In other words, I wouldn't be a seller of oil here.
This article is commentary by an independent contributor. At the time of publication, the author held no position in the stocks mentioned.