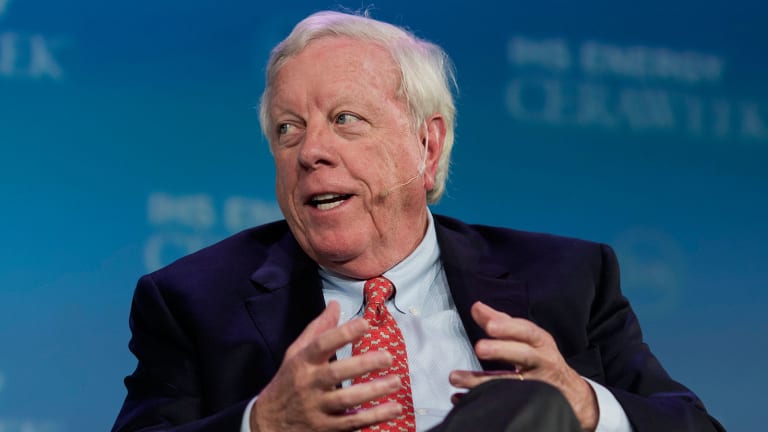 Dicker/Cramer: Kinder Morgan Down 7% Today -- Now Is When You Buy
Energy infrastructure company Kinder Morgan is oversold and deserves more respect, says TheStreet's energy contributor Dan Dicker. Here's why.
Kinder Morgan (KMI) - Get Kinder Morgan Inc (KMI) Report has been the lone lukewarm recommendation of mine in the midstream space, but I stopped talking and added to my positions today at $21. Kinder Morgan has been oversold here and deserves more respect.
Sure, the entire space of energy infrastructure is under severe pressure right now. There is the upcoming Fed meeting that most are convinced will result in a rate rise. An increase in interest rates always makes those high-yielding bonds and stocks less valuable, and that has been weighing all of the Master Limited Partnership shares down recently, including Kinder.
Then there is the coming drop in oil and gas production that another several months of low energy prices are sure to bring. Lower production will translate into lower volumes of product moving through pipelines -- a trend that will only begin in 2016, but certainly extend for a year or more. There is the second strike for Kinder Morgan.
Finally, Rich Kinder surprised everyone in buying out an over-levered pipeline company, Natural Gas Pipeline Company of America, in a joint venture with Brookfield Infrastructure (BIP) - Get Brookfield Infrastructure Partners L.P. Report . This was a company that had searched far and wide for a suitor with little success, and was destined for bankruptcy without the buyout.
The move caused Moody's to downgrade the shares of Kinder and brought on an avalanche of selling.
Was buying NGPL Kinder Morgan's third strike?
I don't think so.
Pipelines are the circulatory system of U.S. energy, and Kinder represents a network that America literally depends upon. They're not going anywhere. And while I have wondered about the timing of the NGPL buyout, I do not wonder about Rich Kinder -- every move that he has made in the past 15 years has turned out to be right.
I didn't recommend any infrastructure companies in 2015, until I singled out Kinder Morgan as it moved under $26. Today, as it trades near $21, the dividend is close to 10% -- and I cannot see the cash flow from the Kinder network putting that distribution in jeopardy for at least the next few years.
At $40 a share, there was little doubt that Kinder Morgan was overvalued, but even with the headwinds ahead of it, it's become seriously undervalued here at $21. And I'm recommending it, as well as buying it myself.
I talk more about Kinder Morgan in the video with Jim Cramer above.
This article is commentary by an independent contributor. At the time of publication, the author was long KMI.