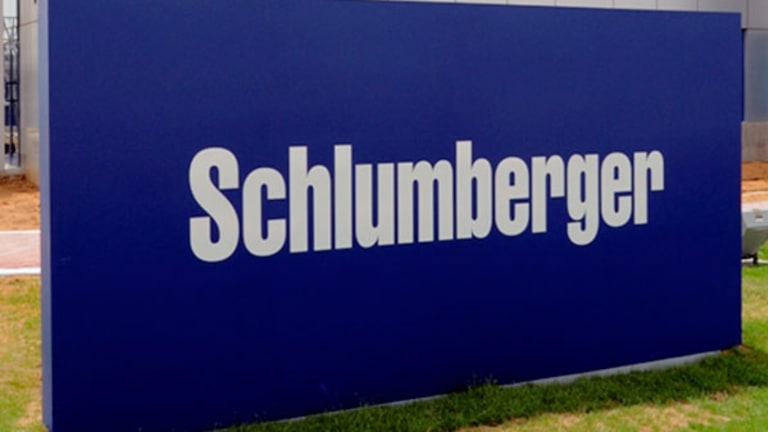 Dicker and Cramer: Why Schlumberger CEO's Pessimism Is a Good Thing
Dan Dicker, energy contributor for TheStreet, talks with Jim Cramer about Schlumberger's CEO's very pessimistic comments that have not stopped the stock from rallying.
In the energy space, there's been nothing but bad news, insult added to injury. The latest conference call from Schlumberger (SLB) - Get Report , the number one world oil services provider, was equally glum. But perhaps that's a good thing.
In a marked change from the more optimistic view recorded in the company's last quarterly report, CEO Paul Kibsgaard retreated from any comments that saw a quick end to the bust cycle in oil and a return to growing business prospects for his company or the rest of the oil services group.
"The market is underestimating how long this period is going to take," Kibsgaard said on the call. "Just the fact that the industry is looking to again reduce investments when we have this significant pending supply impact coming, shows we have an increasing challenge."
After logging a 50% drop in third-quarter profits and trashing the prospects for his market in drilling services last Friday, Schlumberger stock actually rallied, as did fellow oil services giant Halliburton (HAL) - Get Report .
Maybe the markets know more about the prospects for oil services than Kibsgaard does.
It's not that the down cycle in oil and gas drilling will be any less extended than the CEO believes, or that further rough times in cost cutting, layoffs and pricing for services lay ahead. But there is a positive note to be heard in the open, honest and pessimistic comments being made.
It proves that Schlumberger has accepted the possible long-haul nature of the downturn and is making the adjustments necessary to survive it.
The fundamentals of oil demand tell us that we're not about to abandon oil and gas; in fact, we're destined to be even more reliant upon it in the future. When that future comes, as it inevitably must, Schlumberger will have the "lean and hungry" look of a company prepared to make the most of the new demand it will see.
Maybe that's why the stock is rallying.
I talk more about Schlumberger with Jim Cramer in the video above.
This article is commentary by an independent contributor. At the time of publication, the author held no positions in the stocks mentioned.