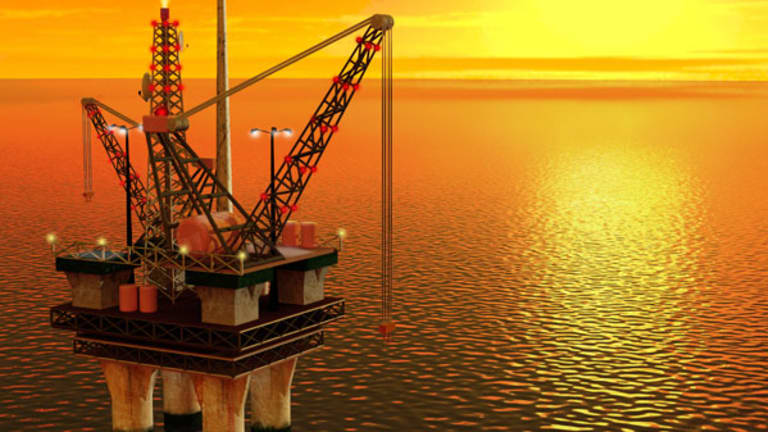 Dicker and Cramer: Which Offshore Driller Will Go From Hero to Zero?
Dan Dicker, energy contributor at TheStreet.com, talks with Jim Cramer about the recent downgrade of Hercules Offshore and which other companies face similar threats to their existence.
NEW YORK (TheStreet) -- The downgrade of Hercules Offshore (HERO) to zero by Deutsche Bank has begun the second phase of the oil bust. Under pressure from continuing weak oil prices, oil companies will have to scramble to find new financing, begin restructuring or ultimately go out of business altogether.
But which is the next HERO to go to zero in the offshore sector? I sat down with Jim Cramer to try and figure that out.
No one in the offshore subsector is in quite as bad a position as Hercules finds itself, with only 10 of its 24 rigs contracted for work and a hugely overleveraged cash position. Because HERO is a shallow-water specialist where competition is particularly fierce, it cannot find work in the more lucrative and longer-term mid-depth and deep-water projects. No other rig operator is quite as specialized and debt ridden as Hercules.
But others in the space have their own problems. Rowan (RDC) is mostly shallow water with only four of its 34 rigs capable of drilling in 10,000 feet of water. Noble Corp. (NE) - Get Reportowns nine deep-water rigs of the 32 in its fleet, but is more leveraged than Rowan, with its bonds trading upwards of 6.5%.
But perhaps the stock that has not yet come down far enough is Ensco (ESV) , which has better flexibility with 19 deep-water and ultra-deep-water rigs out of its huge, 61-rig fleet, but still will have 19 of its rigs idled in 2015 with new completion expected on another six new rigs. No one is as aggressive in building its fleet and retiring its older rigs as Ensco. Despite a very clean balance sheet and light leverage, it feels as if the continuing down cycle in offshore has yet to hit the stock fully.
Ultra deep-water specialists are also a difficult recommendation, but their specialty is far less competitive. There are truly a limited number of rigs that can handle projects destined to drill three miles underwater or more. While it is true that the number of new projects in ultra-deep-water are not destined to increase until mid-2016, there are only the very few of these that the oil companies can rely upon for specialized rigs. This includes Transocean (RIG) - Get Report, Seadrill (SDRL) - Get Report and perhaps Atwood Oceanics (ATW) . In trying to get ahead of the next up cycle of offshore drilling, this is where I would concentrate.
Finally, there are the services companies of offshore drillers. With these you needn't make a bet on any particular company or their fleet utilization. When the sector turns around, the services companies will turn around with them, no matter which company makes out best or worst. Two of these worth considering are Cameron (CAM) and National Oilwell Varco (NOV) - Get Report.
Continued bad news is likely to follow all of these names for quite a while, with some following Hercules into possible bankruptcy. But there are still long-term investment ideas worth exploring in this very tricky space.
I talk more about offshore opportunities and minefields with Jim in the video above.
This article is commentary by an independent contributor. At the time of publication, the author held a position in SDRL.