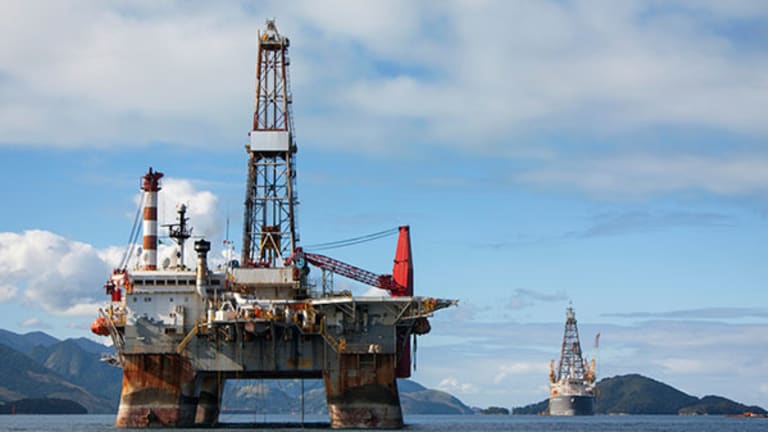 Dicker and Cramer: Which Analyst's Wild Oil Price Prediction Is Right?
Dan Dicker, energy contributor at TheStreet, talks with Jim Cramer about the wildly differing opinions coming from the bank oil analysts on crude oil's next move.
NEW YORK (TheStreet) -- Oil prices are again under $50, after a brief but violent rally that topped out above $55. Several reports from the major trade houses have emerged in the last few days trying to put margins on the next move for crude oil -- but so few of them agree. What is really going to happen with oil prices?
Goldman Sachs released its note on oil on Tuesday, affirming the fantastic drop in rig counts, more than 450 in eight weeks, still will do nothing to drop production increases in shale oil here in the U.S. Goldman believes oil will remain depressed for another two quarters at least, but hesitates to predict whether oil will again drop to $43 a barrel or make a new low.
J.P. Morgan's prediction is for a $38 target, a very steep drop from where we were trading on Wednesday at just under $49 a barrel, but it cites a production growth of 200,000 barrels a day here in the U.S. for 2015 and notes equally the continuing stockpile increases and lack of storage that will continue to weigh on crude prices.
But no bank's predictions were as wild as Ed Morse's at Citibank, predicting a 600,000 barrel a day production increase for 2015 and even predicting that oil could get down as low as $20 a barrel before the crude glut is cleared.
While I believe the rally crude saw was a very short-term recovery inspired by a number of short players that got momentarily caught and some optimistic but unlikely outcomes from dropping rig counts, it was still a rally significant enough to establish some useful lower and higher boundaries around which crude will likely trade. To me, that means that numbers much below the low $40s and for certain Citibank's $20 price are bordering on the ridiculous.
Crude prices of $20, $25 or $30 would inspire economic Armageddon in enough countries as to be practically unfathomable. Surpluses in crude oil would have to reach 2½ to 3 million barrels a day right now, which is just not under the realm of possibility. If we see these kinds of numbers, something else besides the crude market is seriously broken.
Still, I maintain my view that oil will not see a price above $60 for another several months at least. Inside of these boundaries is where I think crude oil is stuck for a very long, cold period to come.
I talk more about crude prices and their ultimate trajectory with Jim in the video above.
This article is commentary by an independent contributor. At the time of publication, the author held no positions in the stocks mentioned.