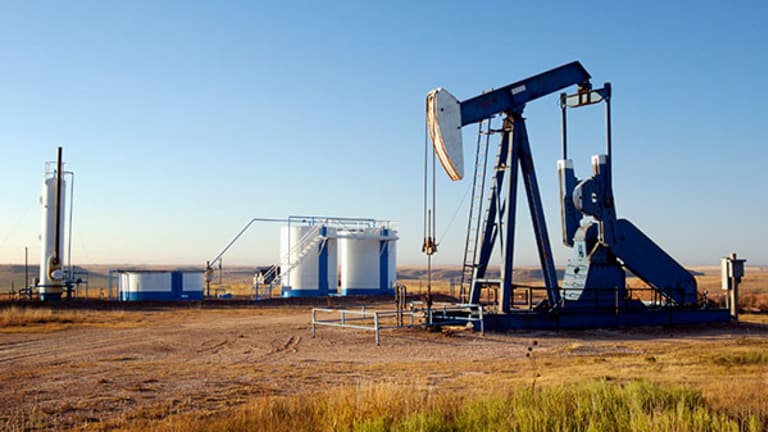 Dicker and Cramer: 'Oil's Endless Bid' Takes a Long Holiday
TheStreet's Dan Dicker talks to Jim Cramer about how investment banks are no longer propping up oil prices.
NEW YORK ( TheStreet) -- I was talking to Jim Cramer about some of the financial inputs into the price of oil, which are often totally overlooked.
But the massive changes in the financial markets surrounding oil have had at least as much effect on the downturn in energy prices, and the possibility of a rebound, as any pertaining to the supply chain of oil from the Middle East or here in the U.S.
In 2011, I wrote a book outlining the most important of these financial influences on oil titled Oil's Endless Bid. And while I'm not willing to say that the "endless bid" has disappeared forever, it has proved able to take a very long vacation recently.
Part of the reason for that is that the investment banks, which I pointed to as the strongest engine of the endless bid, have greatly reduced their engagement with the oil markets.
Morgan Stanley (MS) - Get Morgan Stanley Report , Goldman Sachs (GS) - Get Goldman Sachs Group, Inc. Report and JPMorgan Chase (JPM) - Get JPMorgan Chase & Co. Report , along with the other large banks, have greatly reduced their oil desk activity or sold them outright. Much of their work included finding institutional and retail investors into the energy markets. That impetus is now largely gone.
And passive investment into oil has also taken a hiatus. In light of a rallying dollar and the deepest commodity deflation I have ever seen in a non-recessionary environment, more than $17 billion of investment in commodity index funds have disappeared already in 2014. Gold is down, as is copper and almost all of the grains. Oil is not immune from this 'flight from the commodity trade' as well.
And now, with oil under $80 a barrel, there are more sellers to add to an already lessening number of buyers. Oil exploration and production companies are forced to aggressively sell every rally in oil, trying to hedge out production in 2015 and 2016 that they previously thought would be buoyed by a $100 a barrel oil world. Now, they are frantically trying to find strategies to survive an $80 oil winter.
I told Jim that I don't expect oil to recover anytime soon. Watch more of my conversation with him in the video above.
At the time of publication, Dicker owned shares of EOG Resources and Cimarex Energy.
This article is commentary by an independent contributor, separate from TheStreet's regular news coverage.