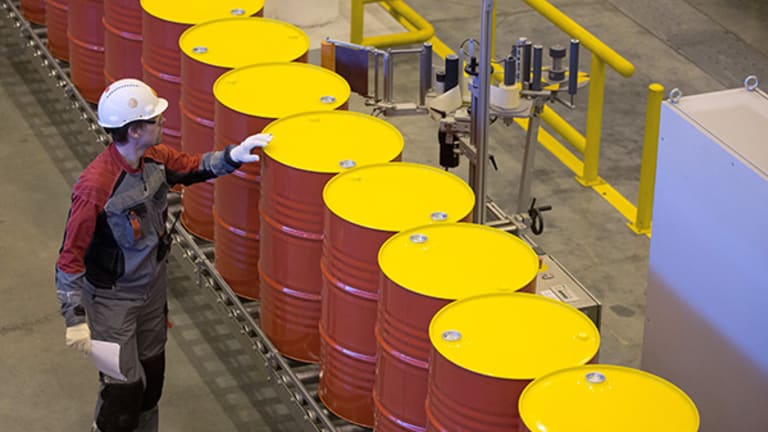 NEW YORK ( TheStreet) -- Oil is headed for another fall despite the overwhelming desire of investors to try to "find value" in the space. I expect oil to again test its previous lows of $43 a barrel in the next several weeks.
The main reason I expect this repeat drop in the price of oil is fundamental -- oil production continues to increase and stockpiles are at record levels. I have this chart from my friend Chris Jarvis of Caprock Risk Management:
Here we see the upper and lower limits of crude storage over the last five years, with the center blue line showing the five-year average. The black line is measuring current 2015 storage, now at over 440 million barrels, a 29-day supply for U.S. demand. This is far above the five-year average and there is every indication that it will get far worse soon.
The Energy Information Agency recently predicted that the U.S. will reach 9.35 million barrels of oil a day production in 2015, another 50,000 barrels a day higher than previous estimates and fully 200,000 barrels a day more than in 2014.
If these numbers sustain themselves, storage in the U.S. has the possibility of entirely running out within the next few months. With no place left to put barrels, prompt barrels will have to collapse in price. Prompt barrels are cash market barrels that need to be sold or stored immediately, as opposed to future barrels that comprise the vast majority of oil deals and pricing.
Add the trajectory of the U.S. dollar, now looking likely to reach parity with the euro on the back of accelerated bond buying by the ECB. Added upwards pressure on the dollar will also add to the downwards price pressure on oil.
Oil prices are already cheap at around $50 a barrel, and this is attracting a lot of speculative buying from investors. I have seen, for example, Whiting Petroleum (WLL) - Get Whiting Petroleum Corporation Report announce it is ready to sell itself, admitting its desperate cash position -- and yet the stock price goes up. An oversubscribed secondary from Oasis Petroleum (OAS) - Get Oasis Petroleum Inc. Report is immediately met by lower stock prices than the insider price.
Too many investors are still trying to pick a bottom in oil and oil stocks. This is a mistake. It is not time to safely invest in energy yet. Oil is headed down again first.
I talk more about oil prices with Jim Cramer in the video above.
This article is commentary by an independent contributor. At the time of publication, the author held no positions in the stocks mentioned.