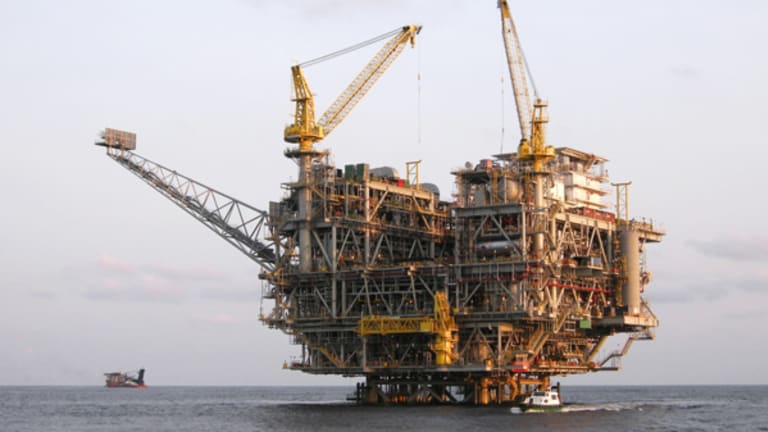 Dicker: Anadarko Will Benefit From $100/Barrel Oil
The price for U.S. crude has been moving up and that will benefit domestic producers.
NEW YORK (TheStreet) -- The crude market has been moving up, or at least the price for U.S. crude has been moving up, now looking ever more likely to reach $100 a barrel again soon. That price increase is going to benefit some domestic producers of crude, notably Anadarko Petroleum (APC) - Get Free Report.
The benchmark price for crude around the rest of the globe, represented by the price of Brent crude, has been relatively steady for most of the year so far -- but not so our domestic benchmark represented by West Texas Intermediate crude, which has moved from under $90 a barrel in February to close to $95 a barrel today. Because of this, the key WTI/Brent spread has moved under a $15 premium, still historically wide, but closer than they have been in two years.
While there might be fundamental reasons why this shouldn't happen right now, fundamentals are only one thing that should inform investment decisions. For experienced traders, it is the market that is the ultimate arbiter of what is right and wrong -- and this spread is looking less strong by the day, allowing WTI crude to rapidly 'catch up' with strong and sticky Brent prices.
If this trend holds, and I think it will, there will be advantages for finding domestic crude producer stocks to invest in now, while suggesting lessening one's exposure to more international Exploration and Production (E&P) companies.
While there are a lot of choices to make under that thesis, one that immediately stands out for me is Anadarko, one I've previously recommended that has had a great year already. To further recommend the company, Anadarko has participated in two recent very promising finds in the Gulf of Mexico -- Shenandoah and Coronado -- that promise upwards of a billion barrels of oil equivalent. The Gulf is one of those domestic areas of development that is finally again hitting its stride after the long debacle caused by the Deepwater Horizon disaster of 2010.
I talk more about Anadarko and the Gulf of Mexico with Debra Borchardt of
TheStreet
above.
At the time of publication the author had no position in any of the stocks mentioned.
This article was written by an independent contributor, separate from TheStreet's regular news coverage.
Dan Dicker has been a floor trader at the New York Mercantile Exchange with more than 25 years of oil trading experience. He is a licensed commodities trade adviser.
Dan is currently President of
a wealth management firm and is the author of
published in March of 2011 by John Wiley and Sons.
Dan Dicker has appeared as an energy analyst since 2002 with all the major financial news networks. He has lent his expertise in hundreds of live radio and television broadcasts on
CNBC
,
Bloomberg
US and UK and
CNNfn.
Dan obtained a bachelor of arts degree from the State University of New York at Stony Brook in 1982.