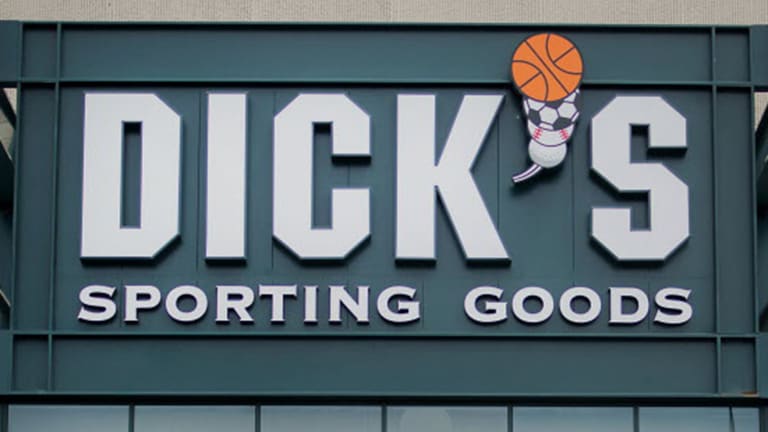 Dick's Sporting Goods May Now Be One of the Best Investments in America
With Sports Authority's bankruptcy and liquidation, the outlook for Dick's Sporting Goods brightens.
The planets are aligning for sporting goods retailer Dick's Sporting Goods (DKS) - Get Report . 
First, Dick's long-time rival, Sports Authority,filed for Chapter 11 bankruptcy in early March and has since been liquidating its inventory at some 450 stores in 27 states. The end of Sports Authority has effectively removed a major competitor from the market for Dick's, and now Dick's will be feasting on the carcass of its one-time nemesis to improve its own fortunes.
The company was named the successful bidder in the bankruptcy auction for Sports Authority's intellectual property assets and the right to acquire 31 store leases. Dick's will pay $15 million for the intellectual property assets and $8 million plus fees for the right to acquire the store leases.
The assets Dick's acquired could prove especially lucrative. According to Canaccord Genuity analyst Camilo Lyon, Dick's has now gained access to 28.5 million members of Sports Authority's loyalty program and 114 million customer files.
 "Now Dick's can cross reference its database for new customers, target them directly, and steer them to nearby stores and/​or [dickssportinggoods.com] with little incremental cost," Lyon added.
Meanwhile, Sports Chalet -- a regional player with 50 stores in California -- has been liquidating its business after years of struggles. City Sports, a one-time player in the sporting goods market along the East Coast, has closed all of its 30 stores or so after filing for bankruptcy in October 2015. 
The disappearance of Sports Authority, Sports Chalet and City Sports before the holiday season will leave Dick's Sporting Goods in the enviable position of being the dominant sporting goods retailer in the country.
As a result, Dick's could be poised to ring up some serious sales and profit at its more than 640 stores starting later this year.
"We view the [Sports Authority] bankruptcy news as incremental good news for Dick's, as the likely biggest recipient of the approximately $2.6 billion of sales that will now be up for grab," said Deutsche Bank analyst Mike Baker in a May 2 note to clients. According to Baker's math, if Dick's picks up 20% of Sports Authority's sales it would equate to $520 million in new business, which would be the equivalent to a 7% boost to same-store sales over the next year. The analyst estimated the sales jolt would add roughly $136 million in operating profit in a year's time, or 75 cents a share. Dick's may be well down the path of picking up 20% of Sports Authority's sales given its win in buying the company's massive customer files. 
The earnings lift from the industry's shakeout could light a massive flame under Dick's Sporting Goods stock, which has fallen about 12% in the past year vs. a 1% gain for the  S&P 500.
Shares of Dick's rose 4.1% Thursday to $45.06.