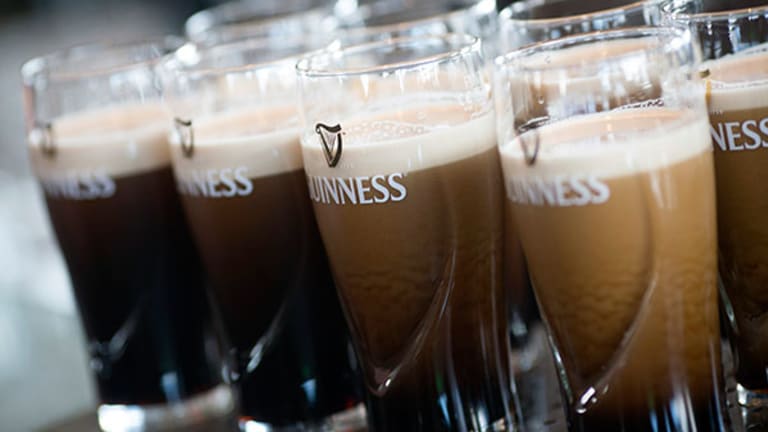 Diageo First-Half Results Show Rebound in Six Global Brands, U.S. Spirits
The British drink giant predicts a near-$490 million profit boost this year from exchange-rate movements.
Hard liquor in North America and beer in Africa are proving a tasty combination for drinks giant Diageo (DEO) - Get Report , the U.K.-based maker of Johnnie Walker scotch, Guinness beer and Smirnoff vodka.
Full-year results show the company's six global brands and its U.S. spirits business all back to growth, and beer sales up amid strong gains in Africa, particularly in East Africa and Nigeria.  Sales in greater China slipped 2% on declining Scotch sales, however.
Scotch sales overall -- accounting for nearly a quarter of the group total -- were flat on the year. But Scotch sales grew in North America, Latin America and the Caribbean, driven by Johnnie Walker and Buchanan's, backed by new campaigns. 
In a webcast presentation, CEO Ivan Menezes declared that the latest report is "more than the good set of numbers" and a "great way" to start the next fiscal year.
Operating profit in fiscal 2016 before exceptional items rose 3% on an organic basis for the 12 months through June 30 to £3.01 billion ($3.97 billion), in line with most expectations. Net sales rose by 3% on an organic basis.
Earnings per share before exceptional items rose to 89.4 pence from 88.8 pence.
Diageo, which gets more than 90% of its sales outside the U.K., said exchange-rate movements will buoy sales this year by about £1.1 billion and operating profit by about £370 million.
"We are confident of achieving our objective of mid-single digit top line growth, and in the three years ending [fiscal 2019] delivering 100 bps [basis points] of organic operating margin improvement," said Menezes.
Diageo shares were up 0.2% in London at 2,145 pence, for a market value of around £53.9 billion. The stock is up 22% over a year ago. The Stoxx Europe 600 Food and Beverage Index is down 1.03%, and French peer Pernod Ricard is flat over the same period.
Menezes, who has led Diageo since July 2013, has been busy the past year reshuffling senior managers, tidying the portfolio through asset sales and returning the company's six global brands and U.S. spirits business to growth. The most recent disposals include the sale of Diageo's Chateau and Estate wine brands in the U.S. and its U.K.-based Percy Fox wine business.
That's freed up the company to concentrate on spirits and beer.
All six of its so-called global giants - Johnnie Walker, Smirnoff, Baileys, Captain Morgan, Tanqueray and Guinness - are all in growth this year. Together they represent 40% of the group's sales.
Within the global giants category Tanqueray led the pack, with 12% organic growth.
Beer, which accounts for 18% of the group's sales, grew by 6%, driven by a strong performance in Africa as well as gaining market share in its home turf of Great Britain and Ireland, where it introduced new porters inspired by old recipes through the 'Brewers Project'.
Sales in North America increased 3%, with whiskey brands Crown Royal and Bulleit gaining share, and Smirnoff vodka and Captain Morgan run also improving, with sales gains of 2% each. Interestingly, Diageo spent more on product innovation and less on marketing in that market.
Emerging markets in Latin America and the Caribbean did not fare as well, as growth in Mexico, Colombia and elsewhere was offset by declines in Brazil and travel retail.