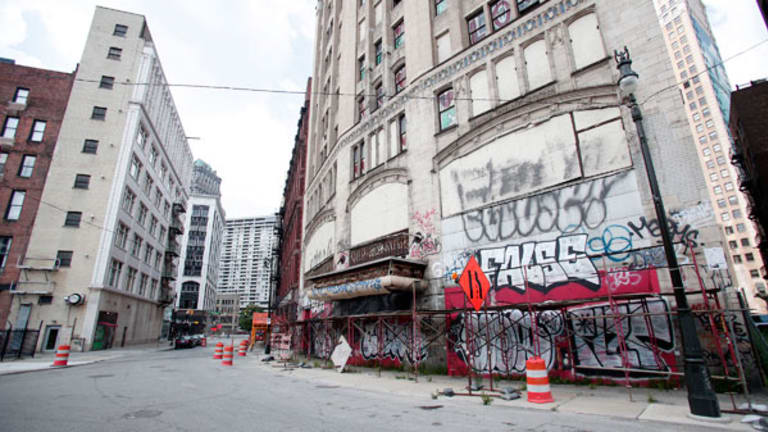 Detroit Bankruptcy Is Sad, Not Pathetic
The largest U.S. municipal bankruptcy will hopefully mean a once-beautiful city has finally hit rock bottom.
The largest U.S. municipal bankruptcy will hopefully mean a once-beautiful city has finally hit rock bottom.
NEW YORK (TheStreet) -- While many chime in with "about time" and "good riddance" regarding Detroit's bankruptcy, it's truly a sad conclusion to a once-booming economic city. In the 1940s and 1950s, the city relished in the limelight as automakers like Ford (F) - Get Report, General Motors (GM) - Get Report and Chrysler made Detroit into the great city that it was.
When U.S. automakers started to lose their footing in the market a few years ago, it was only the accelerant on an already collapsing city. The straw that broke the camel's back. The fuel thrown on an already raging fire.
The double whammy? Not only did the auto companies tank -- with two of the 'Big Three' U.S. manufacturers filing for bankruptcy and the third, Ford, doing everything it could to stave off Chapter 11. This included putting the blue oval logo out as collateral while the stock traded all the way down to $1, from a split-adjusted high of $38.83 -- but the housing market imploded as well.
Sure, other states keeled over in turmoil from the housing bubble burst, but it was nothing like what Detroit and rest of Michigan was going through. Adding salt to the wound in an area plagued by little financial prosperity -- if any -- is $4-and-change gasoline. While some will say $3.50 is a high price at the pump, the refinery "issues" in the Midwest have only made things worse.
For the first half-century, the city was rockin,' but as time moved through the second half and past the 1960s riots, Detroit has slowly gotten worse over the decades. With a population of 1.85 million in the 1960s, Detroit was the fourth largest American city at the time. Since then, the city has lost more than one million residents, with the current population at approximately 713,000 as of the last census.
Crime fills the crevice in a city full of abandoned buildings, neighborhoods that are
completely
empty, and an illiteracy rate of nearly 50%. Detroit finished in the top-three for most dangerous cities 10 of the last (yep, you guessed it) 10 years, depending on what sources you look at. And don't even get me started on the corruption. Less than a half dozen years ago, Kwame Kilpatrick & Co. roamed the city and did whatever they wanted. He spent funds however he wanted to, including escorts and private parties at the city-owned Manoogian Mansion.
So I guess my question, along with everybody else's is: Can the city of Detroit return to prosperity? Or at least mediocrity?
Am I born, raised and living in Detroit? No, I'm not. So I wouldn't exactly qualify as the city spokesperson. However, I was raised nearby and during my lifetime, it's never been considered the safest place on Earth. But it's still sad.
For an idea of sad, look at these
still shots
of the incredible architectural work that once blanketed the city or check out these
interactive photos
which literally fill the old,
a picture speaks a thousand words,
saying. Yeah, well these speak ten thousand. (Little hint, move your cursor from right to left on the interactive photos).
Even though I wasn't around when it was one of the prosperous, cash-printing cities in America, the beautiful architecture and landmarks tells the story of what it used to be like. Driving through the city these days is depressing, to be frank, but shows glimmers of why this city was great at one time.
While there is crime, poverty and political issues littering the city, there are a lot of good people as well. You know the grade school adage, it only takes one kid to ruin it for the whole class? Well, it's a similar situation in Detroit.
A few bad eggs spoiled the bunch. For the most part, there are great people and excellent human beings in the city and its surrounding areas. After all, it's not their fault per se, that the city is in turmoil. What difference do they know?
So my question will remain: Will the city get back on its feet after filing bankruptcy? In all honestly, only time will tell. There's no other real answer. The city still has plenty of underlying issues to juggle and finding investors is not going to be easy. Although it's also not impossible.
Dan Gilbert, the founder and chairman of
Quicken Loans
and owner of the National Basketball Association's Cleveland Cavaliers, is considered the largest landowner of Detroit properties -- aside from the city itself.
Gilbert, who anticipated a bankruptcy filing, said that, "It's a step toward a better and brighter tomorrow." The businessman has a
of transforming the nearly deserted city into an economic powerhouse once again. By snatching up land, some as cheap as $5 per square foot, he's quickly accumulating multiple buildings along the flagship strip known as Woodward Avenue, near the Detroit River.
One of his multiple plans is to attract small startup firms and tech companies. By subsidizing part of the expenses associated with living and working downtown, more and more companies are starting to work their way into the area. Companies like
Uber
and even
Twitter
have space there and the thought is this move will only continue to grow.
By subsidizing part of the expenses through Bedrock, a company owned by Gilbert, more and more startups and technology companies are willing to give it a chance. If it weren't for the incentives, those employees would have likely never wander down there on their own.
The city is cooperating with Gilbert's effort. By allowing them to have a fairly "free hand," the team can move as quickly and efficiently as possible. Permit hang ups for purchases and renovations are expedited so that literally, Gilbert's image can hopefully become a reality as soon as possible.
His plan will be hard to materialize. Retailers aren't going to move in without foot traffic and pedestrians won't have a reason to walk the streets without shops. Thankfully, he has the tailwinds of the Detroit Tigers, the rejuvenated Detroit Lions and the Detroit Red Wings -- who have made more than two decades of consecutive playoff appearances -- to help retain some sort of downtown foot traffic and jubilant spirits.
Hopefully Gilbert is right and can transform the city into what it once was: Beautiful, fun and exciting. With the industrial presence waning, hopefully bankruptcy marks the bottom in the city's long, painful downward spiral. Although it may never return to its once-prosperous state, its residents wouldn't mind a "normal" city one bit.
Here's to Detroit piecing together another strong first-half century.
-- Written by Bret Kenwell in Petoskey, Mich.
.
At the time of publication the author had no position in any of the stocks mentioned.
This article is commentary by an independent contributor, separate from TheStreet's regular news coverage.
Bret Kenwell currently writes, blogs and also contributes to Robert Weinstein's Weekly Options Newsletter. Focuses on short-to-intermediate-term trading opportunities that can be exposed via options. He prefers to use debit trades on momentum setups and credit trades on support/resistance setups. He also focuses on building long-term wealth by searching for consistent, quality dividend paying companies and long-term growth companies. He considers himself the surfer, not the wave, in relation to the market and himself. He has no allegiance to either the bull side or the bear side.