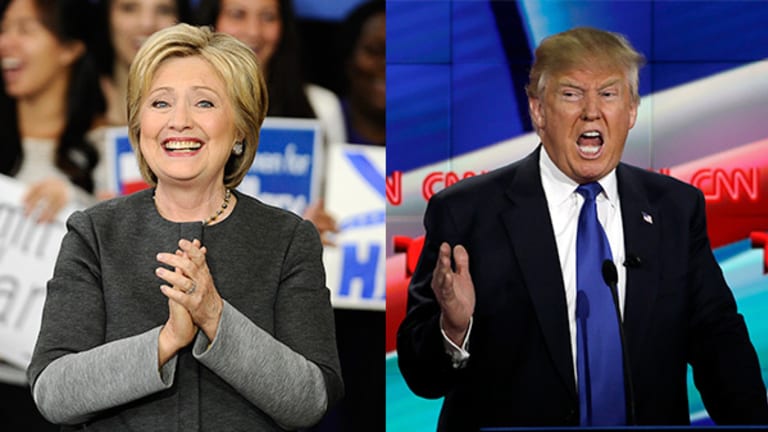 Publish date:
Detest Donald Trump and Hillary Clinton? Here Are 5 Things to Know About Moving to Canada
Swapping the Stars and Stripes for the Maple Leaf is tougher than most Americans think.
Swapping the Stars and Stripes for the Maple Leaf is tougher than most Americans think.
It happens in the run-up to every presidential election: Some Americans threaten to pack up and move to Canada if their candidate loses.
Certainly, interest in the land of hockey and poutine picks up after big political events in the United States. In 2004, for example, Canada's official immigration website set a record for visits in a single day after President George W. Bush was re-elected.
And this year, as Super Tuesday results rolled in, handing Republican candidate Donald Trump key victories, the number of Google searches for "how to move to Canada" soared by 350%.
Unfortunately, there are no data on how many people back up those web wanderings with action.
But for those upset about the prospect of either another President Clinton or a President Trump and who are considering hopping the border on Nov. 9, here are five things to keep in mind. These strategies could exert a huge effect on finances and portfolios, of course, so those who are serious should consult financial advisers.
1. Cozy up to the Canuck kin. One way of gaining permanent residency is by being married to a Canadian or having a Canadian family member who will sponsor one's application.
But it is no guarantee, and those interested in moving to Canada would still have to jump through plenty of hoops. A sponsor would also have to meet a number of requirements, including agreeing to support the immigrant financially once the move is made.
If that all checks out, there is still a wait: Processing times stand at 17 months for a spouse or common-law partner and 34 months for other relatives. That is a good chunk of a first presidential term.
Perhaps time and energy would be much better spent making wise investment choices. 
2. Express entry isn't as express as it sounds. Professionals in fields such as financial services, health care or a skilled trade could gain permanent residency through the year-old Express Entry program.
Under this program, applicants first submit a profile, which is scored based on age, work experience and education, and are then dropped into a pool, where the application will stay for up to 12 months.
From there, an applicant will be invited to apply for permanent resident status if, say, he or she is offered a job by a Canadian company. Otherwise, the applicant could get an invitation if the profile scores compare favorably with the rest of the pool.
Either way, it could still take up to six months to process the application.
3. Taxes here, taxes there. There are a number of differences between Canada and the United States on the tax front.
Canadian tax law, for example, is based on residency, whether the taxpayer resides in the country or has other residential ties such as a home or a spouse in Canada.
Not so with the United States, which bases taxation on citizenship. That means that American citizens living in Canada still have to file a tax return with the Internal Revenue Service every year, in addition to a Canadian return.
That is a hassle, to be sure, but there are credits in place that, in many cases, offset all or most U.S. tax liability, according to accounting firm BDO International.
4. The real estate market is frothy. Once in Canada, finding inexpensive housing isn't easy, especially for those living in Toronto, Canada's biggest city, or Vancouver, the third-largest.
Both housing markets have been on a tear, with the average detached abode in Toronto going for CAD$1.2 million in March, while Vancouverites cough up CAD$1.3 million.
The sharp price growth is inflating bubble worries, particularly in Vancouver, where prices surged more than 27% in March from a year earlier.
5. The low loonie is appealing. One consolation is that Canada is a lot cheaper for Americans now than it was three years ago, when the Canadian dollar, nicknamed the loonie for the waterfowl on one side of the coin, was trading near parity with the greenback.
Nowadays, $1 U.S. is worth $1.31 Canadian.
--
Those who live in Canada, the United States or anywhere else can profit from this simple strategy. In just nine minutes a week, use it to generate a tidy side income of $67,548 a year, guaranteed. Click here to see how easy it is to collect thousands of dollars in "free money" every month.
This article is commentary by Chad Fraser, who lives in Canada.