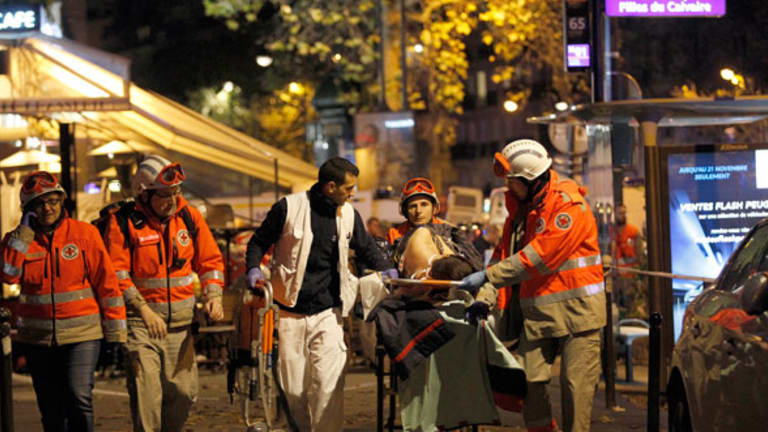 Destinations You Must Avoid in an Era of Terror
Where not to go: naming country names. The U.S. State Department has issued what amounts to a global travel alert.
We are canceling trips to Paris by the bushel, claiming terrorism fears as the cause. Hotels are empty -- ditto restaurants -- and travel agents say they are canceling more Paris travel than they are booking.
The ante just got upped, because now the U.S. State Department has issued what amounts to a global travel alert that bluntly warned: "The State Department alerts U.S. citizens to possible risks of travel due to increased terrorist threats. Current information suggests that ISIL (aka Da'esh), al-Qa'ida, Boko Haram, and other terrorist groups continue to plan terrorist attacks in multiple regions."
You know what: everybody gets to decide his own comfort level when it comes to terrorism, but very probably, said multiple experts, safe travel remains possible today. Paris, by the way, probably is one of the safer global capitals on the planet right now as police blanket the city, said experts.
But there are other places you should be afraid of, very afraid. Like where? Names are named below.
But, first, understand that a lot hinges "on your personal travel profile," said Phil Sylvester, a safety expert with travel insurer World Nomads. He elaborated that if you have been to 50 countries, many dicey, you may be safe just about everywhere. If it's your first trip outside the U.S. and your life has been lived in comfortable suburbia, maybe it's shrewd to play it safe.
A building block for safe travel has to be skimming the U.S. State Department's many travel warnings and advisories. State fingers dozens of dangerous countries. The cautious may also check the British Foreign Office.
Either way, though, you already know the ten or so countries that are must avoids: Afghanistan, Iraq, Iran, Sudan, Somalia, North Korea, Syria, Pakistan ("The Department of State warns U.S. citizens against all non-essential travel to Pakistan"), Libya, and Bangladesh ("The Department of State alerts U.S. citizens to concerns about the ongoing potential for extremist violence in Bangladesh"). But probably you weren't going to any of them anyway.
More interesting - and more dangerous in a way - are the destinations that retain allure in the public conversation but also may involve real risks to unwary tourists.

But before crossing off more countries know that a key issue is where exactly you choose to go in a destination. Peggy Goldman, president of Friendly Planet Travel, pointed to Israel as a case in point. Much of the country, she said, is safe for tourists. But some very specific areas - the West Bank for instance - are an entirely different matter.
"You need to get granular about warnings and safety," said Jim Hutton, chief security officer at travel assistance company On Call International. Mexico vividly illustrates this. There are detailed, frightening State Department warnings for many Mexican cities but others that are major tourist draws - such as San Miguel de Allende and Puebla - have no bad ink, not a drop. So carefully read, in detail, before jumping to conclusions, pro or con.
Here's the question: where to avoid that might be a country on your personal bucket list? The State Dept. shines a light on the danger zones that have real appeal to some travelers:
* El Salvador ("The Department of State continues to warn U.S. citizens that crime and violence levels in El Salvador remain high").
* Tunisia. Many attacks on tourists in recent months.
* Saudi Arabia ("There have been attacks on U.S. citizens and other Western expatriates within the past year and there continue to be reports of threats against U.S. citizens and other Westerners, as well as sites frequented by them.")
* Venezuela ("While U.S. citizens are not specifically targeted, violent crime in Venezuela is pervasive, both in the capital, Caracas, and in the interior.")
* Philippines ("The Department of State warns U.S. citizens of the risks of travel to the Philippines, in particular to the Sulu Archipelago, certain regions and cities of the island of Mindanao, and the southern Sulu Sea area.")
* Colombia ("Violence linked to narco-trafficking continues to affect some rural and urban areas"). 
Notice one theme: more than half the dangerous destinations have zero terrorism. But their criminal quotient is soaring. "Petty crime is a lot more likely than terrorism," said Sylvester.
Security consultant Albert Goldson, executive director of Indo-Brazilian Associates LLC suggested adding two more high risk countries to the list: Brazil and Argentina. He elaborated that both countries are in economic turmoil and both have many of what he called "express kidnappings" where a victim, often a foreign traveler, is kidnapped and driven to an ATM or three to withdraw all the cash he can.

"These criminals work in collaboration with the legitimately employed who interface with tourists frequently like vendors, cab drivers, hotel personnel, and others in the hospitality industry who provide information on their targets and then share the loot," Goldson added. 
Bottomline: pick your destination carefully. Do your research. Stay alert. Don't assume safety. And very probably you will be fine. "Be informed before you go, that's a key to staying safe," said Sylvester.
This article is commentary by an independent contributor. At the time of publication, the author held TK positions in the stocks mentioned.