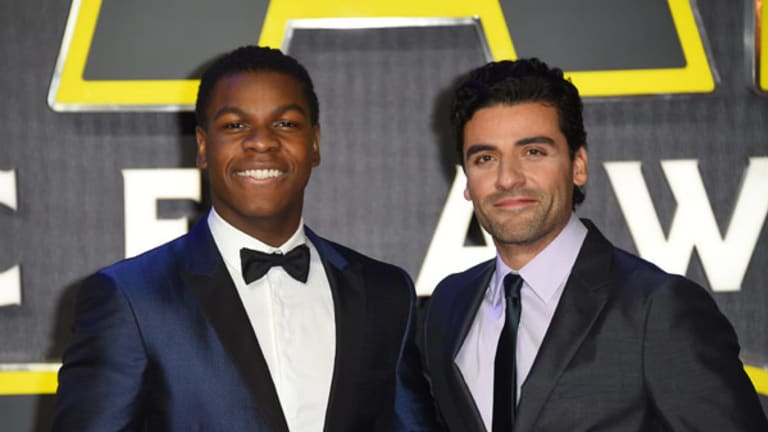 Despite What You've Heard, Disney's 'Star Wars: The Force Awakens' Is Racist
Although it has a black lead character, Disney's 'Star Wars: The Force Awakens' is not as progressive as you think.
Editors' Pick: Originally published Jan. 18.
People havebeenraving about Star Wars: The Force Awakens' progressive casting and script. 
The heroes of the film are a black stormtrooper named Finn and a young woman named Rey, a step forward for a franchise that has some dark, deeply racist moments. But, digging beyond just the casting of the lead characters, Disney, the new owner of the Lucasfilms franchise, hasn't done nearly enough to bring the hugely influential and popular Star Wars franchise into 2016, when it comes to progressive racial politics. 
Roth Cornet and Donna Dickens of HitFix, Nicholas Powers of the IndypendentandJacob Hall ofScreencrush love the racially diverse cast. Gwendoline Christie (of Game of Thrones fame) says she is proud to be playing a "progressive female character." The U.K.'s Pink News agrees. 
Even bigots see the movie as too progressive. There was the reprehensible #StopAppropriatingWhiteCulture hashtag on Twitter, which surfaced images of the black lead character saying: "Where da white wimmins be at?" 
They're all wrong -- and not just in regards to their backward and demeaning comments. Star Wars VII is far from progressive. The movie still promotes age-old stereotypes of black men. 
Let's look at Finn, played by Nigerian-British actor John Boyega. He has been ripped from his family and forced to work for his captor. Sound familiar? Finn's life story casts him as a slave.
And how does Finn get his name? He starts the movie with a name given to him by the original slavers, FN-2187 but then is named "Finn" by Poe Dameron, a white pilot. It reminds one of Kunta Kinte in Roots, who is forced to take the name "Toby" by his white slaver. Some read "Finn" as his liberation name, but I see it the other way around. Star Wars' "Toby," truly liberated, should have picked his own name. 
Finn is a buffoon. He's a stormtrooper, trained by the evil First Order, but he can't fight -- Rey, the film's female lead, is a much better fighter than he is. 
"We got a character who couldn't win one fight on his own, who repeatedly needed saving, who didn't get a 'traditional' win," writes Greg Anderson-Elysee, a self-described "black nerd" on comic news site the Outhousers.
He can't fight but he's also not savvy. When Han Solo tries to subtly signal that he look in a certain direction, he's confused by the pantomime. And when it's time for him to be competent, what is he competent at? His special skill that earns him a place in the Rebel plot to destroy the bad guys' evil base: He was a janitor there once. Really, Disney?
Perhaps dashing the fears of the most racist Star Wars fans, Finn doesn't get the girl in the end of the movie -- he is harmless and impotent, a racist's dream. In fact, Finn is punished for chasing the white woman in the movie. He almost dies on several occasions, trying to save her. 
Finn "didn't even get to kiss Rey. Romance tends to be at the center of American hero films, and if both Rey and Finn were Caucasian, I bet there would have been some lip lock at the end of the film," writes Joseph Phillip Illidge, the former Batman editor for DC Comics and co-owner of production company Verge Entertainment.
No wonder other prominent African American voices aren't completely happywith Finn either.
Disney took a big and long-overdue step making a person of color the lead of its new Star Wars film, but not nearly big enough. (And what about African American women? New character Maz Kanata's voice is that of Kenyan actress Lupita Nyong'o. It's almost an insult that, given Finn's flaws, there aren't any black women actually seen on screen.)
Disney has a history of producing films that even recently have had hidden message of racism and sexism. Of course, the company's founder's racist views are well-known.
And let's be clear: When young African American men and women see Star Wars, they may not even think about the skin color of the protagonists, but the subtext of Finn's background and story do not help them understand that they are -- or should be -- full and equal citizens, with all the privileges and rights entailed.
Disney bought Lucasfilm for $4.05 billion in cash and stock in 2012. This was an opportunity to erase bitter memories -- both for Star Wars and other signature Disney franchises -- and it's unfortunate that it fell so short in a movie that has already been seen by so many. It has so far grossed nearly $2 billion dollars worldwide, a number that is sure to increase on this holiday weekend celebrating the work of Dr. Martin Luther King, Jr.
While the America we live in today may be more appealing than the one King left, too little has changed. Movies, commercials and music are one of the best ways to combat racist ideology. Perhaps the next installment of Star Wars will really be the progressive film this universe needs.