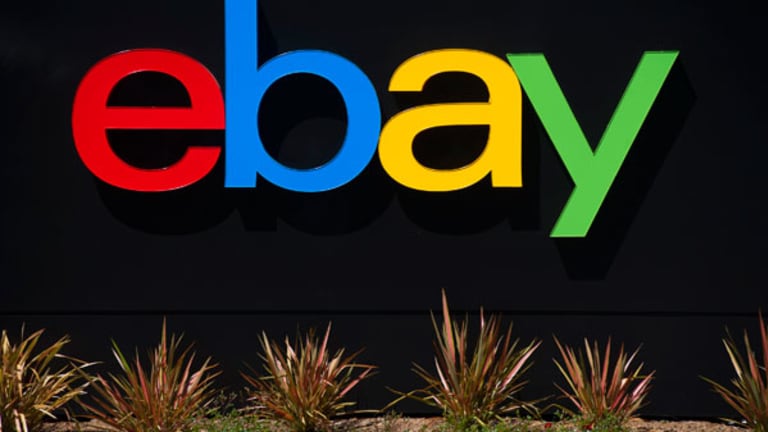 Despite Weak Results and Outlook, eBay Shares Look Compelling
Here's why today's stock drop doesn't fit the crime.
NEW YORK (TheStreet) -- Shares of eBay (EBAY) - Get Free Report are feeling the effects this morning of the first-quarter loss the company reported yesterday, whether warranted or not.
The stock was recently trading at $51.19, down 6%. During the past year, the stock has fallen 2.4%, compared with a gain of 23% for the Nasdaq Composite index.
Late Tuesday, eBay posted a $2.33 billion loss, but that was primarily the result of a $3 billion tax charge due to the repatriation of $9 billion in overseas cash. Excluding that, the company earned 70 cents per share, 3 pennies above the average estimate of analysts.
Revenue rose 14% to $4.26 billion, which was slightly above the $4.23 billion Wall Street estimates.

WATCH: More market update videos on TheStreet TV | More videos from Brittany Umar
The company slightly increased the upper end of second-quarter revenue estimate, while it decreased its earnings-per-share projection to between 67 and 69 cents. It had expected 70 cents.
While the outlook and confusion over the reported loss sent the stock lower, perhaps there's also some guilt by association as tech darling Twitter (TWTR) - Get Free Report is taking a massive haircut today, and others associated have also been punished in recent weeks.
[Read: Jim Cramer: Spend Is a Four-Letter Word]
The bottom line for eBay, however, is that the shares look compelling here in my view. There are few opportunities these days to own a company that trade for as low as 15 times forward earnings and that consistently boast net profit margins in the high teens or better.
Furthermore, the balance sheet continues to impress. The company ended the quarter with $7.8 billion in cash and marketable securities, and an additional $5.2 billion in long-term investments. In total, that equates to about $10 per share in cash and investments. Meanwhile, debt remains low at $4.1 billion.
[Read: Why eBay Is Tumbling: What Wall Street's Saying]
data by
This company is one of the great innovators of this era, and no company has ever done for secondary merchandise markets what eBay has. Plus, it's easy to understand how the company makes money.
When I make a purchase on eBay, the company earns a cut. When I sell something, the company earns a cut. In using PayPal to pay for those purchases or collect on sales, again, the company makes money.
[Read: Homeownership Is Still Within Reach]
When we decide last minute to buy Phillies tickets via StubHub, the company makes money.
This is a business that I can understand. I'm just not smart enough to understand how Amazon (AMZN) - Get Free Report will ever make a significant bottom line, or if Twitter will exist in 10 years, but I am fairly confident about eBay's future.
Now if I could just pick up some shares in the low teens like the last time I owned it...
At the time of publication, the author held no positions in any of the stocks mentioned.
This article represents the opinion of a contributor and not necessarily that of TheStreet or its editorial staff.