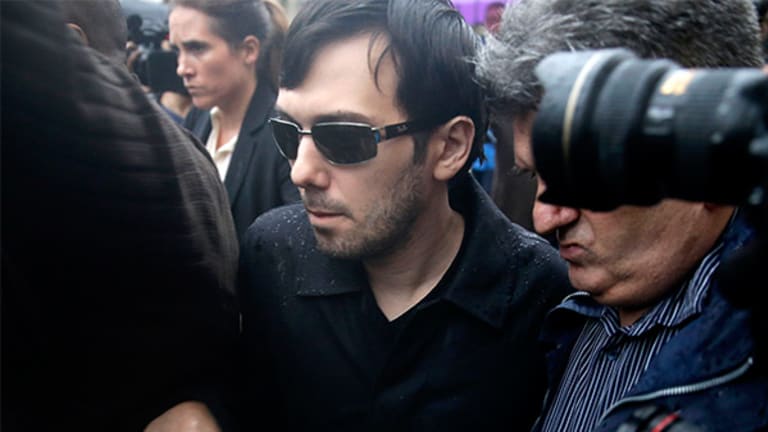 Despite Shkreli Drama, Retrophin Looks Interesting Now
One biotech portfolio manager thinks Retrophin, the biotech company once run by indicted hedge fund manager Martin Shkreli, could be a promising investment.
Retrophin (RTRX) , the biotech company that used to be run by the now-indicted Martin Shkreli, provides an interesting investment opportunity, according to one portfolio manager with an expertise in biotech investing.
Michael Tung is  co-portfolio manager of Turner Medical Sciences Long/Short Fund (TMSFX) , which was the top ranked long/short fund in 2015 according to Morningstar, with a return of nearly 18%.
Shkreli, you may recall, was indicted on a scheme to defraud Retrophin, a company he founded and where he previously served as CEO. Shkreli was CEO ofTuring Pharmaceuticals when he was charged with fraud.
Despite the legal drama, Tung said there is not a lot of risk in owing the stock. "The management team there is excellent," said Tung. "It's a very interesting company in that they have several orphan assets, orphan drugs. In addition, right now they also have over $250 million in cash."
Tung said the company is looking to make acquisitions, and will benefit from the decline in market valuations of potential biotech targets. 
Tung's fund also owns shares in Prothena (PRTA) , a company that was spun out of Elan (ELN) .  "They do excellent science. Some of the best science out there," said Tung. The company is also sitting on $500 million in cash.
"I don't think this company's actually looking to do any kind of business development. I don't think they need to. They have a real robust platform engine, in terms of developing their own compounds."
Tung said Prothena's lead drug, used to treat a rare disease called amyloidosis, is currently in phase III clinical trials, with results expected either later this year or early next year.
"That could be a potentially significant market opportunity," said Tung.
Tung said Prothena is also developing a Parkinson's disease treatment with Roche Holdings, and would receive a 30% royalty if the drug is successful. Prothena was the best performer in Tung's portfolio in 2015. 
Tung also likes Horizon Pharma (HZNP) , which recently raised estimates for 2016.