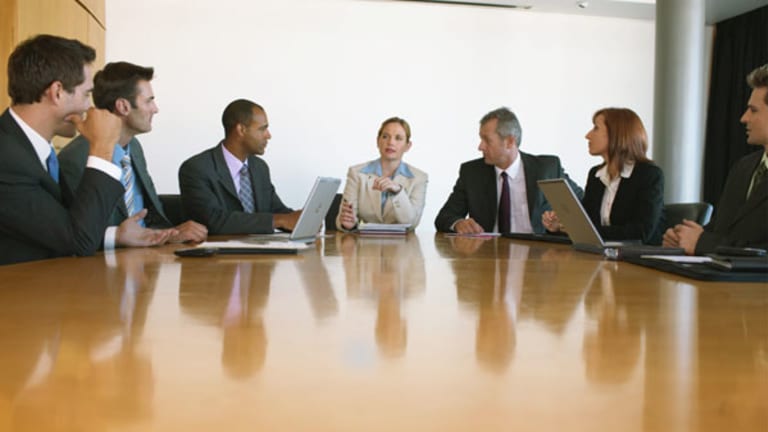 Despite Mood, Economy Is Waking Up
Economic fundamentals for the rest of the year are stronger than many appreciate.
The following commentary comes from an independent investor or market observer as part of TheStreet's guest contributor program, which is separate from the company's news coverage.
NEW YORK (
) -- In our view, the bull market likely continues with gusto throughout 2012, with strongly positive equity returns. Sentiment remains dour -- investors continue to fear an imminent eurozone collapse, too much debt, a deteriorating U.S. economy, political turmoil, etc.
However, we view today's dour sentiment as an additional positive factor helping boost stocks in 2012, as even moderately better-than-expected outcomes should result in an upside surprise. And in our view, there's ample room for upside surprise.
Overall, economic fundamentals are stronger than many appreciate. The following are just a few factors highlighting underappreciated economic strength.
Corporate Earnings and Sales Growth
U.S. firms reported year-over-year operating earnings growth for the eighth consecutive quarter in the third quarter of 2011. Corporate profits are now at all-time highs, and expectations are for continued growth in 2012 -- firms are lean, healthy and growing. Preliminary fourth-quarter data shows, of the 461
S&P 500
companies that had reported earnings as of Feb. 24, 63% beat expectations and 10% met expectations. Aggregate earnings-per-share growth is estimated at 9.4% year over year -- and should it hold, would mark the ninth straight quarter of overall earnings growth.
Follow
TheStreet
on
and become a fan on
While earnings growth can be a result of cost-cutting measures, as is common in the early stages of an economic recovery, we are well past that now. Year-over-year revenue also grew for the eighth consecutive quarter in Q3 2011, reflecting rising demand and a healthy business environment. For the 454 firms reporting Q4 revenue through Feb. 24, aggregate revenue-per-share growth is estimated at 7% year over year, according to
Thomson Reuters
. Firms are bringing in money just fine.
Further, corporate profits per employee are up 140% since the Q4 2008 trough. For those fearing a new recession, recessions historically tend to happen in environments of falling corporate profits per employee (not rising) as businesses lose sales faster than they can cut workers. (See the chart below.)
U.S. Corporate Profits Per Employee
Source: Thomson Reuters, US Bureau of Economic Analysis, as of 09/30/2011
Leading Economic Indicator Index
The Conference Board's
Leading Economic Indicator
index continues to rise. The index derives its value from 10 key variables, including employment data, spending results, manufacturing and consumer sentiment. In the last 50 years, a recession (as indicated by the gray areas in the chart below) has never closely followed a rising LEI trend.
Leading Economic Indicators Index
Source: Thomson Reuters
Lending
Credit and liquidity conditions have materially improved. After months of negative lending growth, bank loans and leases are expanding -- likewise with commercial and industrial loans. (shown in the charts below). These are positive signs of banks' increased willingness to lend, which should prove fodder for ongoing economic growth. Increasing lending means greater economic activity as consumers buy homes and cars and businesses buy capital equipment needed to boost production activity.
U.S. Commercial Bank Loans and Leases
Source: Thomson Reuters
U.S. Commercial & Industrial Loans
Source: Thomson Reuters
Private Fixed Investment and Core Capital Goods
Private fixed investment outlays -- spending on things like machinery, land, buildings or vehicles -- has also experienced a growth spurt for the last seven quarters. Likewise, shipments of core capital goods -- items like machinery, power transmission equipment and computers -- continue to rise. This shows businesses are stronger than many believe and are likely preparing to ramp up production to meet anticipated future demand.
Private Fixed Investment
Source: Thomson Reuters
U.S. Shipments of Core Capital Goods
Source: Thomson Reuters
Personal Income and Retail Sales
Finally, sharply rising retail sales figures contradict media headlines proclaiming the death (or protracted illness) of U.S. consumers. Some argue this trend of rising retail sales isn't sustainable with elevated unemployment, but disposable income shifts tend to be a more important driver for retail sales than employment shifts.
Year-Over-Year Change in Retail Sales
Source: Thomson Reuters
Naturally, the aforementioned factors aren't an exhaustive examination of the entire economy. However, taken together, they provide ample evidence of a healthy and growing U.S. economy.
This commentary comes from an independent investor or market observer as part of TheStreet guest contributor program. The views expressed are those of the author and do not necessarily represent the views of TheStreet or its management.