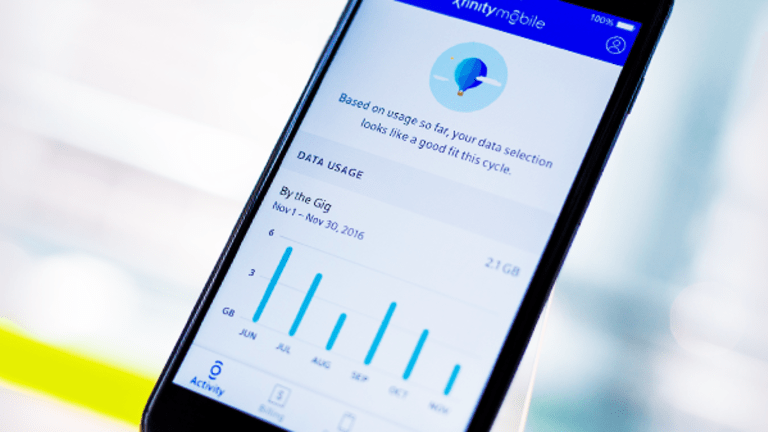 Comcast's (and Other Cable Firms') Desperation Could Make Things Tougher for Incumbent Carriers
Comcast's new mobile plans suggest a willingness to offer low-margin wireless services to keep broadband and pay-TV subscribers loyal. Incumbent carriers can't be pleased.
This column originally appeared on April 6 on Real Money, our premium site for active traders. Click here to get great columns like this.
In many ways, Comcast's (CMCSA) recent attempts to diversify have a lot in common with those of AT&T (T) and Verizon (VZ) , as well as even enterprise IT giants such as IBM (IBM) and Cisco Systems (CSCO) . Staring at long-term declines, or at least a lack of meaningful growth, in key businesses thanks to tech trends and intense competition, these companies have scrambled to expand into adjacent areas, in part betting their creation of new new integrated offerings for their large customer bases will put them on more solid footing.
Unlike the aforementioned companies, however, Comcast's moves don't currently involve costly acquisitions, and overall don't seem that expensive to finance. That gives them more leeway to price aggressively and use its new offerings less to create big new profit centers than to prop up existing ones. This, in turn, could lead to additional woes for incumbents in the markets Comcast is targeting...especially if the company's cable peers follow its lead.
Comcast's new Xfinity Mobile service, unveiled on Thursday morning, relies on Verizon's top-notch mobile network and provides Comcast's broadband subscribers with unlimited talk and text for up to five lines for free. Unlimited data costs $45 per month per line for customers of Comcast's "best" X1 service packages -- the cheapest X1 package (X1 Saver Double Play) goes for $80 per month, and the costliest (X1 Premier Triple Play) for $150 per month.
Everyone else will have to pay $65 per month per line for unlimited data. But broadband subs can also opt to pay just $12 per month per GB of mobile data used, and switch between service plan types without any penalties.
Comcast's unlimited plan isn't all that cheap for families unable to get the X1 discount, and merely "competitive" for those who can. T-Mobile USA's (TMUS) unlimited data plan costs $70 per month for one line (taxes and fees included), but just $47 per month per line for three lines and $40 per month for four. Verizon charges $80 per month (plus taxes and fees) for one unlimited line, but only $45 per month per line for four.
On the other hand, for the many consumers using 3GB of mobile data or less per month -- Comcast notes 70% of U.S. consumers use less than 5GB -- the pay-as-you-go option looks like a bargain. Moreover, with Comcast's service auto-connecting users to the company's 16 million Wi-Fi hotspots to keep the usage of Verizon's network down, many urban users might not have a hard time keeping their mobile data consumption at moderate levels.
Naturally, Comcast's service is only available in places where its TV and broadband services exist -- the company says it will reach 59 million people in 39 states and Washington D.C., including 29 million Comcast customers. But it's easy to imagine Charter Communications (CHTR) , Cablevision (CVC) and other peers launching similar services via carrier partnerships, in which case the disruptive impact of Big Cable's entry into the mobile market becomes more significant.
ComcastandCiscoare holdings in Jim Cramer'sAction Alerts PLUS Charitable Trust Portfolio. Want to be alerted before Cramer buys or sells CMCSA or CSCO? Learn more now.
Low-cost plans are more of a threat to T-Mobile and Sprint, while something like Comcast's unlimited plan for premium X1 subs are more a threat to AT&T (T) and Verizon, who have already seen their margins crimped by tough price competition. Network usage fees would, of course, soften the blow for those carriers able to strike deals.
One does have to wonder how profitable the pay-as-you-go service plans will be for Comcast, especially ones sold to light mobile data users in hotspot-filled areas. The simple explanation here is that Comcast isn't looking to profit from such plans as much as use them to keep customers loyal to its often-bundled broadband and pay-TV services, as each business faces big challenges.
Research firm MoffettNathanson estimates U.S. pay-TV providers shed 1.7 million subscribers in 2016 on account of cord-cutting, lowering their combined base to 96.5 million. And TV ratings are falling at an even faster clip than subscribers, as many remaining TV subs (younger ones especially) spend fewer hours watching TV and more staring at their smartphones. The latter trend hurts both Comcast's local ad sales on its cable networks, and its NBCUniversal unit.
In addition, a substantial percentage of low-income U.S. consumers now only access the Internet via mobile devices. Comcast's pay-as-you-go option could help it slow down the pace at which consumers abandon its high-margin fixed broadband services. And in the coming years, it could help Comcast deal with the rollout of 5G fixed broadband services from major telcos and independent players.
Comcast might also try to make up for low mobile service margins by leveraging the mobile user data it gains to deliver more targeted ads to users of both its online and traditional video services. The Trump Administration's recent decision to repeal rules preventing ISPs from collecting data such as a user's browsing history, app usage and location history without explicit consent makes such efforts easier.
Xfinity Mobile isn't Comcast's only recent attempt to expand its reach. Last week, Reuters reported Comcast plans to offer Xfinity Instant TV, a low-cost web TV service, to the company's broadband subs. While the web TV market is getting crowded -- AT&T, Dish, Sony and YouTube have launched services, and Verizon and Hulu will do so soon -- Comcast might be willing to undercut the competition.
Reuters states Xfinity Instant TV plans will start at just $15 per month, and top out at about $40 per month. The plans will reportedly include major broadcast networks, ESPN and Spanish-language channels. Though carrying some risk of cannibalizing more costly TV plans, such offerings could both help Comcast deal with cord-cutting (to some degree, anyway) and give it another tool for keeping broadband subs loyal.
And just as there's little reason why other cable providers can't launch something like Xfinity Mobile, there's little reason why they also couldn't offer cut-rate web TV services to their broadband subs, forcing telcos to follow their lead. In prior years, these companies caused major headaches for telecom giants by bundling low-cost wireline voice services with their service plans. It might not be long before a new set of bundled services from cable providers inflict additional pain.