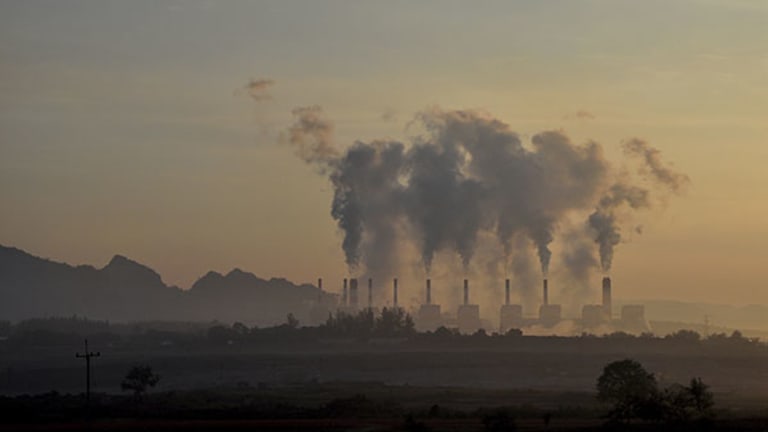 Denbury Poised to Clean Up on Push to Lower Carbon Emissions
Denbury Resources is a market leader in the extraction process known as carbon dioxide enhanced oil recovery.
NEW YORK (TheStreet) -- If OPEC is calling for oil prices to remain below $100 for the next decade, investors should look for emerging opportunities within the oil sector to capture long-term value in an industry more focused on operational efficiency. Such an opportunity is Denbury Resources (DNR) , which is a market leader in the extraction process known as carbon dioxide enhanced oil recovery or simply CO2 EOR.
Despite oil prices significantly rallying since the start of the year, there really hasn't been much positive focus on the benefits of CO2 EOR. That will soon change, however, and that will be music to the ears of shareholders of Denbury, especially with a greater U.S. focus to lower carbon emissions on the heels of President Obama's Quadrennial Energy Review.
Denbury shares, which trade around $7.50, are down 8.6% for the year to date compared with the S&P 500, up 2%. They are down 57% for the past 52 weeks while the S&P is up nearly 11%.
Since Denbury is committed to the production of oil and gas by way of CO2 EOR, its assets tend to have a longer lifespan than those typically associated with many shale players that often see production from their wells peak more quickly. This gives Denbury more stable earnings, something that may attract investors looking for less risky exposure to the unpredictable price environment of today's oil market.
In addition, this may be why companies such as NRG Energy (NRG) created its Petra Nova CO2 EOR venture and Blackstone Group (BX) entered the space last fall through its $700 million investment in start-up Windy Cove. Even French oil giant Total (TOT) recently showed interest in the extraction process by holding high-level training on CO2 EOR. Clearly this CO2 EOR process is gaining much credibility with major players looking to enter the market. 
As for Denbury, the Texas-based independent oil and gas player remains a large, strategic owner of CO2 and 1,100 miles of pipeline infrastructure needed to transport CO2. So not only can Denbury continue to lower production costs and recover up to 16 billion barrels of oil in the Gulf Coast and Rocky Mountains, the company may also benefit from future government tax incentives associated with pipeline infrastructure which can transport CO2 as a result of Obama's energy review. 
Denbury has a very repeatable CO2 EOR process, a strong hedging program and no covenant issues which are plaguing a growing number of exploration and production rivals thanks to the backdraft in oil prices. Yet, the company's common shares have not been rewarded for reducing capital to build liquidity, maintaining the dividend or proactively adjusting to lower oil prices through more prudent hedges that have taken advantage of the recent strength in West Texas Intermediate crude. 
Criticism for Denbury's divergence from its growth and income strategy is certainly justified. However, the rapid, unexpected decline in oil prices in late 2014 forced the company to rethink that strategy and become even more prudent regarding cash flows. This was not a sign of weakness -- it was meant to display increased financial discipline, protect the long-term nature of Denbury's business and ultimately position Denbury to become an even stronger company when oil prices do recover. Those decisions are already bearing fruit thanks to a greater focus on operational efficiency and innovation. 
A deeper to commitment by the U.S. to meet 2025 emissions goals may only strengthen the company's unique asset structure, something that will likely be magnified with more interested parties looking to invest in the space regardless of OPEC oil price targets.
This article is commentary by an independent contributor. At the time of publication, Denbury Resources was a client of the author's strategic advisory firm, Blue Phoenix.